To be known for a role that an actor essayed on his debut, can be both a blessing and curse. A blessing, as it can assure an identity among movie buffs and a curse as it one can make one stereotyped with same kind of roles.
But for Roshan Mathew, things are quite different. Those who noted the characters Aryan in Puthiya Niyamam and Premraj in Adi Kapyare Kootamani would have wondered if indeed the same actor had donned the diverse roles. And now, as he gears up to present himself with yet another role from Aanandam, Roshan says he could not have asked for more.
Onmanorama talks with the 24 year-old Changanassery native Roshan Mathew aka Gautham about his latest movie Aanandam, his journey to filmdom and more:
Humble beginnings
Like many, after completing XII, I joined an engineering college in Kochi. After hardly an year, I shifted to Chennai and secured admission for BSc Physics. While in second year, I got attracted to plays and developed an interest in acting. And once again, I left college and this time for Mumbai only to join Bombay drama school.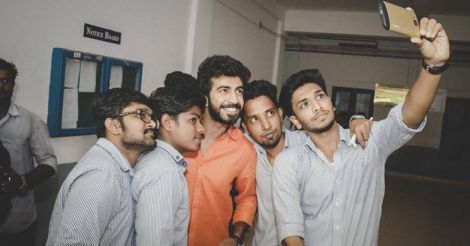 It's happy days for Roshan Mathew aka Gautham!
New path
Although I did about 20 plays, I never thought of joining movie industry. But that's when I got a chance in AK Sajan's movie Puthiya Niyamam. I consider it as a big blessing to have started my acting career in a Mammootty starrer. Sajan sir briefed me about my character — Aryan, the rapist. I realized the challenges in justifying the role. While acting in Puthiya Niyamam, I got the call to act in Adi Kapyare Kootamani. That's when the real challenge came my way.
The characteristics of Premraj in Adi Kapyare Kootamani was entirely different from Aryan. Working out both at the same time with different outlook needed modulations. But luckily, things worked and I got a space in Malayalam movie industry. On the other hand, Gautham in Aanandam is unlike the earlier two. He is innocent and truthful. He's the regular boy you get to see in schools and colleges.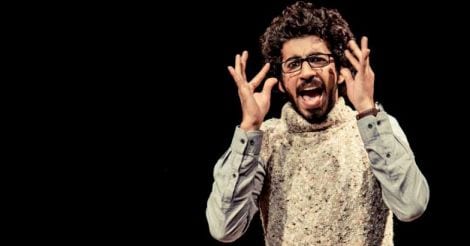 Roshan enacting a play
The way to happiness
From April, when the schedule for Aanandam began, till this very day, it's like each of us lived every moments that carried us. In movies centering two people, only the feelings involved with the duo needs to be captured. But when it comes to seven people playing pivotal roles, the chemistry between each matters. And for all seven, we had about three round of auditions. The casting is perhaps the biggest plus point if Aanandam and the major chunk of credit goes to our director Ganesh.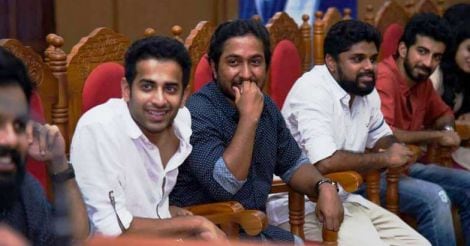 From L: Arun, Vineeth Sreenivasan, Ganesh Raj and Roshan
We had rehearsal camps for a few days and each of us improvised as the script demanded. Later, by the time we began shooting, unlike acting we were living with our characters. With good freedom on the sets, we could bring in our own styles as well. Vineethettan (Vineeth Sreenivasan) never interfered during shoot. He was more like a friend to us rather than a producer to the film. A sharp thinker, he indirectly influences people around him and spreads a positive feeling.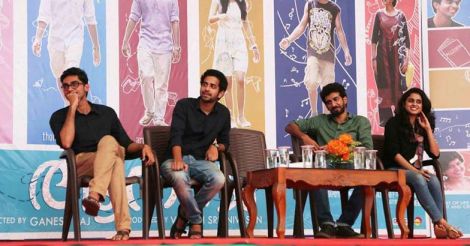 'Aanandam' team at the promotional event
As part of the movie promotion, we visited about 19 colleges around Kerala to feel the pulse of campuses in our state. With songs and trailer, the expectations are really high and we hope we give what viewers want.
My parents too are now happy and are really supportive of me. More than happiness, my parents and my elder sister are excited to watch me on the big screen.