The jukebox of Mohanal starrer Oppam is out on YouTube and the songs are going viral. The most popular of the lot seems to be a slick number 'Pala Naalayi', which starts with Hindi lyrics written by a Malayali singer Sharon Joseph. The song is also rendered by her along with M.G. Sreekumar, Najeem Arshad, Haritha Balakrishnan and Anwar Saduth. Sharon Joseph is on cloud number nine as she speaks to Onmanorama.
Being part of the project
Everything just fell in place after Sharon was asked to write lyrics for a song in the movie Oppam, and that too in Hindi.
It was Mejo Joseph, her friend, who realized that she could write Hindi lyrics for the song and recommended her to Oppam's music directors Jim and Biby. Sharon was doing a recording for her independent project in Kochi when the offer came.
Priyadarshan, a director who likes to experiment with different ideas from his team members, had no hesitation to agree to the out-of-the-box treatment visualized by Sharon.
"I have a habit of singing and recording whatever I write. I did the same after writing lyrics for the song of Oppam and sent it to the music directors. They liked it and asked to record it with my own voice for the original song in the movie", says Sharon.
Dabbling with different languages
She has sung already in six languages -- Malayalam, Tamil, Telugu, Hindi, Marathi and English. Born and brought up in Pune, singing in Hindi and Marathi was a child's play for the aspiring singer. And although she was not brought up in Kerala, her parents made sure that she learns to read and write in Malayalam. And she did.
"I started learning carnatic music from my teacher Meenakshi Subramanian, who was a Tamilian. I learnt both Tamil and Telugu from her and she made sure that I understand every bit of the language," says Sharon.
Sharon is clear that she is most comfortable singing English songs. And since Malayalam is her mother tongue, Sharon never forgets to experiment.
The first break
Sharon's career as a singer started after her marriage. Her husband and his family supported her in all possible ways. It was music director Mejo Joseph who gave her the first break in 2014 as a singer in the movie 'Hangover'.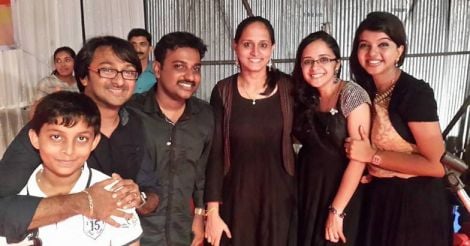 Sharon with co-singers
"Mejo Joseph was very supportive all throughout my career and he has always been a big brother to me," says Sharon.
"I started writing English jingles for an ad agency and that's how I started writing seriously. In 2014, ad film-maker and director Jis Joy asked me to write English lyrics for one of his ads and I never stopped writing thereafter. I am thinking of taking it as a profession," she added.
How it all started
"According to my dad, I started singing when I was in the cradle", Sharon remembers. As her father was singing a lullaby for her, he figured out that she was very fast in catching up with the lines. Impressed by her talent, Sharon's dad decided to put her in music class when she was just three years old. Thus she started learning carnatic music from her teacher Meenakshi.
"My teacher insisted that I should be able to speak and understand whatever she teaches and thankfully I started speaking early," she said.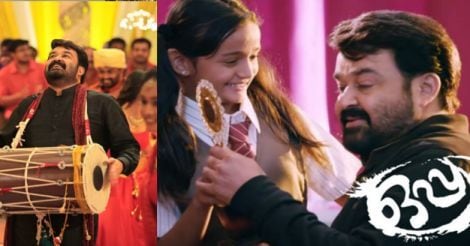 Still from the movie
Challenges, future projects
"The biggest challenge was always creating an identity with my voice", feels Sharon. "Although my voice is very soft, I fear if melody lovers would really love it," Sharon, who is right now finishing her independent projects slated to release this September, said.
Sharon feels that she is more of a singer than a songwriter and is an avid fan of Shreya Ghoshal and K.S. Chitra. Apart from singing, she spends time reading, writing, and painting. "I also invest my time to learn about computer applications even if I don't have any background in that field," adds Sharon.