Sometimes, a father can be a son's best friend, first superhero or even his biggest enemy. Sathyan Anthikad has often epitomized the father-son relationship through his movies—Veendum Chila Veettukaryangal, Kochu Kochu Santhoshangal, Manasinakkare, to name a few. The master of family dramas has once again come up with the same subject in Jomonte Suvisheshangal. And much to our delight, Anthikad has managed to impress us with his latest father-son story.
The opening frame of the movie features a new Benz car. No prizes for guessing whose it is. Business magnate Vincent (Mukesh), the head of Vincent group of companies, could even afford a private jet. And like every well-to-do family, there's a spoilt brat here—the hero of the parable, Jomon Vincent (Dulquer Salmaan).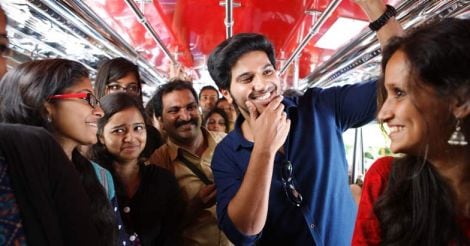 A still from the movie
A pampered youngster, Jomon is least interested in taking up responsibilities. While all his siblings are highly educated and well-settled, Jomon, the youngest child, is a college drop-out and is least bothered about money or job.
Seeing his son's happy-go-lucky attitude towards life, the father asks him to look after his business. However, the new responsibilities don't make Jomon a changed man. So, what leads to his transformation? See for yourself.
Although the plot sounds cliché, the natural performances by the actors and a realistic portrayal of everyday life make Jomonte Suvisheshangal a treat to watch.
Anthikad films have always been a favorite among Malayali audiences and Jomonte Suvisheshangal will surely be a classic from the director's kitty.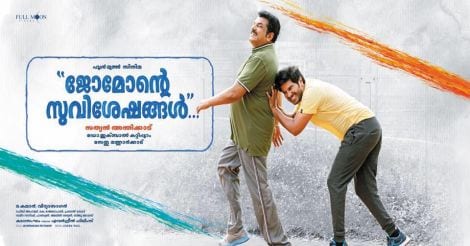 The director gets brownie points for casting Dulquer as he seems to be the perfect one to essay the carefree character of Jomon. Dulquer has stepped into Jomon's shoes with ease, and has effectively portrayed the varying shades of his character.
Also read: Munthirivallikal Thalirkkumbol movie review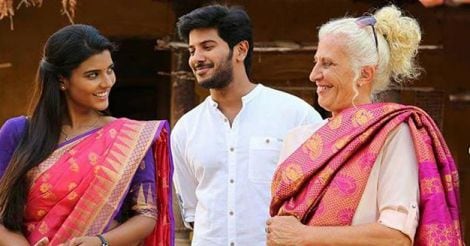 A major portion of the movie belongs to Mukesh and he carries the film on his shoulders. At a time when Mukesh is more active in other arenas such as politics and television, watching him onscreen for that long would make us realize how much we had been missing him in cinema.
Aishwarya Rajesh, who makes her Malayalam debut with the movie, delivers a strong performance as Vydhehi. Meanwhile, Anupama Parameswaran justifies her role as Catherine. Manobala, Innocent, Vinu Mohan, Muthumani, Shivaji Guruvayoor and Jacob Gregory too deserve a special mention. The combination scenes of DQ and Gregory will surely remind you of the laugh riot they created in theaters with ABCD.
The picturesque frames by S. Kumar and the top-notch music by Vidyasagar add to the positives. With the right mix of emotion and humor, Dr Iqbal Kuttippuram's script has taken an otherwise simple story to a wholesome package.
Although the film's title makes us think that it is yet another preachy movie, this one will capture your hearts for some good reasons. The fast-paced first half and an emotional second half will make it a neat entertainer. Jomonte Suvisheshangal won't tease you with surprises, but then it's quite a film with a lot of heart, which will resonate with family and youth alike.
Onmanorama rating: 3.25/5