For Christians in Kerala, Maundy Thursday, the Thursday before Easter is also dubbed Kozhukattai Saturday, the day when they break their 50 days of fasting with a nibble of rice dumplings stuffed with jaggery and coconut. This traditional snack is especially popular in the Thrissur-Ernakulam-Kottayam catholic belt. They also get to taste this sour drink made of bitter gourd and vinegar which is called Kaippuneeru/Chorukka.
Maundy Thursday also honours the Last Supper, which Christians consider the Lord's supper or communion. It is described in the Gospel of Luke, chapter 22. At the Last Supper with his disciples, Jesus breaks bread, declaring, "This is my body," and pours wine, saying, "This is my blood." He then asks the disciples to "Do this in remembrance of me." During the Last Supper, Jesus washed his disciples' feet. He performed this humble task to remind them that they were to serve each other with love just as he had loved them. Even today this ritual is followed on Maundy Thursdays, where Priests wash the feet of 12 parish members, representing the twelve apostles.
Christ's Last Supper was said to be a Passover Sedar, the feast of unleavened bread. And in Kerala, this was turned into Pesaha Appam/Inriyappam/ Kurisappam usually served post-dinner and prayer on Maundy Thursday. These round flat steamed cakes (with a palm leaf shaped like a cross mined in the middle) made of rice and Urad dal is like Idlies except for that hint of jaggery added to them. There are variants with bananas too and in some regions, they make Vattayappams (fermented sweetened rice and coconut bread). But the star is a watery dip served alongside it- the Pesaha paal made with coconut milk, jaggery, and crushed cardamom. Traditionally the eldest member will lead a short prayer and then distribute the appam and paal to all members of the family. The leftovers will be served as breakfast on Good Friday mornings. And that is the only food eaten on Good Friday (the day of crucifixion therefore most people fast till evening).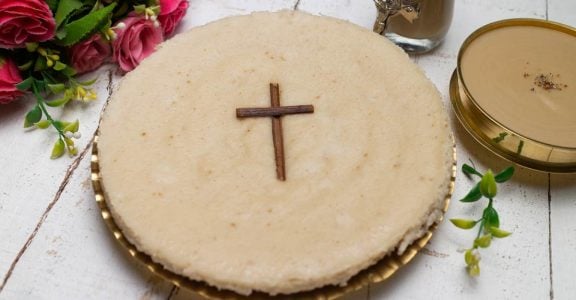 Certain churches offer a bowl of rice gruel and green moong dal curry with a dollop of Mango pickle in the evenings, to break the fast. In the olden days, the Kanji was served in an earthen pot with jack fruit leaves shaped like spoons. After the Saturday night mass, the Easter feasting will begin.
The Easter Feast
In Kerala, the choice of meats on Easter varies in every region. And it starts with breakfast and palappams are a given to mop it up. It can be a creamy chicken or mutton stew, beef curry, or egg roast/duck coconut milk curry or pork. In Kottayam, they prefer beef ularthiyathu, Meen vattichathu, a dry roast, and pork peralan, duck simmered in coconut milk is the preferred option in Alappuzha, Pork is a speciality in Angamaly/Thrissur belt. Pork sautéed with Chinese Yam is an Irinjalakuda speciality. In Fort Kochi, there is a Portuguese influence in their Easter menu (beef stew, Fish molee, Pork chops).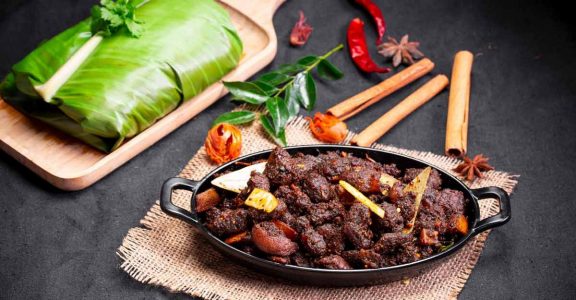 Interesting when you go towards Thiruvananthapuram, they love teaming their meat with the white, feathery Vattayappams, made with fresh palm, sweet toddy, raw rice, sugar, and coconut. And usually, lunch will be a combination of various meat dishes and served with rice and moru curry. Vegetables as a rule are not much entertained on the Easter menu. Eggs and Easter bunnies, signifying hope, and new life, are commonplace among children. Hot cross buns are also a popular addition in bakeries these days.
There will also be a batch of beef/chicken cutlets, followed by Appams, Biryanis, or Fried Rice. Some households insist on adding Pidi-Kozhi curry for lunch, which are rice dumplings simmered in a creamy coconut milk gravy and spicy chicken simmered in a roasted coconut-based gravy.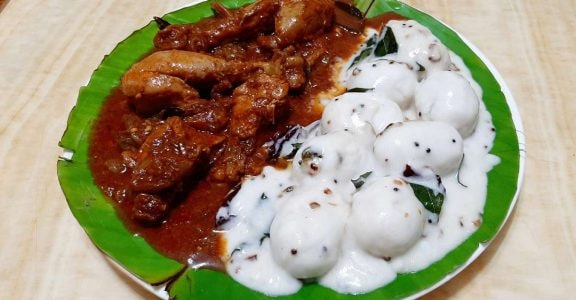 There will enough supply of plum cakes and wine. "I remember looking forward to having the snowball and milk halwa from Ann's for Easter. At home, we would have coconut pudding and caramel pudding for dessert. And being Syrian Christians there would be Karimeen fry, fish molee, Karimeen mappas, Duck Roast, and lobsters. Palappams and mutton/chicken stew was a given for Easter breakfast," says Paurnami Kolathingal, hailing from Kochi and is settled in Scotland now.
What rest of India feasts on Easter?
Goa: Christian cuisine in Goa has Portuguese roots and they use alcohol to soften meat. They have a lot of Easter bread, these delicate steamed fermented rice cakes called Sannas, Chicken Cafreal Roast, Sorpotel, Mutton Xacuti, and Prawn Balchao. Beef often stars during Easter with dishes such as beef roast, beef chili fry, and beef roulade.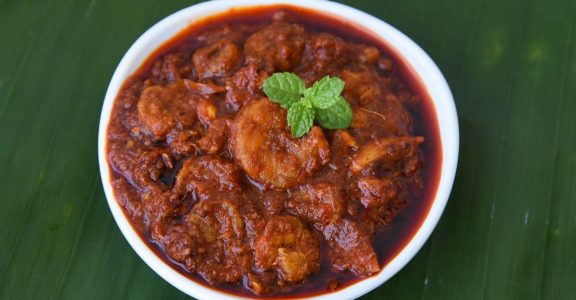 Puducherry: They have turkey dishes and Ground Turkey Meatball curry is a must for Easter.
North-east: Duck Molee, Fugias (which are slightly sweet bread is made with plain flour and yeast that has been fermented overnight. The fermented dough is then formed into balls and deep-fried till golden), Vindaloos and East eggs mostly features on their Easter menu. But in Manipur, they cook pork and snail for Easter.