Kannampady is a tribal centre inside the Idukki wildlife sanctuary. Neeru thoran or yellow ants stir fry is one of the most popular dishes of the tribal cuisine. Known for its incredible medicinal qualities, this dish is enjoyed by the young and the old alike. Before preparing this dish the yellow ants need to be charred a bit.
These ants could then be dried under the sun if required. Check out the interesting recipe of Kannampady special neeru thoran.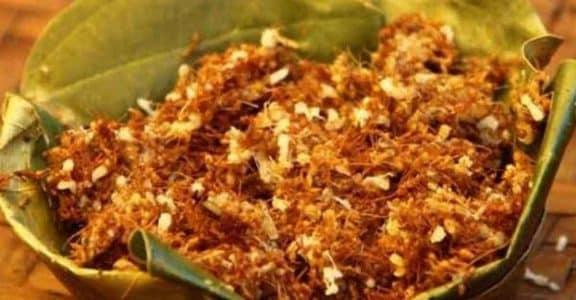 Ingredients
Roasted or charred yellow ants as required
½ cup grated coconut
Shallots as required
Pepper powder
½ tsp turmeric powder
Curry leaves as required
3 green chillies
Oil as required
Preparation
Roast the dried yellow ants 
Wash the fried yellow ants in lukewarm water
Grind the coconut with pepper powder, turmeric powder, green chillies and curry leaves
Add this mixture into the roasted yellow ants
Mix well and cook for 10-15 minutes
Add more curry leaves if required.