Kottayam: When an Onmanorama team packed bags to Kannur to cover 57th Kerala School Kalolsavam, many warned us: "Take care, you are going to Kannur, a place known for its political violence". One of our team members' mother told her: "Aiyyo, Kannur it is, keep yourself safe." Some of them jokingly said, "Please come back alive."
Even though we were sure that nothing bad will happen, we did not know how Kannur would be as all of us were staying there for a week for the first time. Sadly, a political murder took place in Kannur during Kalolsavam and a surprise hartal came our way, throwing panic in the air. And now, after the Kalolsavam week, here we are, alive and recalling how lovingly Kannur treated us.
Thank you Kannur, for auto-rickshaw drivers who never charged a penny extra from us. Catching our Malayalam accent, which is different from theirs, they would ask us: "Which part of Kerala are you from?" Even on hartal, they did not charge beyond the meter fare. All our rides on the autos ended with an exchange of warm smiles.
Thank you Kannur, for the police who were always there to help us. Risking themselves out there on the roads, they made sure that the hartal did not affect the Kalolsavam attendees. Special thanks to that policeman who ran out to an auto-rickshaw driver amid heavy traffic to help us find our way to a venue.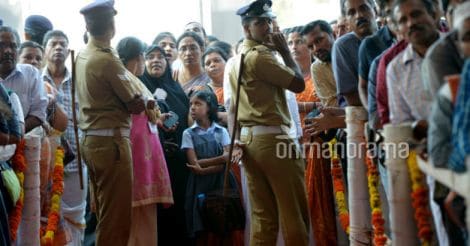 Two policemen on duty as the crowd is all eyes for the performance on stage. Photo: Rinku Raj Mattancheriyil/Onmanorama
Thank you Kannur, for Govt Town HSS. On hartal day, the school's parents and teachers made quick arrangements to prepare kanji (rice porridge) and payaru curry (green gram curry) for Kalolsavam participants, their parents & teachers and mediapersons at their school. They did not even think that their act is anything special.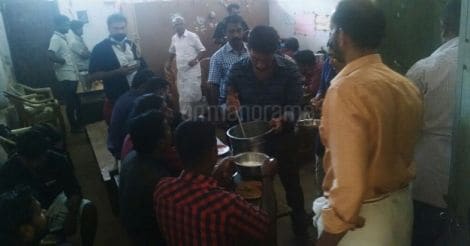 Participants, parents, teachers and mediapersons were given lunch at Govt Town Higher Secondary School on hartal day. Photo: Nelson K Paul/Onmanorama
Thank you Kannur, for the yummy food you offered us. From Sheen Bakery to Rangoon Hotel to Odhen's Hotel to MVK Restaurant to MRA Restaurant to Sahib's Grill Kitchen – you all entertained our taste buds and made our tummies happy. And that sulaimani (lime tea) that came at the end of each meal – that was bliss.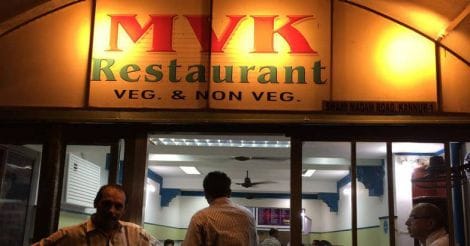 Thank you Kannur, for those youngsters who enthralled us with their live music during Kalolsavam. Headed by Jijin Edappagath, the team of Nihad Azeez, Alwin Augustine, Jithin Saj and their friends set up a stall outside St Michael's School. They had a live drawing-painting session by Fidal, a young talent, to start their daily sessions with. After that, they would start performing one song after the other and they won the crowd over. They took money from their pockets to set up the stall and even served free sulaimani to the audience that only grew by each day.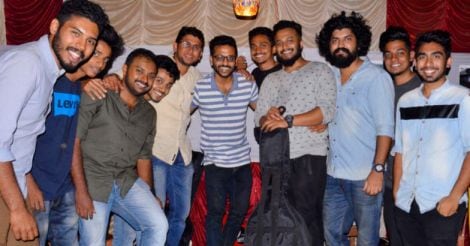 The group of friends that enthralled people with their live music performance outside a Kalolsavam venue.
Thank you Kannur, for coming out in large numbers to Kalolsavam venues. And, thank you, for clapping along when a participant's CD stopped working all of a sudden while she was on stage performing Keralanadanam. She did not stop and continued to dance in tune to the rhythmic clapping by the audience. Amid the flood of appeals and competition, this act showed us the real spirit of Kalolsavam.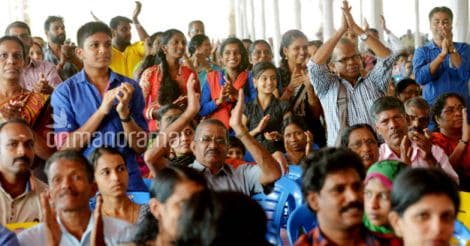 Audience clapped to support a participant when her CD stopped working during Keralanadanam contest at Kalolsavam. Photo: Rinku Raj Mattancheriyil/Onmanorama
Thank you Kannur, for the smile and care your people offered us. They made us feel at home. All these gestures may sound small, but they made a big impact on our minds.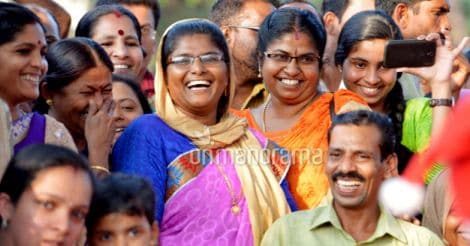 Photo: Rinku Raj Mattancheriyil/Onmanorama
N.B: Towards the end of Kalolsavam, when our teammate called home to say that Kannur took good care of us, her mother (who sounded worried in the beginning) said, "I know, I know, Kannur is lovely."