Kochi: Expressing his delight at seeing a wide range of contemporary artworks, cine icon Mammootty said on Tuesday that the Kochi-Muziris Biennale (KMB) has made a significant mark on the world's art map through its fine aesthetic elements and intense magnetic charm.
"Besides the usual paintings and drawings on canvas that we think art to be, the works displayed here inspire us to seek art from our surroundings and nature. The Biennale is an event that provokes the viewers to seek more from an art work," said the Padma Shri winner, after visiting KMB 2016, which concludes on Wednesday.
The three-time National Film Award winner was addressing a media gathering following a guided tour of the primary Biennale venue Aspinwall House.
"The artists have subtly imbued to their works elements of aesthetics that have to be explored, not just by viewing but by knowing it," he added.
The actor, who was impressed by Kerala artist K.R. Sunil's photo series on port city Ponnani, also suggested that the Biennale organizers include artists who follow traditional practices and not just postmodern art.
"Other than contemporary arts and artists, it would be good if the Biennale includes artists and art forms of bygone times to sustain our artistic heritage," he said.
On the allotment of a permanent venue for the Biennale, Mammootty said, "The scenario of a permanent venue enables the possibility of conducting more art forms like cinema, drama, and dance during the interval between Biennales, thus adding a greater scope and wider reach."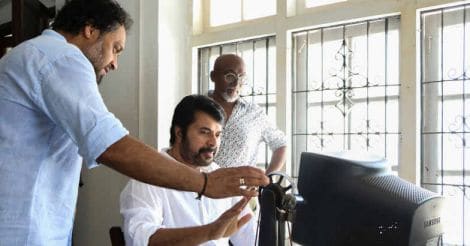 During his visit, Padma Shri Mammootty tried his hand at Turkish artist Ahmet Öğüt's installation Workers Taking Over The Factory – Version 2. (Left) Riyas Komu and Bose Krishnamachari help him. Credit: KBF
Noted journalist Anita Pratap was among a host of other prominent figures who visited the Biennale on the eve of its closing day. "The Biennale has truly merited its motto of 'People's Biennale' with the enormous public acceptance seen here. It is encouraging to see people from all backgrounds and age groups coming out in numbers to visit the Biennale. That is what art is all about; it has to connect with all," she said.
Lauding the Biennale as a 'politically vibrant exhibition', Pratap, who won the prestigious George Polk Award for television reporting in 1997, observed that the art event is an exhibition that combines contemporary concerns and historical elements.
"It is about how we as individuals connect and communicate with our environment, with our society and what is happening around the world," she said, referring to Chilean poet revolutionary Raúl Zurita's powerful work Sea of Pain on the Syrian refugee crisis and other forced displacement of peoples.
"The Biennale represents not just aesthetic works of art, but experiences that truly move you emotionally, intellectually, spiritually and socially. Ultimately, it is important that we connect with other human beings and this Biennale does that beautifully," Pratap added.
Also visiting on Tuesday were Kerala tourism director P. Bala Kiran IAS, former BJP state president V. Muraleedharan and former Kochi mayor Tony Chammany.