Bengaluru-based Aisle, a matchmaking startup, has raised about Rs 1.25 crore in the pre-series A round from TermSheet.io and ah!Ventures. The round was led by investors such as Anand Vijay (Bay-Area based investor), Anand Chandrasekaran (Chief Product Officer of Snapdeal), Mekin Maheshwari (former Chief People Office, Flipkart) and many more.
Currently, there are many online dating apps in India such as TrulyMadly, OkCupid, Tinder and Woo, who can be considered as their competitors in the field.
Read: Home-grown mobile app charts a safety route
The startup initially plans to build strong teams and effective partnerships with the raised funds.
The startup was founded by Able Joseph, who is from Kochi, with the aim to create a matchmaking platform for singles or the Gen Z who have started adapting to the fast-growing society who have also been called the new age Indians by the startup.
Read: Ratan Tata bets on premium tea, invests in start-up Teabox
"There is a crucial gap of a lack of a trustworthy matchmaking platform for individuals trying to find a match with a genuine intention of settling down, is something Aisle.co addresses," said Able.
In an interaction with Onmanorama, Able Joseph and Bivin Varkey Benny - Director, User Relations, talk about how different Aisle is from the other matchmaking apps in India.
What is Aisle?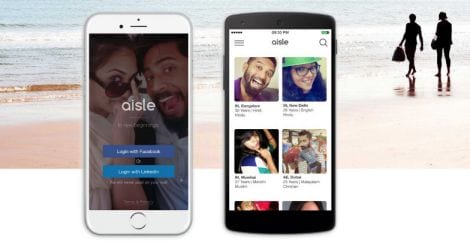 Aisle was conceived as a wise middle-path between traditional matchmaking websites and the numerous other casual dating applications out there. A community where young Indians can go to without the risk of being accosted by family members while also keeping an open mind about the possibility of long term or committed relationships with like-minded partners from the same urban space they belong to, says Able.
Although you guys have competitors, this concept is not widely promoted in India. How do you plan to do so?
It must be quite obvious to the most people what each dating app is trying to achieve. From the traditional Shaadi or matrimonial.com to Grinder and Tinder, the dating and matchmaking space is a riot of apps that is trying to bring people together for different reasons. "Our concept is to take a serious approach to bringing people who will be comfortable around each other under one community so that they can look around and hopefully find someone with the same wavelength. I think people are slowly warming up to the fact that sending out an invite to someone you find compatible is a courteous way of approaching someone you would like to have a conversation with. I think more and more people are accepting that and hence there is a lot of buzz being generated purely by word of mouth over the rampant in-your-face campaigns our 'competitors' are running to merely increase vanity numbers like downloads," said Bivin.
How are you trying to gain the trust of the new-age Indians ?
Packaging! We are not trying to capture the attention of every single Indian out there, instead we are trying to identify the pain points that urban Indians are facing in finding someone they would like to get to know better and maybe partner up for long term committed relationships. By the methodology we follow, we are trying to appeal to a class of new-age Indians with the right sort of intentions behind reaching out to other users on the platform. Trying to bring some sort of sincerity in an age where swiping on heavily filtered photographs have become the norm.
What are you doing different than your competitors?
We are a premium app and our audience is a limited one. We feel we can help a smaller segment of the society when we attend to them exclusively. We measure our success through the number of relationships we have helped forge, not vanity numbers like downloads, said Able.
The matchmaking site gets around 500-800 registrations per day and has a male-femate ratio of 5:3. It has users from more than 50 countries including India, USA, UK, Singapore, UAE.