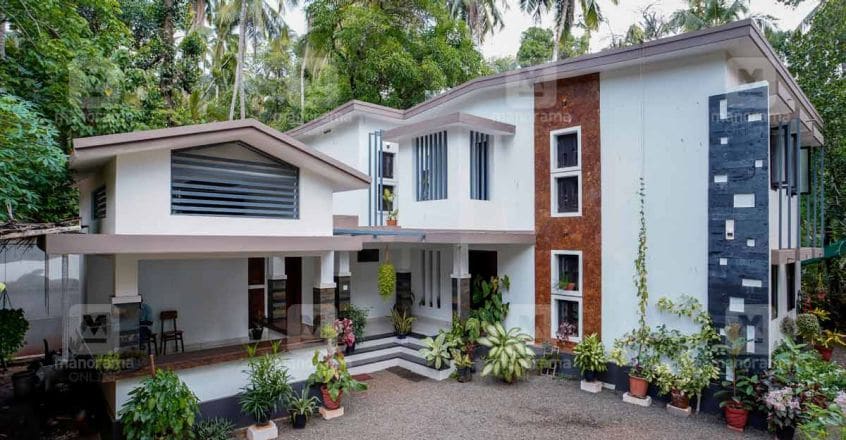 Ashkar Babu's stylish house at Ponmundam in Malappuram, Kerala, has an interesting flashback which the owner is excited to share. Earlier, an old house that was more than four decades old had stood on the spot. It was a small house with mud tiled roof. Around thirty years ago, the old house was renovated and was upgraded into a plastered structure. There had been only one entrance to the house. However, a new road was built on the back of the house recently. It was quite a challenge to enter the premises through the back. So, the family decided to 'turn' the house around so that it would face the new road. It was designer Salim who did the renovation without bringing too many changes in the basic structure.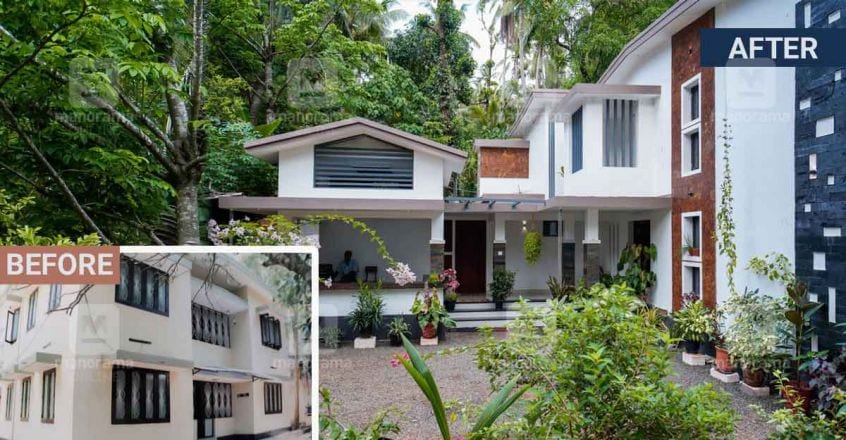 The kitchen at the back became the new sit-out. Meanwhile, the actual sit-out got transformed into the dining area. Faded and unattractive flooring got replaced with light coloured marbonite. The old kitchen is retained; but got a facelift with modern modular facilities.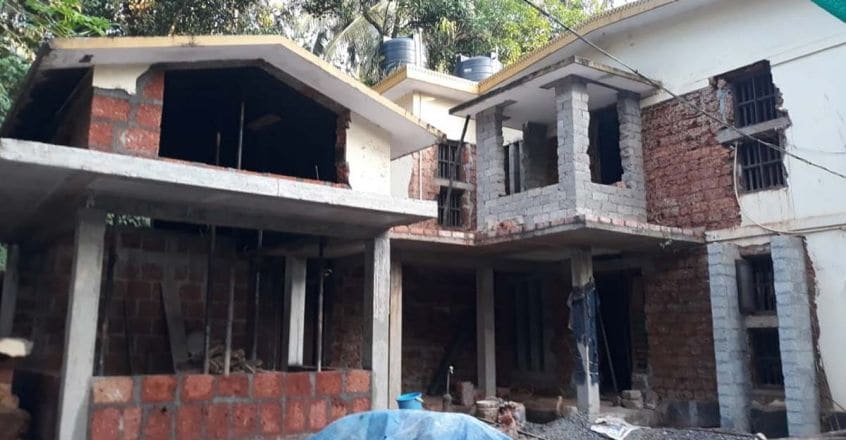 The old house had smaller rooms that were congested. However, a few unwanted walls were knocked down to make interiors more spacious. More windows were added for excellent cross ventilation. Besides, these windows make the interiors look vaster as well.
Designed in 2400 sq ft area, this amazing house has a car porch, sit-out, living and dining areas, four bedrooms, and kitchen with wok area, upper living area and balcony as well. Additional 100 sq ft area has been added to the old structure for including a new stair area.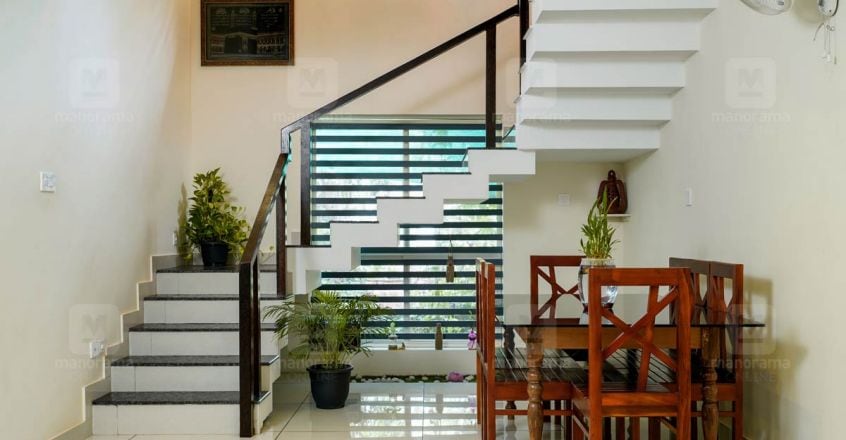 The entrance door opens to the elegant living hall. A wall with laterite stone cladding is the highlight here. The sturdy wooden ceiling here is retained with a fresh coat of polish.
The bedrooms have now become spacious with newly added bathrooms and in built wardrobes.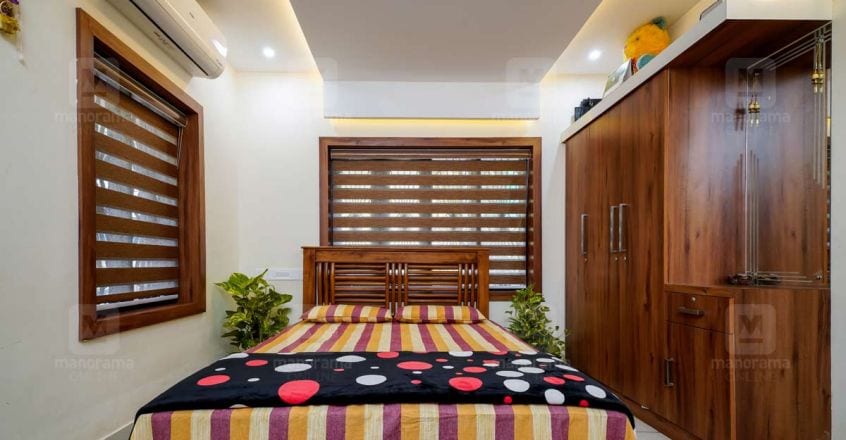 The kitchen is stylishly furnished in multi-wood finish. The old furniture pieces have been polished and reused in this house.
Earlier, there were small rooms in the upper floor. The partition walls were dismantled to convert them into a spacious, single hall. A balcony too has been added here.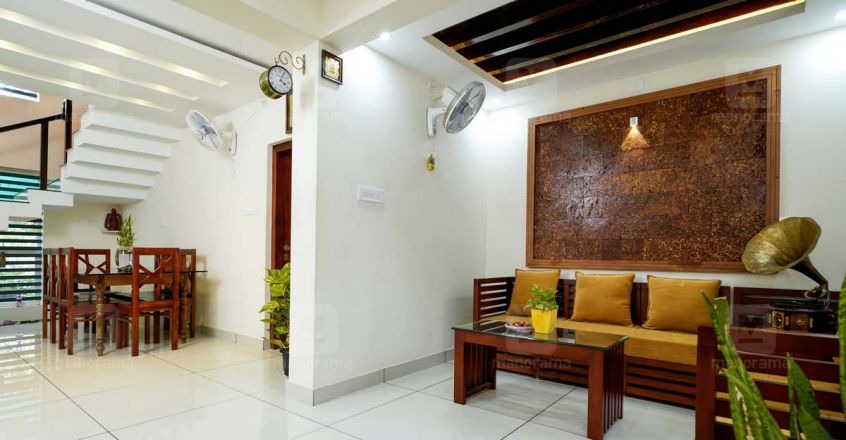 The family loves having greenery inside the house as well. So, beautiful indoor plants were brought in to grace the interiors. They made sure to place at least one indoor plant in every room.
Interestingly, the house was renovated for a moderated budget of Rs 15 lakh. The doors, frames and windows from the old house are reused in the new house as well. This played a vital role in reducing the furnishing expenses.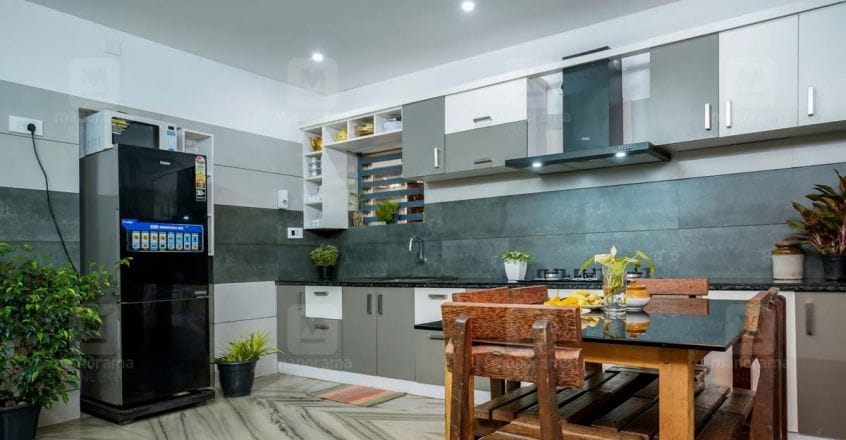 Project Facts
Location – Ponmundam, Malappuram
Plot – 25 cents
Area – 2400 SFT
Owner – Ashkar Babu
Design – Salim PM
AS Design Forum, Malappuram
Mob – 9947211689
Email – salimpm786@gmail.com
Budget – Rs 15 lakh
Year of completion – 2020
Pictures – Akhil Komachi