Mishal's brand-new house in the scenic countryside of Ulliyeri in Kozhikode, Kerala has become a major landmark in the area for its unique elevation. The H-shaped elevation is the highlight of this spectacular abode. Interestingly, the house has been designed in two parallel blocks. The structure is built using framed foundation as the ground is not too sturdy.
A truss roof paved with roofing tiles has been installed over the concrete roof to reduce the heat inside the house. Meanwhile, the attic space between the concrete roof and the truss could be used as a spacious storage or utility area.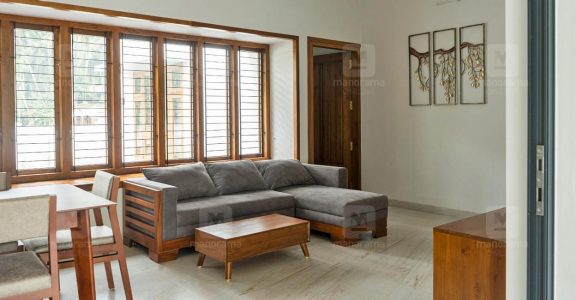 The family wanted the spaces to be easily maintainable. Besides, it should allow the relationships between family members to be warm and hearty too. These are the major reasons why the family wanted a single-storey house. The interiors have been divided into public – semi-public and private zones.
The open sit-out is simple with two inbuilt benches. The colour palette leans towards the lighter shades of hues that are easy on the eyes. The serene charm of white and off–white shades fill the interiors with a pleasant ambience.
Designed in 2150 sqft, this amazing abode has a sit-out, formal and family living areas, dining space, courtyard, kitchen with an adjacent work area, two bedrooms and bathrooms.
The family living area and the dining space have been arranged as part of the long and spacious hall. The bay windows here bring oodles of natural sunshine into the house.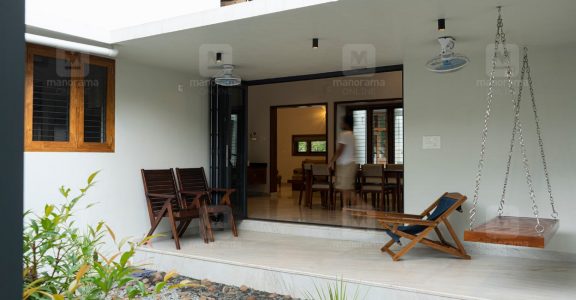 The sliding door in the dining area opens to the courtyard. This area could be transformed into an incredibly spacious open area if the sliding door is opened.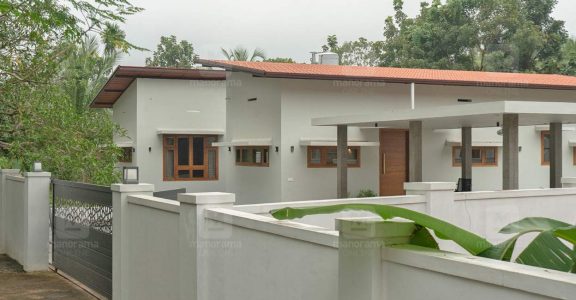 Interestingly, the courtyard has been designed as a multi-purpose space. This is the kids' favourite play area and it could be used as a cosy party space too. The ceiling is secured with a grille. Meanwhile, the baby mettle has been paved on the floor here. The beautiful indoor plants add a hint of greenery.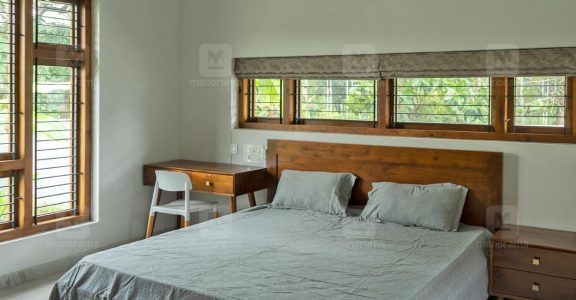 The compact kitchen is perfect for a modern abode. The cabinets are done in mica–laminate finish. Meanwhile, the countertop has been paved with granite. A breakfast counter too has been arranged as part of the kitchen area.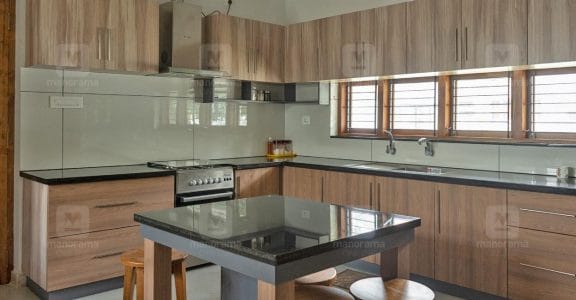 There is a paddy field on the north side of the house. The bedrooms are designed in such a way that the beautiful views and the cool breeze that flows in from the field could be enjoyed. The slit windows on the head side walls welcome golden sun rays into the bedrooms. The bath-attached bedrooms have inbuilt wardrobes for storage.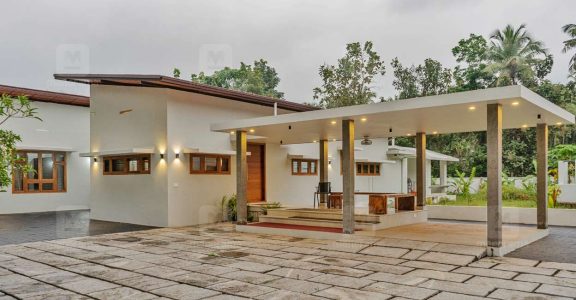 The unique design ensures that fresh air and natural shun shine enter the house abundantly while enjoying spacious areas that allow privacy too. The family is proud that their dream dwelling has become the talk of the town.
Project Facts
Location – Ulliyeri, Calicut
Plot – 35 cents
Area – 2150 SFT
Owner – Mishal and Shabirin
Architect – Fathil Kummayapurath
Fathil Kummayapurath Architects, Calicut
Year of completion - 2021