Abdul Shaban and his family are thrilled to show around their brand new house at Kasaragod. They barely can hide their excitement as they have finally fulfilled a dream of six years. The expatriate family wanted to build a house of their own in their hometown and settle here after the children completed class ten. It was six years ago that the construction of this house had begun at a 14 cents plot that they had inherited as ancestral property. The owner decided to build his dream abode here as the locality is known for its amazing natural beauty. The plot is on a hilltop and the view from here is quite scintillating.
The family had entrusted architect Anaz who is based in Dubai to design their house. They say that communication was easier as the architect is also their close friend.
Overseeing the construction was quite a challenge as the family was living in Dubai. Besides, the construction got delayed for two years due to the pandemic and the subsequent lockdown.
The owner didn't want the house to don an array of colours. Instead, he preferred a simple palette with minimal – rustic finish. The elevation that boasts of the classic grey and black colour theme features the contemporary architectural style. Meanwhile, the cement textures grant a rustic charm to both the exterior and interior walls.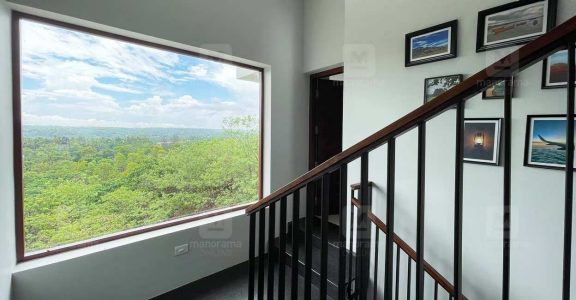 Designed in 3400 sqft, this elegant mansion has a sit-out, living and dining areas, a kitchen with a work area and three bedrooms on the ground floor. There is a reason why the master bedroom has been arranged close to the stair landing. From here, one could enjoy the unending views of the surrounding greenery. Interestingly, a huge glass window has been installed here for that. Meanwhile, the upper floor has a bedroom, balcony and an open terrace.
Cool breeze flows in from all directions as the house stands atop a hill. The windows are arranged to receive a pleasant breeze, making the interiors extremely comfortable and cool. Vitrified tiles have been paved on the floor. The custom-made furniture pieces are elegant and gel well with the general theme of the house.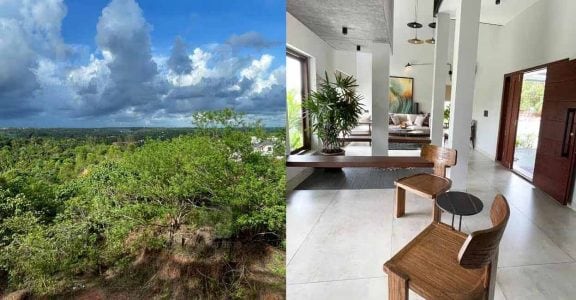 The kitchen is spacious and has all the modern facilities. The cupboards are done in marine ply with a laminate finish. Meanwhile, quartz has been paved on the countertop. The counter on one side has been raised to turn it into a quaint breakfast spot. High chairs too have been arranged here to complete the kitchen.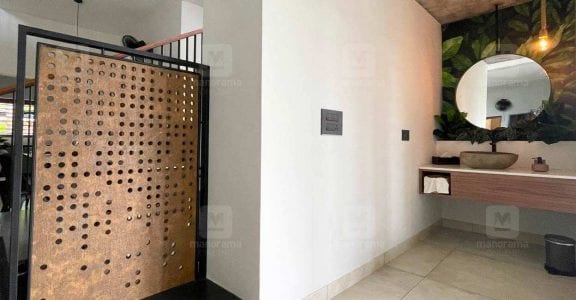 The family was in Dubai when the construction progressed. The contractor used to send them pictures and videos at all stages of construction. Besides, they regularly kept in touch via video calls too.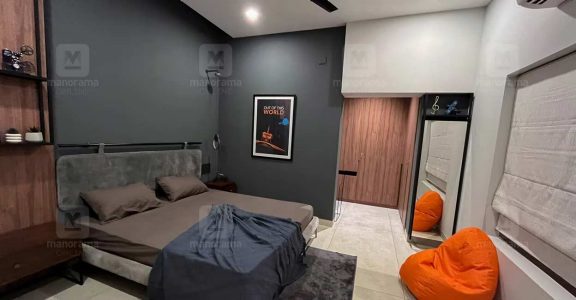 The family celebrated the housewarming ritual and moved into their dream dwelling at the beginning of this month. They are enjoying every moment in their beautiful house, creating amazing memories.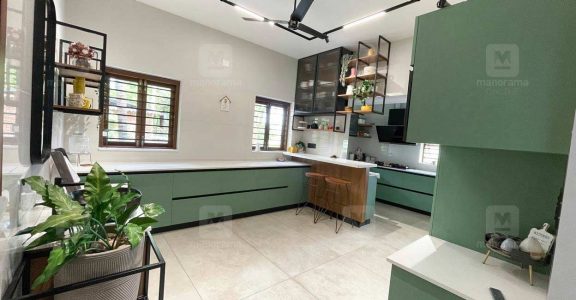 Project Facts
Location – Kasaragod
Plot – 14 cents
Area – 3200 SFT
Owner –Abdul Shaban
Design – Anaz
A+ RT
Year of completion - 2023