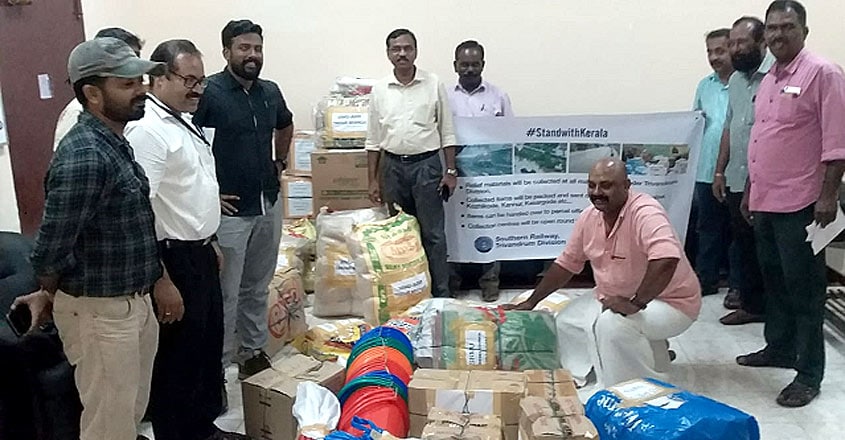 Even as Kerala is battling to stay afloat after the second August deluge in two years, the support extended to flood survivors by the government, NGOs, celebrities and general public is gathering steam. Even though the rescue and relief operations are carried out in a well-coordinated manner, there are certain elements that raise concern and need to be addressed. K E Vinodkumar Assistant Development Commissioner, Pathanamthitta district, lays down 10 things to remember while being engaged in relief operations.
1) Avoid dumping goods at camps
Philanthropists and volunteers who come out in large numbers sometimes end up leaving food and other material at camps and collection centres in large quantities. This often leads to dumping of excess material and eventually turning them into waste once relief operations are over. At the same time, there could be survivors stranded in isolated houses and places without food or essential items. When volunteers are venturing out to extend support, it would be of great help to spot such isolated places and ensure transportation of materials to those needy people.
2) Don't fall prey to false campaigns
It's important to judge messages in social media before acting on it. Always check and confirm the authenticity of messages and requests for help. Avoid being a victim of prank calls and messages.
3) Avoid delivering cooked food and unhygienic material at camps
A camp must be having enough facilities to provide basic amenities for the inmates, including arrangements for cooking food. So taking cooked food there is ill-advised. It can cause food-poisoning or other health problems. Similarly, delivering unwashed dress material, partly used soaps, toothpaste, containers and so on, can be unhygienic at camps and may cause diseases.
4) Stay away from sharing panic videos
With social media at almost everyone's disposal, sharing videos and images has become a hobby for many. It's important to apply discretion while sharing videos one gets. Smart phone users invariably consume large quantities of disaster videos. Besides creating panic and depression among victims, excessive exposure to such visuals can cause psychological disorder among people.
5) Avoid taking photos or selfies at camps
Even though you are delivering essential items to a camp in great quantities it's always advisable not to meet or see survivors staying there, take their photos or selfies. The inmates at camps are in a different state of mind and leaving them alone would be the best way to leave their self-respect unhurt. Your communication should be only with the volunteers there. Try not to spread photos of people in miserable condition.
6) Try to comfort survivors
Even if you get to know any kin who have been affected by the calamity, it's important to comfort them with soothing words. Give them hope instead of asking or discussing repeatedly about the details of losses they have suffered. Give them courage and confidence and convince them that they would overcome the distressful times.
7) Avoid making statements out of guess
The statements or predictions made in the backdrop of flood and landslides which are neither supported by scientific findings or genuine regional wisdom may spread rumours. This may produce a negative effect on survivors or people living in ecologically sensitive areas.
8) Provide information about post flood settlement
Those who reach camps with aid can pass on information of post flood settlement schemes when the government announces them. Most often camp inmates return home in a hurry without keeping a track of various measures, including financial assistance, by the government. The failure to follow guidelines at the right time quite often render flood survivors ineligible for government aid later. So, volunteers can function as a liaison between government and camp inmates in this regard.
9) Avoid disaster tourism
At many places where nature's wrath has struck, people are seen touring en masse to witness the imprints left by the calamities. Besides hindering the logistics for relief and rescue operations, this trend can leave a deep sense of loss and ignominy among the natives there. So try to dissuade people from visiting such places unless they are engaged in voluntary activities.
10) Take enough precautionary measures
It is very important that those who venture into voluntary relief measures, should take their own health and safety into consideration. Dedication and selfless attitude are alright but it may affect adversely if one resorts to perseverance risking one's own life. So, it's of prime importance that one takes all precautionary and safety measures while getting engaged in voluntary tasks.