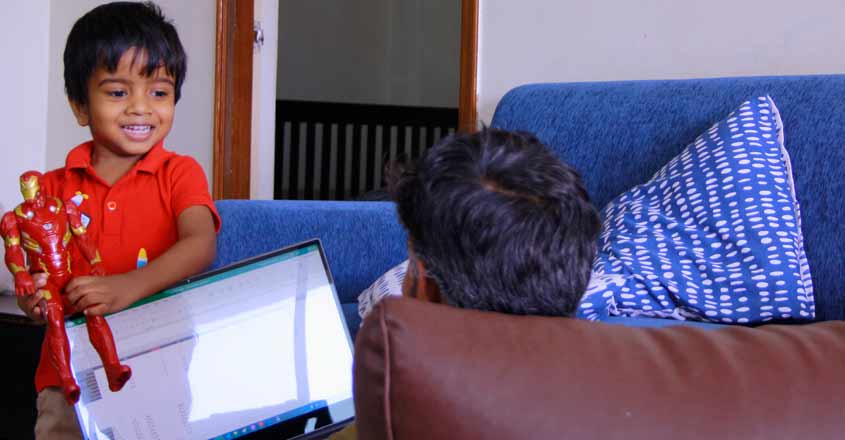 Even as India is entering the third week since the first COVID-19 case was reported, Information Technology (IT) companies in the country have already switched to work from home mode. Though the arrangement is not new, the massive scale by which IT professionals will be keeping themselves away from office have created much ado.
Some believe it gives freedom to work in the comfortable environs of a home sans corporate disciplines and decorums. Others, mostly those at the senior level, have some reservations about the idea as they think the facility curbs the scope for micromanagement and leaves a chance for a drop in productivity.
Complaints about bottlenecks and glitches in the procedure are also raised. While the work from home was usually availed by only few at a time in a company, implementing it in toto encounters a slew of setbacks. "Most of the companies may not be having a stock of laptops to suffice the requirement," says Ramesh Ramakrishan, an IT professional based in Bengaluru, "So, after providing the computer to the senior level employees, the staff down the line would be provided with old ones or back-up machines, which might hit the work flow."
There could also be issues related to connectivity and other technical problems. There is a tendency scale up targets by managers fearing non-delivery of tasks on time and a fall in productivity. A sudden rise in the degree of efforts may also take toll on employees.
"There are many who don't prefer working from home as they think it may cause distraction and will slow down their work," says Ramesh.
However, many feel that there is no reason for complaining too much about connectivity as any IT professional would be definitely having a sound internet connection at home. "Even a chaiwala in the city might be fully equipped with web connectivity or a wi-fi, let alone the case of a techie,"quips Jaison, a software engineer working in Bengaluru.
Sajiv, another IT professional in the city, has a different opinion. He says that the bandwidth required for different projects may vary and it obviously creates a problem in some areas. "Besides, co-ordination over the internet or over the phone slows down or even breaks the communication and it can never be as free-flowing as direct interaction," he says. Shortage of laptop is yet another problem as most of the companies won't be willing to install costly and licenced software in personal computers of the their employees," Sajiv says.
Meanwhile, Deepak, who works at Technopark in Thiruvananthapuram, feel work from home is a better option. "We have been using this arrangement at times. So, I don't feel much of a difference. I think this is the better option. To keep it better still we need to follow the same office timings at home too. We don't face distractions as we are closely connected through phone calls and meetings. Since we are a small team micro - management is not difficult either," he says.
Jayakrishnan, who works with an IT major, says a majority of employees still don't have laptops to work with. It's not always possible to work in one's own laptop easily, he says. Meanwhile, he spells out a word of caution if the situation continues for some more time. "So far it has been a balancing act for IT companies, but, if the situation persists things will be critical. Even now, many of the projects are getting affected. I don't think work from home will provide an ultimate solution for the IT sector. It's just an interim arrangement," he says.
Generic tips to work from home usually don't work as the conditions vary from company to company and person to person. But IT professionals believe that with caution and vigil, the society can tide over the crisis.