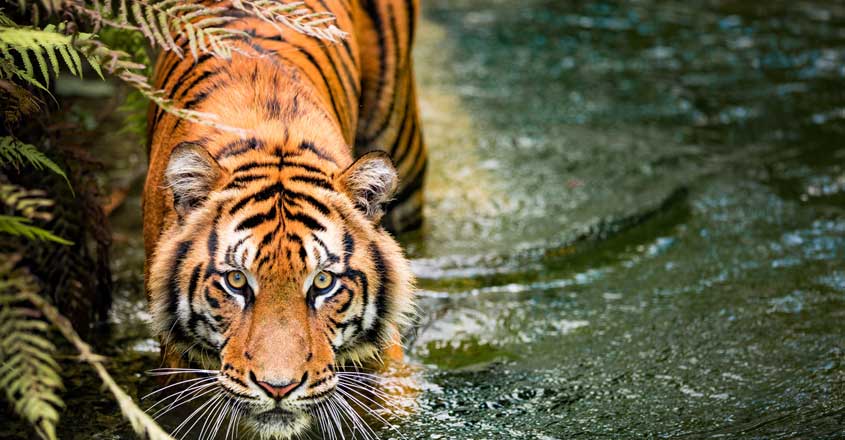 (Editor's note: Reports of the presence of a tiger in the human habitats in Vadasserikkara in Kerala's Pathanamthitta district have been giving sleepless nights to residents and forest personnel for the past one week. Armed forest officials have launched a combing operation to trap the beast. In this context, we are publishing a fictional tiger trail written by Malayala Manorama reporter A S Ullas, who has been closely following the efforts to find the big cat. This is the third and final part of the series. Read the first and second part.)
Doesn't sound good at all. The police have sent three sharp shooters in search of me. There are 65 personnel from the police and the forest department tracking me. I know I do not stand a chance before the collective might of the government. I cannot afford to write anymore. I have greater priorities now.
If all the "tiger sightings" were true as they say, I am nothing short of a sorcerer. Even with my agility, I can't appear in so many faraway places at the same time! Some people in Maniyar claimed that they spotted me yesterday. I never went there. The forest department personnel were searching in vain for me until the afternoon. Someone else thought that he looked me in my eyes. Seriously? Another story goes that I left my claw marks on a poor cow. She just scratched herself on the wall of her shed, as the forest department officers found out later.
Rumour mills are working overtime. You have a convenient culprit in me to blame whatever happens in your area. A minister told some reporters that the government would not mind shooting me down if I were to attack humans. That statement seems to have hit the bull's eye. The forces are all fury since then.
I have a word of advice to those who are keeping a vigil to see me dead. Do not skip your meal in your excitement. You do not have my constitution. I can go without food for up to seven days after a grand meal. That grand meal is about 35 kilograms of meat! I take three weeks to finish a gaur.
Of the many stories being circulated, one was interesting. It seems I had been chased away from my territory and I was on the lookout for a new den. I have no such intentions dear friends. Why can't you see me as a lost traveller? Why don't you just show me the way to nearby tiger habitats, such as Gurunathanmannu in the Vadasserikkara forest division and Naduvathoonmoozhi in Konni?
I smell some miscreants hell-bent on muddying the waters. They know very well that tigers can be shooed away by a tranquilizer shot. Once the shooter comes within 50 metre, they shoot a drug-laden dart into my body. I can still run for 2 kilometres before the sedative takes effect. Then they would shoot another dose to completely tranquilize me. Then the chief wildlife warden would take a decision whether to sent me back to the forest or to a zoo. If I am found to be seriously injured, I will be sent to a zoo. If not I can go back to the forest after the wounds are healed. Given the flavour of the season, I might have to undergo a COVID-19 test too. That's how it was supposed to work out.
Yet, I know I am headed for a different destiny. The arrival of the sharp shooters is a clear message. We are born fighters. We show no sign of weakness even when death is nearer. We eat loads of meat but we have no complaints of cholesterol deposit. A tiger's beauty is its muscular frame. We never rest like humans in our old age. We go down with a bang.
Death is certain. Even the forest department veterans know that. They come for me in groups. They know very well that I could prey on them if they are alone. It takes only three seconds. They cannot even lift their gun. When I see a crowd, I tend to think that a larger animal is chasing me. That is the reason I retreat.
They say that human flesh is salty enough to grab a tiger's attention. That theory explains the behaviour of man-eaters. Some people think that I am one of those beasts. There may be some truth in the theory. There are some tigers like that. That doesn't apply as a rule to all tigers. Why would we take the trouble of hunting down a small creature as human when we see 1,500-kilogram gaur as prey. My confidence comes from my energy.
I might evoke great terror in you. Every wrinkle on my face is cringe-worthy. If you look closer, you would see the beauty in it. Even the sharp claws are perfectly designed. I am not a man-eater. I was just taking a stroll. Now I am lost. Why do you want to kill me? You have enough resources to scare me away. Send me to a zoo if you will. I may not be able to write to you from now on. I can understand what drives the people. They are afraid. Like them, I fear for my life. I will fight for it.