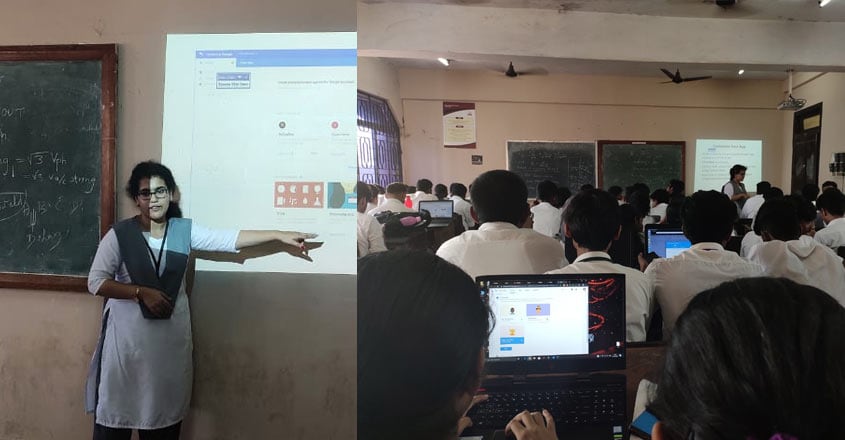 Kochi: Learning becomes more interesting when students are given a platform to share their knowledge and also when they are able to learn from their peers. TinkerHub, a non-profit, non-governmental organisation that was started in 2014 by avid technology professionals, exactly does this. Its chapter at the Model Engineering College, at Thrikkakara, here hosted its first-ever edition of peer-to-peer learning series on October 14 Monday.
At the programme, students were invited to share their knowledge on any field of their expertise with others after class hours. Learning was enabled through interactive sessions where students could interact and seek guidance from others. Follow-up sessions will also be conducted if required.
The first session conducted by Samyuktha G, a third-year Electronics and Communication Engineering student, was on Actions on Google.
The session helped students to get insights on how to make an action without using a single line of code.
Ashwin Shanil and Jairam S Prabhu, both third-year Computer Science students, explained about the objectives of Millennium Fellowship at another session.
They familiarised the audience about the significance and benefits of this Fellowship which is about a leadership development programme for students while on the campus.
Alan Sebastian George, founder of TinkerHub MEC Chapter, spoke about the functioning of the group and inducted first-year students.
TinkerHub aims to promote a technology-earning culture among youngsters and the engineering community by encouraging peer-to-peer or reciprocal learning.
The session received an overwhelming response. By the end of the session many had completed creating their own actions on the Google Assistant. TinkerHub Mec hopes to host many more such sessions in the coming days and revamp the idea of learning.