India proudly harbors one of the greatest successes in the conservation of its chubby unicorns, aka the one-horned Indian rhinoceros. Around 35 to 40 percent of the global rhino population is now concentrated in the northern parts of West Bengal in Eastern India and in the North Eastern state of Assam.
Together with the rhino conservation success stories in adjoining Nepal, South Asia truly is the global icon and goodwill conservation ambassador for global rhino conservation efforts. While South East Asia and the continent of Africa are struggling to protect various species and subspecies of critically endangered Asian and African rhinoceros, respectively, India stands head and shoulders above every other nation in successfully protecting this majestic mammalian species.
The bulk of the conservation credit for rhino conservation in India certainly goes to the internationally famous Kaziranga National Park, which houses about 2,400 one-horned Indian rhinoceros, representing a significant proportion of the global rhino population. Kaziranga is an international tourist destination for animal lovers, wildlife enthusiasts, ecologists, and conservationists. The annual tourist footfall in Kaziranga, including both domestic and international tourists, is highly impressive.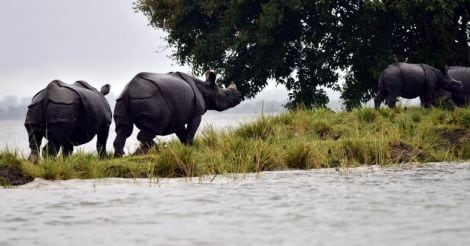 Although the rhino conservation effort and initiative have brought huge accolades to the nation and the state of Assam, it has also been surrounded by controversies and unique new challenges that have been getting bad international press. One of the greatest challenges faced by both Asiatic and African rhino species include relentless poaching attempts for procuring rhino horns, which is believed to have mystical medicinal properties for curing impotency. It is also used as an aphrodisiac in the Middle East, China, Far East and South East Asia. The high demands for rhino horns in the illegal wildlife trade markets in China, Vietnam, Cambodia and Indonesia is causing havoc to the global rhino populations pushing many of the majestic rhino species and subspecies across various countries in South East Asia and Sub-Saharan Africa towards extinction.
The horns of Indian rhinos are much smaller than their African counterparts, nonetheless, they fetch a very high price in the illegal, international wildlife trade markets as they are considered more potent than horns procured from African countries. As a consequence, there is a significant poaching pressure on rhino populations in India and Nepal. Kaziranga in Assam, having the highest concentrations for one-horned Indian rhinoceros across Asia, is naturally a big target for poachers.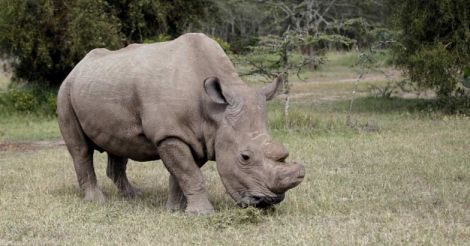 Indian press and electronic media have been filled with tragic stories and heartrending pictures, images and videos of helpless rhinos being mercilessly killed for rhino horns by highly organized poaching units operational across Assam and West Bengal, often with international connections. They are heavily armed with sophisticated telecommunication gadgets, with GPS or GIS mechanisms, modern vehicles as well as an impressive and organized ground level intelligence network that help them kill the rhinos with military precision, procure horns with surgical accuracy, get out of the forests quickly before any forest guard(s) is alerted and smuggle the horns across the porous Indo-Myanmar border to illegal wildlife trade markets operating in China and South-East Asia.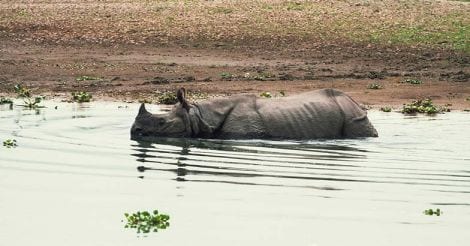 Both state and national intelligence networks, local administration, state and union governments, as well as border security guards and customs agencies, have been failing to uproot this evil operation over decades.
Furthermore, members of border security agencies, local administration, forest department staff members, as well as local villagers, often facilitate the process of rhino poaching in exchange for money or other forms of rewards either in cash or kind for such highly organized and destructive poaching units.
What is even more alarming to note is the fact that these poachers and wildlife traffickers are often connected with various China-backed insurgent groups operating across North East India. It is alarming to note that poaching of animals such as rhino, tiger, leopard and elephant, as well as trafficking of various endangered wildlife (insects, fishes, amphibians, reptiles and birds) for wildlife products (skin, fur, pelt, horns, hooves, bones, skeletons, animal vital organs etc) and major and minor forest resources (timber, firewood, leaves, highly valued medicinal and ornamental plants, mushrooms, honey etc) are an important source of funding for their insurgent activities in various disturbed pockets and belts in North East India.
Hence, it is absolutely important to increase rhino conservation efforts comprehensively to make sure that this majestic mammalian species and an icon of Indian wildlife and wild heritage continue to roam in its natural habitats without any possible threats to its extinction. Care must be taken to ensure that poachers do not get easy access to their natural habitats.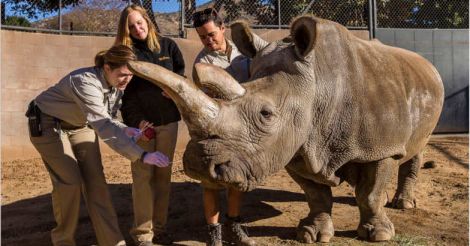 The threat from poaching and illegal trade in rhino horns need to be dealt at multiple forums and international pressure must be created in China and South Asian countries promoting illegal wildlife trade markets and units. Representative image
Not just Kaziranga in Assam, North Bengal has also fallen victims to poachers in recent years. The threat from poaching and illegal trade in rhino horns need to be dealt at multiple forums and international pressure must be created in China and South Asian countries promoting illegal wildlife trade markets and units.
(The author is a Canada and India based freelance journalist specializing in global geo-political, strategic and foreign policy issues, science & technology and environment & conservation related themes.)