An instant celebration broke out at the the residence of caretaker chief minister O. Panneerselvam as the two-judge supreme court bench pronounced V.K. Sasikala guilty in the Rs 66.65 crore disproportionate assets case. The verdict has put an end to the days of political buffoonery in Tamil Nadu, which was showing faces at the saner sensibilities of citizenry, civic discipline and constitutional order.
Read also: What the SC verdict against Sasikala means for TN

It all began when OPS, the perpetually 'vanishing man' of TN politics, sat in meditation at the Jayalalithaa memorial. It was a literal calm before the storm, for he opened his eyes to shatter the peace of rival Sasiakala and the entire Tamil Nadu for some days. All hell broke loose when OPS stated that Sasikala had cheated Jayalalithaa and she was gunning for her wealth alone. Tamil Nadu sat up and listened as no one ever thought of OPS as anything more than one who clasped his mouth with the inner of his right palm as he appeared in front of Amma, back bent in utmost servility.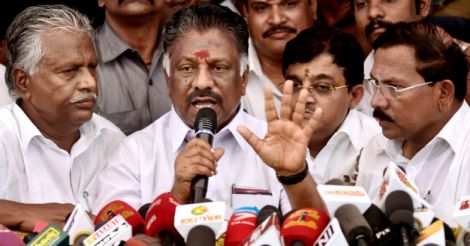 Panneerselvam addressing media along with his supporters. PTI
As OPS did a Kabali, the other side was not one to watch in silence. Sasikala, in a blatant and ugly show of power, herded MLAs, to a resort in a bid to ensure support. Such was the fear that Sasikala instilled in the MLAs, some of whom themselves commanded a good degree of dread, that they were even afraid to speak to the media or come out in support of OPS.

OPS, always unflappable and calm, stuck to his strategy. He reiterated that he was the 'chosen one' carrying forth the legacy of Amma. He had by then become a darling of the masses. His good work, approachability, and no-frills approach during the Vardah cyclone which hit Chennai immediately after Jay's death worked in favor of him. He had then walked amid the crowd, cut down his security detail, and the chief minister's motorcade stopped beside you in a traffic signal. This was in stark contrast to the pompous Jaya era where the chief minister was accessible only to an elite few. The Sasikala camp missed OPS tacitly striking a chord with the masses and the masses in turn accepting him as an able, and more importantly, affable leader in the absence of the all-pervading Amma. He was emerging from the shadows.

The Sasikala camp faced its first setback when Deepa Jayakumar, Jayalalithaa's niece, announced her intentions to float a party on her aunt's birthday. A wary Sasikala immediately perceived this as a threat to her unquestioned control over the assets of Jayalalithaa, including the Poes Garden residence which she illegally occupied. Legal experts had pointed out that Deepa was Jaya's only legal heir and she was entitled to the assets unless her aunt had stated so in a legally binding will.

But a politically sensible OPS was quick to invite Deepa into the fold and said he would accept if Deep offered support. The politician in OPS knew that Deepa, with her striking similarity to Jayalalithaa, would be a challenger if she sought votes on a non-AIADMK plank.

Now, all eyes are again on the governor who is likely to invite OPS for a floor test. He may become chief minister too. But, let us think of this proposition - had Jaya been alive, she too would have been forced to relinquish office after this verdict. Think, who would have been the natural seat-warmer then? So, OPS is a lesson in politics - one which teaches you to be patient and await your turn.
(The views expressed are personal)