Perhaps, the chair that O.Panneerselvam once kept vacant to proclaim his unquestioned adulation to his deity 'Amma' is now within the reach of Sasikala Natarajan.
The lone hurdle that is blocking Sasikala, who now dons the mantle of AIADMK general secretary by default, is a tea shop owner from Theni - OPS.
Till Jayalalithaa's demise, O.Pannerselvam was just an 'Amma' loyalist. In other words, a pawn of the late AIADMK supremo, who could call the shots even without being anywhere in the vicinity of the corridors of power.
Read: AIADMK strife: OPS urges supporters to assemble at Marina | Story in points
And OPS, as he is known in party circles, was more than contented with the barrage of criticism and jibes insinuating that he was a puppet of Jaya.
It was not without any reason that OPS chose not to sit in Jaya's chair after he was made the CM.
Perhaps, OPS was politically shrewd enough to accept that as long as Jaya held fort, there was no one in AIADMK whom the masses would accept. There was to be no other leader other than Jaya and no one could survive in AIADMK without crawling when 'Amma' wanted them to bend.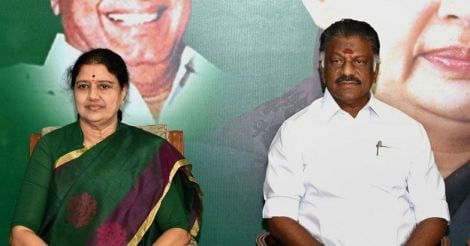 OPS had no qualms to publicly worship the omnipotent deity that was Jaya.
As AIADMK leaders scrambled to bend and crawl along in front of Jaya with the sole aim of grabbing her attention as the most "prolific servile", OPS did them all in with that one supreme act of devotion – keeping Amma's chair untouched.
The chair, the symbol of power, belonged only to Amma, he proclaimed, without uttering a word.
Read: Governor's 'non-existent' report to Center against Sasikala adds to TN drama
It did not matter if critics, rivals and media dubbed him a servile, a sycophant or a puppet. OPS knew very well that all that mattered was to get the mercurial Jaya's trust. And that he did.
That was why OPS was again rewarded with the CM's almighty chair, when Jaya was benched by the courts. He obliged with unwavering devotion as a mighty pleased Jaya watched from the sidelines.
Not that all were pleased. There could have been detractors within the AIADMK as well as in Veda Nilayam in Poes Gardens, where Jaya and her close aide Sasikala resided. But no one would dare to question 'Amma'.
As Jaya's legacy lay in taters after her mysterious death, there was no binding force for the AIADMK to project other than OPS. For OPS had won Amma's unfettered patronage even when she was alive.
But then, the 'palace' intrigue and the subsequent coup did OPS in as Sasikala's vaulting ambition resonated with sycophantic AIADMK MLAs, carefully handpicked by Jaya herself, and in many cases perhaps under the scrutiny of Sasikala.
Read: Panneerselvam can call for all files, says former bureaucrat
Power for them belonged to the Poes Gardens, where their almighty Amma stayed.
OPS was relegated to the sidelines again, but this time it wasn't to go unquestioned as everyone expected.
Perhaps OPS figured out that it was his 'Sputnik moment', a point when you realize you have to galvanize all your efforts to catch up with rivals. And that he did.
Sasikala's controversial coronation triggered an outburst of pent-up anger and OPS had to grab that opportunity as rival political players watched from the sidelines. All they wanted was a rebellion to erupt from AIADMK itself, lest they are seen as poachers of Amma's mighty legacy.
With a dramatic midnight announcement, OPS caught the fancy of the media, and managed to garner a wave of resentment against Sasikala's anointment.
Now, with time and tide in his side, OPS is gradually gaining supporters from across the spectrum, though a majority of legislators still remains loyal, at least on paper, to Sasikala.
OPS has been unable to wean them away after they were herded like cattle to a resort, where the long arm of the law is hesitant to enforce its writ.
The administrative machinery has come to a standstill and a clueless police force is reluctant to act.
The dilemma is that they do not know who their political master is - an acting CM who has tendered his resignation or a wannabe CM who is yet to be sworn in.
Now, OPS is carefully calibrating a crowd movement, akin to the spontaneous jallikattu protests, in Marina, through social media.
For OPS to get a firm grip on the chair he has time and again left unoccupied for Jaya, the best option is to get the crowds, Amma's biggest strength, to pour in to fill Marina at his behest.
Even if that happens, Sasikala can still hope to clinch Jaya's chair, but OPS would have already stamped his moral authority on it.
(The views expressed are personal)