The political matrix of Tamil Nadu throws up a different puzzle every time. The players may change but insatiable power thirst and sheer opportunism seem to be guiding the principal players. Now, once again, all eyes are on O. Panneerselvam, the perpetually vanishing man of TN politics, who emerged from the shadows of the all-pervading Jayalalithaa to add a twist or two to the racy political script.
Also read: OPS, aka a lesson in politics
The citizenry of Tamil Nadu was more than relieved when the Supreme Court, on February 14, pronounced V.K. Sasikala guilty in a disproportionate assets case. She was poised to become the chief minister after the death of her long-time compatriot Jayalalithaa. It seemed to be a shift from one absolute power center to another until Panneerselvam sat in meditation at the Jaya memorial before unleashing a political torrent.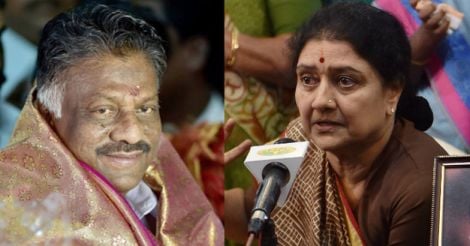 O. Panneerselvam and V.K. Sasikala
Tamil Nadu cabinet revolts, dumps Dinakaran, family
The political scene hit a new low as a disgraced Sasikala herded MLAs to a resort near Mahabalipuram. It was adrenaline rush in Chennai as governor in-charge Vidyasagar Rao adopted a wait-and-watch policy and stayed put in Mumbai. As the legislators plotted an action plan, the self-effacing Panneerselvam remained pitched and unflappable. He seemed supremely confident of 'the long arc of moral universe bending towards justice.'
For the warring factions led by Panneerselvam and Sasikala, the struggle to be at the pinnacle of power is an exercise in inheriting the Jayalalithaa legacy and the fortune she left behind. Sasikala's decision to 'take over' Jayalalithaa's Poes Garden residence, with absolutely no legal mandate, and her careful sartorial choices were part of this legacy makeover.
Two leaves to reunite? AIADMK factions plan to merge by dumping Sasikala
But as she went about the task of amassing material inheritances, the shrewd politician in Panneerselvam made a strategic withdrawal. He probably knew that it takes more than large mansions, oodles of cash, and cosmetic manipulations to keep a long and perpetual tryst with power in Tamil Nadu. He kept his political receptacles on the pulse of the common man and gauged the widespread antagonism against Sasikala trying to transform as Amma overnight. Panneerselvam probably took a cue from people questioning a Sasikala camp MLA during a morning walk in a Chennai park.
Now, as the political whirlpool gets murkier and the vortex turns deeper, Panneerselvam has emerged as the chosen one who can consolidate and take the government forward. Now that Sasikala and her notorious nephew T.T.V. Dhinakaran have become dead weight, the legislators are rallying behind more pragmatic politicians like Panneerselvam. This has a two-pronged advantage —they can be part of the Amma legacy and be relieved of the stranglehold of a failed band of bandicoots led by a jailed 'Chinnamma.'
For Panneerselvam, even if he does not become the chief minister, the cruel and clever dumping of Sasikala by her former 'loyalists,' whose prostrations can give Baba Ramdev a run for his money, is the perfect rounding of poetic justice.
But, do we see an understated superstar emerging? For a clue, start with P, as in Panneerselvam.