Electricity and internet connection was disrupted on the campus of the Jawaharlal Nehru University (JNU) in New Delhi Tuesday night shortly before the proposed screening of the controversial BBC documentary on Prime Minister Narendra Modi.
That did not deter the students from watching the documentary on their mobile phones and laptops. JNU students' union (JNUSU) president Aishe Ghosh initiated the distribution of a QR code providing access to the documentary.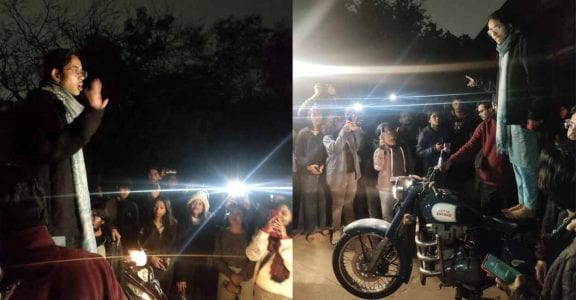 The JNU administration had on Monday issued an advisory warning strict action if the students' union went ahead with the screening.
The registrar had said screening the controversial documentary on Modi's alleged role in the Gujarat riots in 2002 'may disturb peace and harmony of the University Campus'.
"If they shut down one screen, we will open a thousand screens. This is the form of protest the JNU student community will be doing," Aishe Ghosh was heard addressing a gathering of students shortly before they began watching the documentary in the open.
Meanwhile, it has emerged that stone pelting took place on the campus. A Malayali student, who introduced as Parvathy, told Manorama News that stones were thrown by ABVP activists.