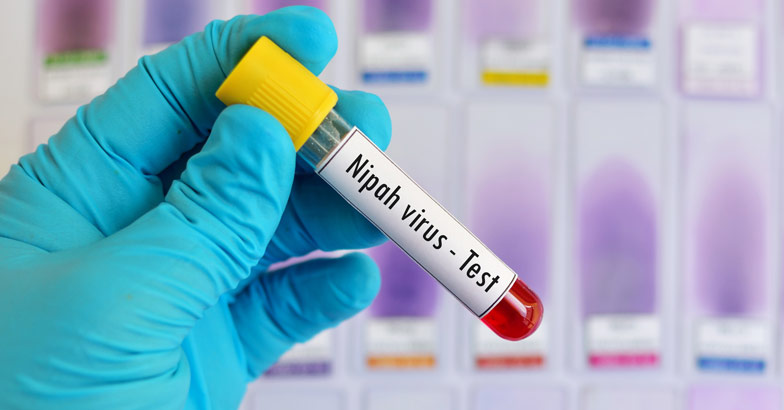 Kozhikode: The health and family welfare department in Kerala has issued an alert against Nipah virus.
The transmission of the virus is usually reported around December and lasts till June.
Additional chief secretary Rajeev Sadanandan has directed medical colleges, district hospitals and taluk hospitals to adopt precautionary measures while dealing with patients suffering from Acute respiratory distress syndrome (ARDS).
"The transmission of Nipah virus traditionally starts around December and lasts till June. Therefore, it is important to alert the public not to eat fruits bitten by bats and consume fruits and vegetables only after properly washing them," the directive said.
Patients with cough are to be directed to report to a cough corner, adding masks should be made available there.
"Anyone with cough should be directed to cover their mouth with a towel whenever they travel outside and also when they are interacting with family members in the house," the directive said.
The Nipah virus had claimed 16 lives in Kozhikode earlier this year, according to the Kerala government statistics.
Two patients were saved after quarantine treatment.
According to some international journals, there were 23 suspected cases and 21 died, a claim which has not been dismissed by Health Minister KK Shylaja so far. However, only patients who died after confirming the presence of the virus in the lab results, and not suspected death cases, received the government's aid. 
Nipah's origin
The virus was first identified in Kampung Sungai Nipah area of Malaysia in 1998 when a brain fever epidemic broke. Most of those infected people were workers at pig breeding centres. The virus can also pass on to humans from fruits that have been touched by bats. It could spread from infected people to others. Vaccine has not been developed yet to prevent the infection.
The infection was reported in Bangladesh in 2001 after it spread to humans who consumed date palm sap contaminated by infected fruit bats. According to (World Health Organisation) WHO, human-to-human transmission has also been documented, including at a hospital in India.
It was reported in many studies that there was a threat of further outbreak of this dangerous disease in the Indian subcontinent.
Signs and symptoms
The infection is associated with encephalitis (inflammation of the brain). The disease begins with breathing difficulty, terrible headache and fever and progresses to brain fever. Death rate among infected people is 74.5 per cent.
The infection in humans has a range of clinical presentations, from asymptomatic infection to acute respiratory syndrome and fatal encephalitis, says WHO. The primary treatment for human cases is intensive supportive care.
Transmission
Transmission to humans occur after direct contact with infected bats, infected pigs, or from other infected people.
In March 2018, WHO had listed eight potential global diseases which could potentially trigger deadly global epidemic in the near future, calling for urgent measures to accelerate research and development to tackle it.
These diseases pose major public health risks and further research and development is needed, including surveillance and diagnostics, a WHO statement said.