It seems like in the battle of SUV minnows in Indian market, the updates from real SUV is getting lost without getting the deserved attention. All talks are about compact SUVs. But the SUVs are not behind in sales even though they do not figure much in discussions. SUVs like Toyota Fortuner, which do not belong to the luxury brand cost as much as the entry level vehicles of luxury (premium) brands like Mercedes, BMW and Audi. Still Fortuner is found to be bestselling, going by sales figures.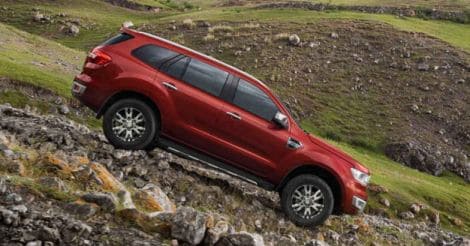 Endeavour spearheads Ford in this category. Although it has been in the market for some time, it was lying low without creating much ripples. The all-new Endeavour, which hit was introduced in the global market recently, has arrived in India too. This has a radical new look, different from the old one which resembled American pickup trucks. Endeavour has acquired an SUV look that goes by the tastes of Indian customers.
The Endeavour which does not compromise on size or engine capacity for tax exemption is a rough and tough model built on body on frame (chassis) method. Even though it is noted for its front grill size and chrome glitter, the attitude is hardly one of aggression but is instead of 'soft but firm.' There are no visible signs of flamboyance on the sides and behind. All dimensions proclaim the arrival of a 'big car'. Its design is such as to make the elevation from the road prominent. The overall height is 1837mm.
Enchanting interior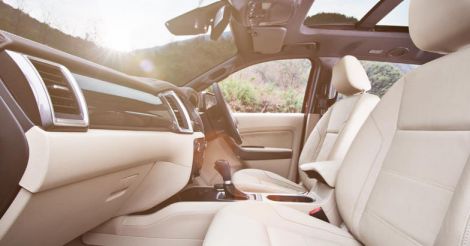 The dashboard has an attractive leather covering. The seats, door panels, switches, steering and multimedia screen retain this standard. The glare from the sun on the info screen can be irksome at times. Although the first two rows of seats are eminently suitable for long distance travel the third row can only be set aside for children. They are fixed very low. Much space for transporting goods is obtained upon folding them. The trunk door is powered and can be opened and closed using a switch.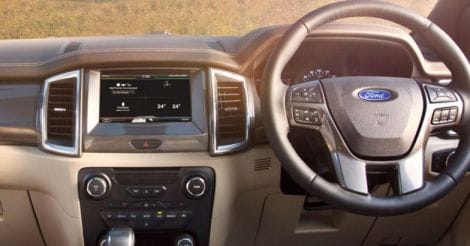 Power-mill
The 2.2 litre diesel engine and 6 speed automatic gear system are a perfect combination. The engine has 158 BHP power and 385 NM torque. This ensures a completely untiring drive with excellent handling.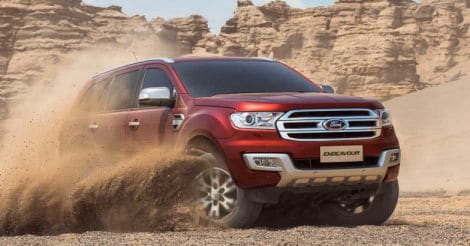 The Endeavour does not have the rumble and tumble of tall vehicles. Suspension is superb. The road and tire sound reduction is perfect to the level that horns from other vehicles nearby will sound like something coming from far out. A 225 mm ground clearance makes off-roading effortless.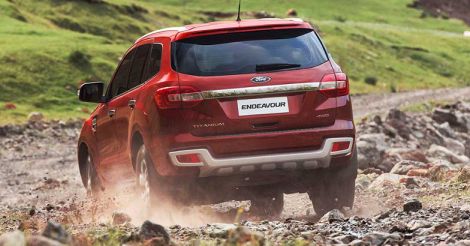 The Endeavour which boasts of several technical features and safety systems is assembled in Chennai using imported parts.
The Kochi showroom price of a 2.2 liter Titanium automatic gear model is Rs26.89 lakh. The other variants cost from Rs24.33 lakh to Rs28.94 lakh.