Harshan believes that the Yamaha RD350 is no easy beast to tame. He says you need some inner strength to bring it under your command. The life of Aluva-based Harshan, his 'Wild Wheels' garage, and RD350, which went into oblivion in 1991, are closely knit. He had moved to Aluva from Palluruthy 20 years before.
The RD 350, or RD Rajdoot 350, was made by Escorts for Yamaha. When the bike was launched, the company picked Harshan and Patrick from Kerala to train them at Delhi. It was Harshan who brought the first RD 350 to Kerala from Bangalore by road. The same vehicle was used by Mammooty's screen character in 'Johny Walker.'
Including RD 350, all two-stroke bikes could come under strict pollution norms soon in India. Until the can legally ply on the roads, Harshan is the hope for the owners of these priced bikes when they run into trouble.
After coming from Delhi, Harshan joined Purakkal Motors, the first dealer of Yamaha in Kottayam. He started his own shop, 'Wild Wheels' at Aluva Pulinjode in 1995. Here, in a rather modest setting, two-stroke bikes with fancy price tags are fined tuned, wheel to wheel.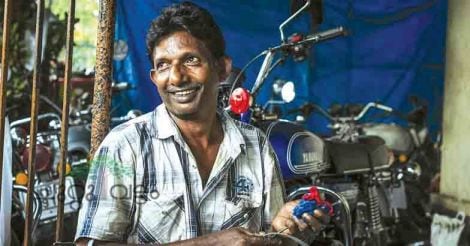 Harshan
The bikes that come here range from BSA C10, Zundapp, Triumph and so on. These days, you need to go to the house of Harshan in order to come across so many two-stroke bikes. He has rectified about 70 RD 350 bikes from his workshop so far.
Harshan is helped by his son Kiran, an engineering student and Anand, a BBA student, during weekends and holidays. Harshan makes regular trips to Bangalore to source spares for RD350s.
Harshan's house is near Carmel Hospital on the Aluva-Perumbavoor route. You can easily spot his house-cum-workshop if you keep an eye open for an array of RD350s.