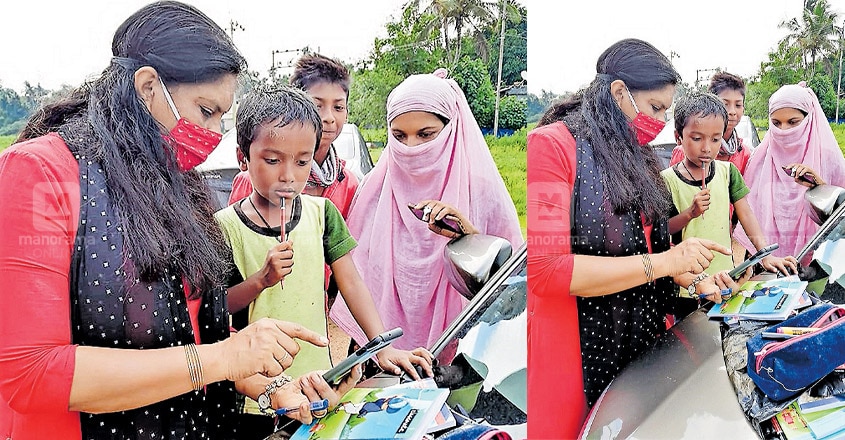 Kalamassery: As educational institutions are shut in a bid to arrest the spread of COVID-19, virtual classes have commenced in Kerala. However, several students from poor families find it difficult to utilise it as they can't afford laptops, computers, smartphones or broadband connectivity. Moreover, difficulty in gaining access to satellite TV broadcast either through cable connection or DTH connection is also an issue. Jaya Paul, a young teacher of MES Eastern UP School, Eloor, arrives at the doorstep of a few students who find it difficult to access virtual classes to impart education directly. For convenience, she conducts classes in her car.
Jaya had not expected that she would have to drive out, especially when COVID-19 curbs are in place. When she noticed that messages on online classes sent to some students did not elicit any reply, she decided to go their houses and enquire. The four students, studying in classes 1, 6, 8 and 10, belonged to a guest worker's family and lived in a rented house at Idukki Junction, Muppathadam, on the outskirts of Kochi city.
Jaya realised that none of the students had attended the online classes as they couldn't afford a smartphone. Their father worked in a footwear factory and only had a small income. There was a television in the house but it had no cable connection. Being migrants, nobody was concerned about the family's plight.
While two of the children studied at MES School, the others were enrolled at Muppathadam School. Apart from missing the online classes, the students could not do the assignments which are to be submitted when regular classes start.
Jaya found that the elder children were under stress. The younger children, especially the student of Class 1, needed personal attention from the teacher as they had to be taught how to read and write. So, Jaya soon started reaching the youngsters' house on the last working day each week in her car.
She also carries sanitizer and masks as she ventures out owing to the COVID-19.
"I was a bit afraid initially but took every precaution by sanitizing all the study materials," says the intrepid teacher. Every time she goes to the students' house, Jaya summons the youngsters outside. After making students to use the handwash, the classes commence with books spread on the car bonnet.
The teacher's initiative has been a big blessing for Class 1 student Muhammed Farhan and Class 6 kid Muhammed Rayhan.
Apart from these two students, Jaya conducts her 'car classes' for the children of some guest workers from Assam living at Chirakuzhy in Eloor.
Even then, the two elder children at Muppathadam, studying in classes 8 and 10, still miss their education and Jaya has urged kind-hearted people to donate a smartphone for them. "Children belonging to guest workers' families desperately need help from others to join online classes," she says.