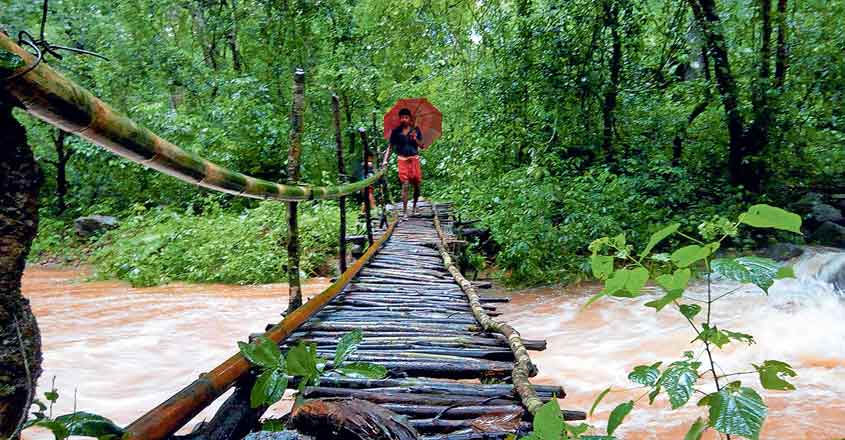 Kannur: Tribal families living near Kannavam forest in Kannur district are far removed from signs of modern civilisation. They have to put up with deplorable conditions as modern infrastructure is totally absent in the area falling within the Chittariparambu panchayat. There are no proper roads, power connections, accessible educational or healthcare facilities. Thirteen out of the 30 families have abandoned their homes and farmland fearing attacks by wild animals. It is a picture of neglect for the remaining families and their only solace is power supply, though erratic.  
Absent roads, power facility
The road connecting the  tribal colony with Chennapoyil is unmotorable, to say the least. Forget about two-wheelers, even the four-wheel drive vehicles would find it difficult to drive through the road replete with loose stones.  
Many people had lost their lives as they weren't taken to hospital on time due to lack of proper roads. The school children have to walk to Kannavam Colony or Panniyod to board the school buses. 
People have to set aside a day to buy food and other essential commodities from the market far away. People have to cross the Kallurutti stream through a wooden hanging bridge built by the local community themselves after a  concrete bridge that was built 15 years ago collapsed during heavy rains. 
It is very difficult to take a bedridden patient to the nearest hospital. The patient should be laid in a blanket and transported by foot for 6 km by holding the four corners of the blanket. 
Karunakaran, 55, survives on artificial respiration. A portable generator had to be taken on rent so that he continues to get oxygen if power supply gets snapped. The daily rent for the generator was Rs 2,000 apart from the transportation charges.  
Though electric posts had been put in place, street lights are yet to be installed. The colony is home to many athletes, including C P Shiju, who had represented India in many international championships. 
The families are hoping for better transportation facilities in the region.  
No title deeds
The tribals, who had been possessing land for generations, are yet to receive the title deeds and only have possession certificates. The state governments through the years had only distributed copies of the old possession certificates with photos affixed. The adivasis don't have the right to hand over land or cut trees for personal use. 
The 13 families, who had moved out of the colony fearing attacks by wild animals, have shifted to hill tops, relatives' houses or rented houses. Elephants frequently destroy plantain and coconut cultivation in the area, and the latest elephant attack happened a week ago.