Thrissur: The streets of Thrissur has transformed as temporary stages for nine days as the International Theatre Festival of Kerala (ITFoK) commenced Monday.
With a focus on street performance, this year's festival has multiple venues in unlikely places, ranging from Town hall to swimming pool. Some of the proposed venues are Thekkinkadu- the Round, Nehru Children's Park, KSNA courtyard, Town hall, Palace grounds and more.
Sixteen international theater companies, 8 Indian companies and 7 Malayalam theater companies will perform at this edition's ITFoK.
The curators of this year's edition have chosen works that expand the reach of the performances as well as re-imagine public spaces, stimulating a reassessment of our everyday perception of city and society. They will inspire you, as curator Anuradha Kapoor says, to "the street; cars, buses squares, crossroads", everything that we see in reality will become theater properties.
The festival will have performances from Italy, USA, Iran, Germany, Finland, and France. Other than theater shows, this year's festival will have dramaturgy and writing conclave, session on writing about the arts, and three day theater colloquium with speakers like Aubrey Mellor, Anuradha Kapur, T.T. Sreekumar, Erin Mee, and Dr. C.S. Venkiteswaran.
Renowned theater makers will also give talks to audiences at the School of Drama on subjects such as scenography and Theatre Pedagogy.
Collaborative projects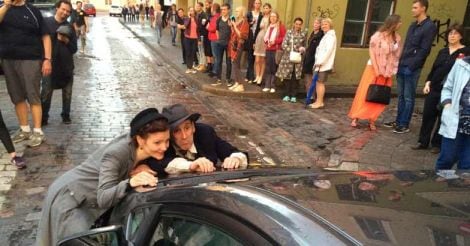 A scene from Migrar
This year's festival has various theater companies collaborating with Indian artists and make their own physical and cognitive explorations into questions of social and human conditions. The Strings Theatre Company famous for their onsite creation of performance in residency, Art Junction Poland and Theatreconnekt Thrissur, Kamchatka from Spain, La Patriotrioco will perform and train students to join them in their workshop process and then to perform the resulting work on the streets of Thrissur town.