Kochi: The first thing visitors to P.K. Sadanandan's workspace at Aspinwall House are struck by is the sheer scale of the celebrated muralist's newest piece, which will be presented at the Kochi-Muziris Biennale starting next week.
Begun as soon as the first planks went up at the Biennale's main venue in October, the in situ mural covering – measuring 15m x 3m – is intended to be a work in progress over KMB 2016's nearly four-month run. Both the production and its preparation are a study in meticulousness.
It began with the methodical creation of his colors. He sourced his black from the soot that accumulates in a clay pot that had been placed over a burning oil lamp for a week. For his red and yellow, he manually ground down saffron and yellow arsenic stones respectively – adding water to the powders to create paste. Laterite stones were ground for his yellow ochre, a slight hue variant of yellow.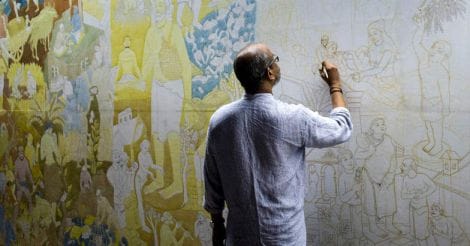 Celebrated muralist P.K. Sadanandan is a participating artist at KMB 2016. Courtesy: Kochi Biennale Foundation
"Since I don't use chemically-derived dyes, it takes a lot of research work to identify the natural materials to derive the exact shades and colors I require. The identified materials are then treated at different levels before they are used on the wall. It takes two-three weeks to get the colors ready to use," Sadanandan said.
Known for his elaborate works and dedication to reviving the traditional art of mural painting, the city-based artist has evolved a practise that combines local teachings in Kerala with styles from across India, taking cues from the ancient cave paintings in Ajanta and Ellora.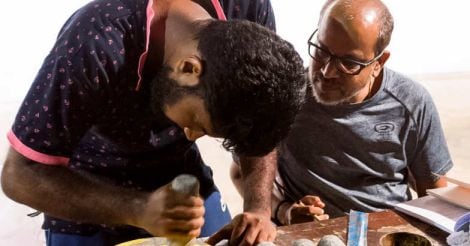 Sadanandan with his assistant prepare colors. Courtesy: Kochi Biennale Foundation
"Though mural painting is a traditional art practise, I blend it with more contemporary forms," he said. The predominant blue in his works is one notable difference from the traditional Kerala mural style where red is the principal color.
In keeping with his oeuvre, however, Sadanandan's mural at the Biennale features icons and narratives inspired by mythology, encased within natural elements and organic world.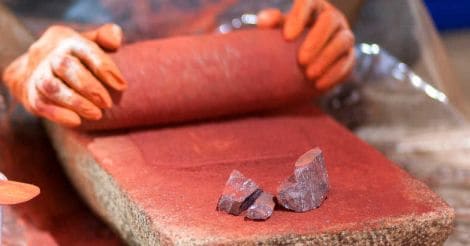 Sadanandan manually ground down saffron stones for his red colour, adding water to the powder to create paste. Courtesy: Kochi Biennale Foundation
"My subject has great significance when considering the present scenario on caste hegemony and issues pertaining in contemporary Indian society. This art work will evolve during the period of the Biennale," he said.