Kochi: After regaling the Sunday crowd with his inimitable vocal stylings at an evening concert on the sidelines of Kochi-Muziris Biennale 2016, Carnatic music maestro T.M. Krishna observed here on Monday that Sudarshan Shetty's curatorial vision had challenged the compartmentalization and hierarchy in the art world.
"The fact is that the art world is a divided one. Each artist has a territory or form inside which they work and so tend to protect that territory. Sudarshan's vision has smudged those boundaries by bringing sound, music, visuals, movement and dance, under one platform. That is a very important message for artists. It questions both artistic territorialism and hierarchy," said Krishna, who won the Magsaysay award in 2016.
Describing the Biennale as a "powerful, disturbing and passionate experience", he said, "Any art with its own form or its own way of communication has to unsettle. Being disturbed is beautiful. The Biennale puts you in a position to see, hear and feel something that might not comfort you: like looking into a mirror. It urges you to get out from inside your skin and see the world in other angles."
"If more people can do that, the world would be a more beautiful place. The Biennale certainly has opened that window to new possibilities," added Krishna, who is renowned for taking Carnatic music – once considered an inaccessible musical form – to the common public.
The renowned vocalist took a guided tour of a number of venues on Monday. Afterwards, he said he was moved by the magnitude of works and meanings on display and stressed the importance of such spaces of creative freedom.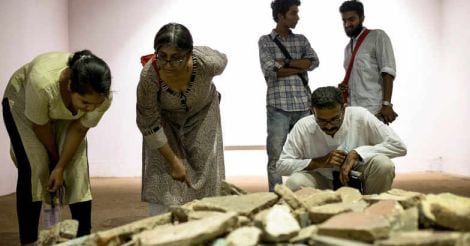 Carnatic vocal maestro T M Krishna spending time at artist Prabhavathi Meppayil's work 'Melting Pot' at Aspinwall House. Credit: KBF
"The Biennale allows artists to do what they do: challenge every status quo, every form of violence and oppression. This is also important because the spirit of Biennale is carried beyond it: how visitors carry the idea and experience of this art exhibition back with them is a important question," Krishna said.
On Sunday, ​​the iconic musician had rendered classical ragas like Kamboji, and Ananthabhairavi before a capacity crowd at the Pavilion in Cabral Yard. The two-hour performance was part of the 'Closing Week' programs at KMB 2016.