R S Vimal has taken a leap of faith from the Rs 8.5 crore Ennu Ninte Moideen to Rs 100 crore Karnan. Ask him how he made it to the big league and he has an interesting observation: If Ennu Ninte Moideen came from the heart, Karnan is a brainy affair. The epic movie demands tedious technical perfection at every stage of production, he says.
Vimal's second outing as a director has elicited excitement for a variety of reasons. The digital story board the team has prepared to shoot Karnan is about to be released as an animation movie that runs the full two and half hours. The animated movie will be released on television and DVD shortly after Karnan is released next year.
Digital story board was pioneered in Malayalam cinema by Vimal. Now he is taking it a step forward by releasing an animation movie based on it. Though a few animation movies had featured superstars in India before, an animated version of a movie is a first.
The team is busy with the work on the animated movie. Gopi Sundar is crafting background score for the movie. The five songs in Karnan will also appear in the animated version. Prithviraj and the other actors will lend their voice to the animated movie.
Vimal's movie is a retelling of 'Mahabharatam' through the eyes of Karnan. The shooting of the movie will start in various locations in Hyderabad and Rajasthan in September. The movie is expected to be released in September 2017.
The movie assumes epic proportions as it is simultaneously shot in Hindi, Tamil and Telugu apart from Malayalam. Prithviraj plays the central character in all the versions. The details of the other actors are not out yet but lead actors from Bollywook and Tollywood are expected to be in the star cast.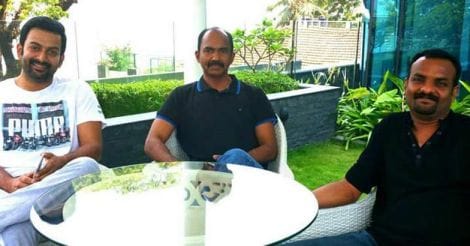 'Karnan' discussion at Prithviraj's apartment with Producer Venu and director Rs Vimal
The team plans to get the movie released in 4,000 halls worldwide. A star attraction of the movie is Senthil Kumar, the cinematographer behind both editions of blockbuster Baahubali.
The battle scenes will be shot in gigantic sets at the Ramoji Rao Film City in Hyderabad.
The movie is produced by Dubai-based industrialist Venu Kunnappilly under the banner of Kavya Films.