Sabu Cyril has gone places on the wings of his imagination. He knows what the director wants to show and he knows what the audience wants to see. His magical fingers create magnificent palaces and exotic creatures and futuristic robots from nowhere. He is the numero uno art director in India with four national awards, five Filmfare awards and three state awards, two from Kerala and one from Tamil Nadu.
Amid a hectic project for creating a massive venue for the wedding of industrialist B Ravi Pillai's daughter on the Asramam Ground in Kollam, Cyril takes a timeout to speak to Manorama. He was brought to Kollam to design the project on 4 lakh square feet and two associated tents with 1.5 lakh square feet. As soon as the work is over he will return to the Ramoji Film City in Hyderabad where he is building the sets for the second part of the marvellous Baahubali.
The most challenging set?
Each of them is a challenge and that is one thing that drives me. Even this work is full of challenges. This is the first time I am building a set for a wedding. It is a challenge to make arrangements to accommodate so many people without exposing them to rain or shine and enable everyone to see the ceremony.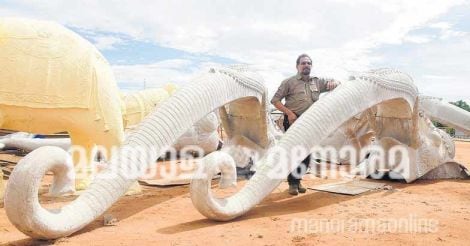 Sabu is creating a massive venue for the wedding of industrialist B Ravi Pillai's daughter
Unforgettable moments?
I made my debut with Amaram. Though the first film I worked with was Iyer the Great, I worked with its second unit. I cannot forget the moment when an elder congratulated me for the shark I made for Amaram. After the shark was put in the water on the Omanappuzha beach, he asked me if I had seen such a big shark. I said no. He said he had seen such a shark in his childhood. He said my shark looked exactly like the one he had seen.
It was a miracle that the shark held straight in the water. There were moments blessed by god. I had wondered at my own work. Perhaps it was God who made me do it.
About Baahubali
We have started making the set for the second part. Rajamouli is a hardworking director. He puts a lot of stress on art direction. The elephant that throws people around in the battle scene and the horse onto which Baahubali darts on were artificially made.
About Malayalam movies
Malayalam is more realistic. Kannada and Telugu are not like that. Tamil is somewhere in the middle. The challenge, however, is to do futuristic cinema. Yenthiran, for example. We do not know how science will progress in the next five years. If you want your film to stay relevant, you have to do it that way. You need to have a knowledge of technology. You have to foresee a lot of things.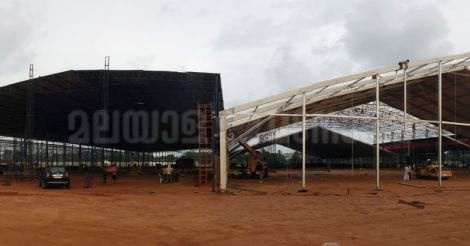 The highlight of Ravi Pillai's wedding venue is Asramam Ground
About Kollam
I have stayed for a year in Kollam to study. In seventh standard in the Trinity Lyceum school. I stayed at Thangassery. I was born at Valparai near Pollachi. My father Cyril Arthur was a tea maker there. I was brought to Kollam to study by our family friend and group mechanic Jacob. I still remember the teachers including Belthaz and Fonzeca. Fr Jacob was the principal. Neendakara amazed me. I was seeing so many fish together for the first time. Thangassery Bishop's Palace and the Infant Jesus School are still fresh in my memory.
Cyril is working on a dais that looks like a lotus in bloom. This is the highlight of the venue on Asramam Ground and perhaps the single point that attracted him to the project.