Kottayam: Deivame, sathyam aano? (Oh my god, is that true?) was the reaction of young composer Sooraj S. Kurup when Onmanorama told him that his songs in the film Valliyum Thetti Pulliyum Thetti (VTPT) have become current earworms of Malayalis.
For latecomers, here's a retake. Sooraj, who never had a stint as an assistant to any composer, set tunes to six songs in his debut movie, wrote lyrics for five of them and his music has been winning thumbs up from the audience, people in the industry and critics.
Also read: The 90s era in 'Valliyum Thetti Pulliyum Thetti' was created with gusto!

"To be honest, I did not expect the songs to do so well. I knew I gave it my best, but I did not think the music would be loved by so many. I am very happy that I am here after a struggle of nearly 6 years – for me as well as Rishi Sivakumar, the director of the movie. We used to go to producers together to narrate the story Rishi had written. There were days when we had to choose between food or the train back home," Sooraj said over the phone from Vagamon, where he was at the location of Kochuouvva Paulo Ayyappa Coelho (KPAC), his second movie as music director.
Chackochan's favourite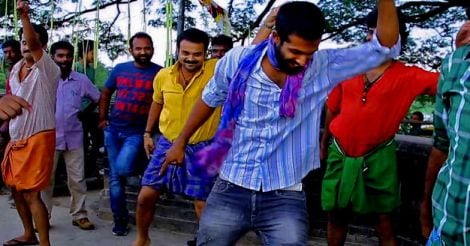 Sooraj (right) tries a dance move with Kunchacko Boban at the location of VTPT.
Happy with Sooraj's work in VTPT, Kuchacko Boban, the hero in the film, had called Sooraj personally and offered KPAC to the talented musician. Directed by National Award-winning filmmaker Sidhartha Siva, the movie marks the revival of Udaya Studios, the oldest production house in Malayalam, presently owned by Kuchacko Boban.
Sooraj was delighted when the offer to compose songs and background score for an Udaya Studios production came his way. And, even though it had to do with work, Vagamon was a much needed break for Sooraj.
"I completed the background score work of Valliyum Thetti... a week ago. I did not appoint an assistant and had to do it myself. By the time it got wrapped up, I was stressed out. That is when Chackochan (Kuchacko) suggested I join the team of KPAC in Vagamon. This movie has 5 songs and it will be an Onam release," he said.
Background score too difficult?
"In fact, I like doing background score a lot. I had assisted in the re-recording works of a couple of Kannada films when I was in Chennai. But in VTPT, I did the work all alone and it was taxing," Sooraj said.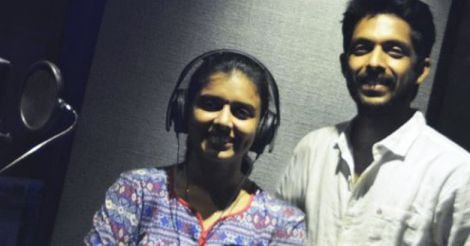 Singer Sithara and Sooraj pictured in the studio during recording.
"Sounds we plan for certain scenes may not gel once we see them on-screen. The director and cinematographer put their vision in the frames and the background score can go in sync and lift the mood or in unfortunate cases, spoil the mood. So, a lot of responsibility rides on you when you compose the BGM," he explained.
Songs are no less difficult to come up with, opines the composer. "When I get positive feedback for my songs, I get tensed because the expectations of the audience go higher from there. I hope I manage to meet it," he said.
VTPT magic
Sooraj had recorded the songs a month before the shoot of Valliyum Thetti Pulliyum Thetti.
"Interestingly, the tunes in VTPT is not really the genre of music I do. The movie is a tale from the 1990s and I had done music for ads and short films set in a modern age. I tried to go with the situations in the movie while composing songs," he said.
The excitement was palpable in Sooraj's voice when he said he managed to get his favourite singers to croon his tunes.
Also check: 'Valliyum Thetti Pulliyum Thetti': Best composer debut of recent times

"People whom I knew were apprehensive about Madonna singing 'Pularkaalam Pole'. They said her voice may not match the song's requirements. But, I was confident and she rendered the song fabulously. She was very cooperative and asked me to correct her pronunciations if needed. But I did not have to do any of that," Sooraj told Onmanorama.
Of the six songs he composed, 'Pooram Kaanan', sung by Vijay Yesudas and Sithara, is his favourite.
"Pooram Kaanan was composed even before the script of VTPT was ready. The song had a dark tone and I had myself planned to sing it initially. But when Sithara recorded her portion, I thought I might sound too sweet alongside her. We got Vijay Yesudas onboard, I asked him to sing it in a lazy manner and he nailed it," Sooraj beamed.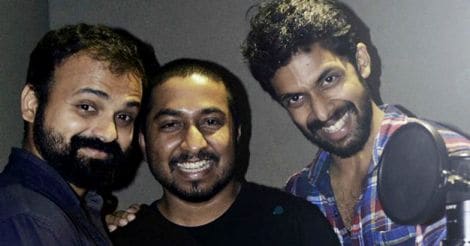 Kunchacko Boban, Vineeth Sreenivasan and Sooraj Kurup during a recording session.
However, Sooraj was sure that he wanted to sing 'Kannukal Kaalidari'.
"Among 'Kannukal' and 'Enno Kaathil', I gave Vineeth the latter as I thought he can add the right feel to it. He had heard the songs earlier and asked me who would sing 'Kannukal'. I had fixed myself as the singer before that," Sooraj said laughing.
Sooraj, the lyricist
It is no easy job to write lyrics for 5 songs and Sooraj has proved that he is a natural at it.
"I used to write for my personal needs, which includes keeping a diary. You just need a spark to start writing. Plus, I could connect to the theme of the movie and the myths I grew up with came in handy. For VTPT, I wrote the lyrics and composed the tunes simultaneously," he said.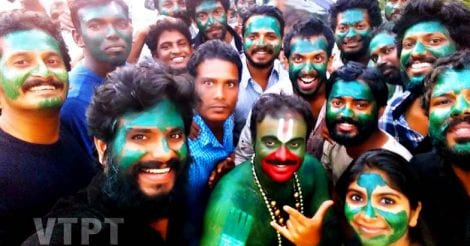 The VTPT team, including Kunchacko Boban, Rishi Sivakumar and Sooraj Kurup, poses for a selfie during shoot.
Rishi, dear friend
They've known each other for years and director Rishi never had to tell Sooraj that he would be composing the music for their debut movie.
"I've known Rishi for quite some time. During the movie's discussion phase, I would compose themes and play them to all. The team would be pumped listening to it and it used to get me energised. Everything fell into place on its own and I was on the composer's chair in the most easiest of transitions. Such is the bond Rishi and I have," Sooraj, who was involved in every stage of the film's production, said.
Amma, first music teacher
Sooraj does not have any godfathers in the industry. As a child, he had learned mridangam and he picked up other musical instruments all by himself.
"My mother likes to sing. When I was a child, she would listen to light music tutorial on Akashavani and would teach me in turn. I learnt mridangam during school years and a few friends, who were into programming, helped me get acquainted with keyboard and other instruments gradually. Later, the audio engineering course I studied in Stephen Devassy's institute Muzik Lounge School Of Audio Technology in Chennai moulded me as a sound technician," Sooraj recalled.
Offers on his way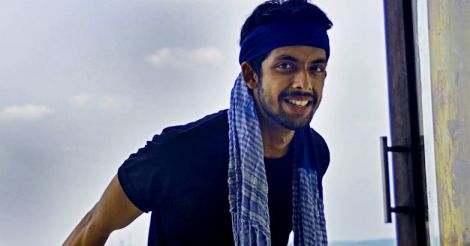 Sooraj did his degree in CMS College, Kottayam and said he is very attached to his alma mater.
Man who wears many hats, Sooraj had also worked as an assistant director for a Malayalam movie earlier.
"I was an assistant director for August Club, which had Murali Gopi and Rima Kallingal in the lead roles. I had made a few short films during my college days and I wanted to learn more about filmmaking. August Club was for that," Sooraj revealed to Onmanorama.
"The love I got from VTPT was overwhelming. Renji Panicker kissed me on both my cheeks at the location after listening to the songs. Director B. Unnikrishnan had good things to say about my music on his Facebook page," Sooraj sounds overjoyed at all the unexpected attention.
What next? "A few directors have contacted me for upcoming projects. Nothing has been finalised yet and so, I can't reveal the names," Sooraj said.
Favourite composer?
Sooraj refuses to label one musician as his favourite composer.
"I like good music and it can come from any composer. If it is mediocre work, we outrightly reject it too, right? Of course, I like the works of Santhosh Narayanan, Bijibal, Anirudh, G.V. Prakash, Gopi Sunder to name a few," Sooraj lists out.
There were comparisons made between Santhosh Narayanan and Sooraj, we pointed out. Sooraj was quick to shoot back a reply.
"No way, he is a brilliant musician. I heard such comparisons too, but I don't think so. His music is earthy and raw which may have made people come to that conclusion. Anyway, it feels good to hear that," Sooraj said amid laughter.