When the late Devarajan master asked M. Jayachandran whether he wanted to become a singer or music composer, M. Jayachandran did not have to think twice. "Music composer," he said.
But Jayachandran's introduction to the creative world of music direction was through the experience of witnessing M.B. Sreenivasan at work.
This sowed the seeds of the desire to be a music composer in someone who had stood first in Carnatic music for four consecutive years at the university.
When he sang alongside K.S. Chitra for the first time in a film for Vasudha, he felt vindicated about his decision. He could clearly sense the limitations of the singer in him.
Humility born out of respect to the masters is essential for an artist to gain prowess.
This is his takeaway from the experience of the past twenty years. It is this same humility that keeps him going even now.
Masters inlcuding Mullamood Bhagavathar Harihara Iyer, Perumpavoor G. Raveendranath, Neyyatinkara Mohanachandran, Sunny Valsam and Valsan Singh cast a spell on him. They moulded his craft.
And the music education that started at the age of five under Harihara Iyer continues even today.
He learned music for nineteen years under Neyyatinkara Mohanachandran, a compassionate guru whom he considers as one of his life's good fortunes.
Another is being able to associated with G. Devarajan, a music director whom he adore a lot. He saw a movie song recording for the first time along with the Devarajan master.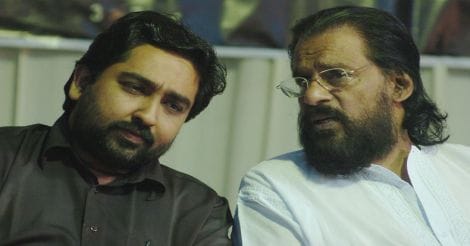 It was in that studio that he met Yesudas unexpectedly. He also had a chance encounter with friend Gireesh Puthenchery there. The acquaintance with Puthenchery paved the way for his entry into the world of film music.
M. Jayachandran fondly remembers Puthenchery creating more opportunities for him. K.S. Chitra and her husband Vijayan also nurtured the singer in him. Working alongside them in their studio presented him with a wealth of experience. The studio was witnessing the moulding of a music composer.
There are many talented kids among the new generation. Fame seeks good singers easily in this age of reality shows. Perhaps dedication to music is affected a bit due to instant fame. This is the true in the case of bands also, he thinks.
The way ahead for bands should not be by using musical instruments to distort songs of people like Johnson master. The bands should instead have their own signature songs.
'Vyethyesthanayoru Barberaam Balan' from the movie Katha Parayumbol is a song composed in just fifteen minutes. He says it is probably the most easily composed song in his life.
But a song like 'Hridayathin Madhupathram' took three months to compose. Jayachandran clarifies that he incorporated the "lessons learnt from Devarajan master" in this song.
"When the songs of the movie Chantha became a hit I grew a bit arrogant that it is going to be like this from now on. The coming days dispelled the arrogance thankfully – days that made me realize that I ought to create my own stamp as a music director. Those were also the days that taught me that one cannot survive in the music world without doing something novel".
Awards are a bonus from the Almighty, says he.
"I hugged my mother and cried when I learned about the State Award. It was sheer joy stemming from the honour for someone who was not even sure if he could compose music for a movie ever," according to him.
"I am still learning music. Experiments have to set in. My knowledge of western music needs to be put to use. Also doing Indo-Arab fusion music is the biggest dream of my life. I do not even know if it will work out. Still I find time for it amidst the hectic music schedule," Jayachandran said.
Watch the full interview in Manorama Online's 'I, Me, Myself'.