Kochi: A flood of memories came rushing back to Aditi Achuth as she took a tour of the ongoing third edition of the Kochi-Muziris Biennale (KMB). Aditi was part of the volunteer corps at the first KMB in 2012. At the time, however, she had identified herself as Akhil.
Aditi was part a 10-member strong team from Queerala, a support group for the LGBTQIA (Lesbian, Gay, Bisexual, Transgender, Queer, Intersex, Asexual) community in Kerala, which visited KMB 2016 Monday.
Read: Biennale takes Nithya Menen back to colors of childhood
Art Review | The Biennale washroom you should not use
Everyday Health | Transgenders – there is much to know before judging!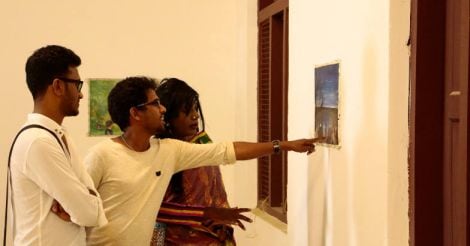 Members of Queerla at Daniele Galiano's space 'Bad Trip India' during the visit to KMB 2016 main venue, Aspinwall House, Fort Kochi. Credit: KBF
"I was a volunteer back then in (KMB 2012 participating artist) Amar Kanwar's space. It was one of the most inspiring stints of my life as I was able to meet and interact with many renowned artists and noted personalities. That time period, perhaps, also motivated me to take this bold step of transforming my gender from male to female," Aditi said.
It was also in 2012 that Jijo Kuriakose, a research analyst, started Queerala as an online space for sexual minorities in Kerala. "The founders of KMB have always been helpful and welcoming to the community. Moreover, movies like Ka Bodyscapes and Velutha Rathrikal, which address issues in our community, were screened recently at the Biennale," Jijo said.
He added that the visit was an attempt to show how public and cultural spaces can be SOGI (Sexual Orientation and Gender Identity) inclusive. The group had begun a hashtag campaign to capture the need for such spaces, #KochiIsOursTooAndSoIsBiennale.
For Theertha, KMB 2016 participating artist P.K. Sadanandan's elaborate wall mural at Aspinwall House had attracted her the most. The group also interacted with KMB 2016 participating artist Praneet Soi at his space in the Biennale's primary venue.