Los Angeles: "Moonlight" won the Oscar for best picture on Sunday, beating favorite "La La Land" for the movie industry's most prestigious award.
But in a highly unusual gaffe, presenter Warren Beatty first, mistakenly initially announced that musical "La La Land" had won, causing confusion and uproar on Hollywood's biggest night. Beatty said he had been given the wrong envelope to open.
Emma Stone won best actress for the musical, and "Manchester by the Sea" star Casey Affleck was named best actor on a night where U.S. president Donald Trump was the butt of numerous jokes, capping a Hollywood awards season marked by fiery protests at his policies.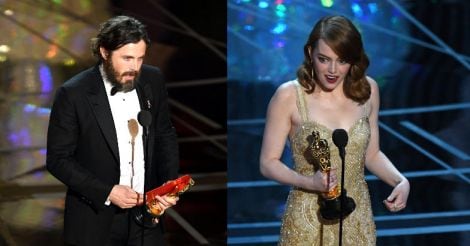 Casey Affleck and Emma Stone with awards for best actor and best actress. Getty Images
"La La Land" director Damien Chazelle, 32, became the youngest person to ever win a best director Oscar.
Viola Davis and Mahershala Ali won their first Oscars for their supporting roles in African-American stories "Fences" and "Moonlight," in stark contrast to the 2016 Academy Awards when no actors of color were even nominated.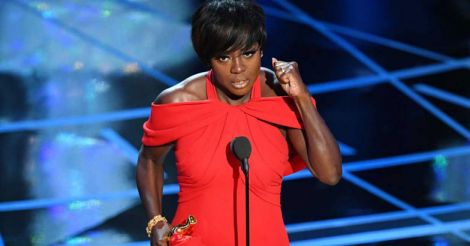 Viola Davis after winning the award for best actress in a supporting role. Getty Images
Read: Oscars 2017: Stars shine brighter on the red carpet as diamonds and gold have their day
Priyanka Chopra stuns in Ralph and Russo gown at Oscars
Celebs wear blue ribbon to protest Trump's travel ban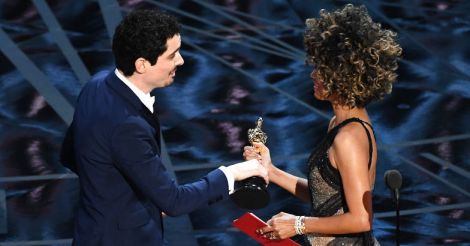 Director Damien Chazelle (L) accepts best director award for 'La La Land' from actor Halle Berry onstage during the 89th Annual Academy Awards at Hollywood & Highland Center on February 26, 2017 in Hollywood, California. Getty Images
"Moonlight," the coming of age tale of a young black boy in Miami, also won the best adapted screenplay statuette, while grief-driven independent drama "Manchester by the Sea" took home original screenplay.
Romantic musical "La La Land," the tale of a struggling actress and a jazz pianist in Los Angeles, went into the Oscars with a leading 14 nominations and emerged with six, including for its score and theme song "City of Stars."
Iran's "The Salesman" was named best foreign language film but its director, Asghar Farhadi, boycotted Sunday's ceremony because of the Trump's controversial bid to ban travelers from seven majority Muslim nations.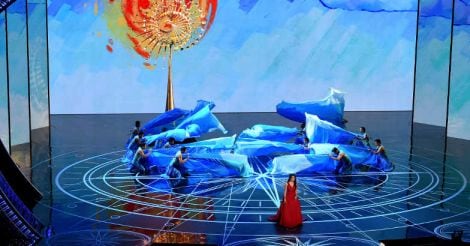 Actor/singer Auli'i Cravalho performs onstage during the 89th Annual Academy Awards at Hollywood & Highland Center on February 26, 2017 in Hollywood, California. Getty Images
In a speech delivered on his behalf by Iranian-American space expert Anousheh Ansari, Farhadi said his absence was due to "an inhumane law that bans entry into the U.S... Dividing the world into the 'us' and 'our enemies' categories creates fear, a deceitful justification for aggression and war."
Trump's presence loomed large at the three and a half hour show as host Jimmy Kimmel fired off political zingers and even tweeted at the Republican president, getting no immediate response. Several celebrities wore blue ribbons on Sunday in support of the American Civil Liberties Union (ACLU) advocacy group that worked to get Trump's travel ban blocked in U.S. courts.
Full list of winners:
» Best picture - Moonlight
» Best actress - Emma Stone (La La Land) 
» Best actor - Casey Affleck (Manchester by the Sea)
» Best director - Damien Chazelle (La La Land)
» Best adapted screenplay - Barry Jenkins and Tarell Alvin McCraney (Moonlight)
» Best screenplay - Kenneth Lonergan (Manchester by the Sea)
» Best original song - City of stars (La La Land)
» Best original music score - Justin Hurwitz (La La Land)
» Cinematography - Linus Sandgren (La La Land)

» Best documentary short subject - The White Helmets, directed by Orlando von Einsiedel, Joanna Natasegara
» Best live action short film - Sing
» Editing - John Gilbert (Hacksaw Ridge)
» Production design - David Wasco, Sandy Reynolds-Wasco (La La Land)
» Best foreign language film - Iranian film 'The Salesman', directed by Asghar Farhadi
» Best animated feature film - 'Zootopia' directed by Byron Howard, Rich Moore, Clark Spencer
» Best animated short film - Piper, directed by Alan Barillaro and Marc Sondheimer
» Best visual effects - The Jungle Book
» Best actress in a supporting role - Viola Davis (Fences)
» Best supporting actor - Mahershla Ali ('Moonlight')
» Sound mixing:  Kevin O'Connell, Andy Wright, Robert Mackenzie and Peter Grace (Hacksaw Ridge)
» Sound editing: Sylvain Bellemare (Arrival)
» Makeup and hairstyling - 'Suicide Squad'  team
» Costume design - 'Fantastic Beasts and Where to Find Them'
» Best documentary - 'O.J.: Made in America'