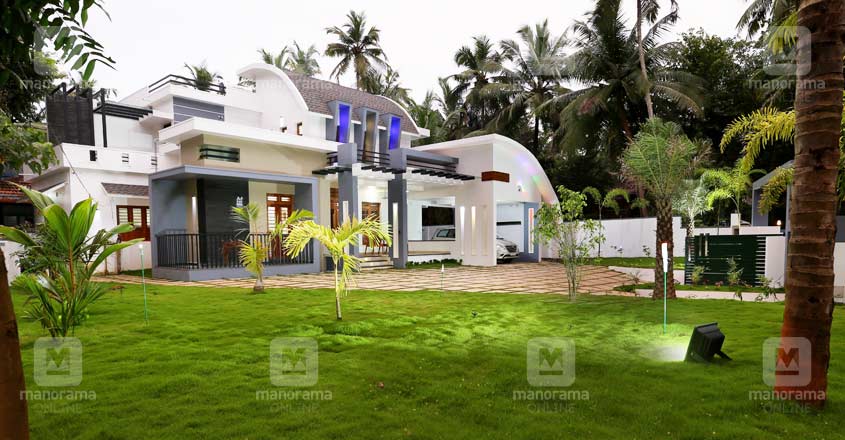 Muhammad Hakkeem, an expatriate, built his dream dwelling in a 25 cents land, in his home town in Valancheri in Malappuram, Kerala. As the plot is a bit raised from the road level, the structure is designed in a unique way to make it appear not so taller. It is for this purpose that the roof has been designed in a striking curved shape. However, the interiors of this house are spacious and have all the modern facilities as well.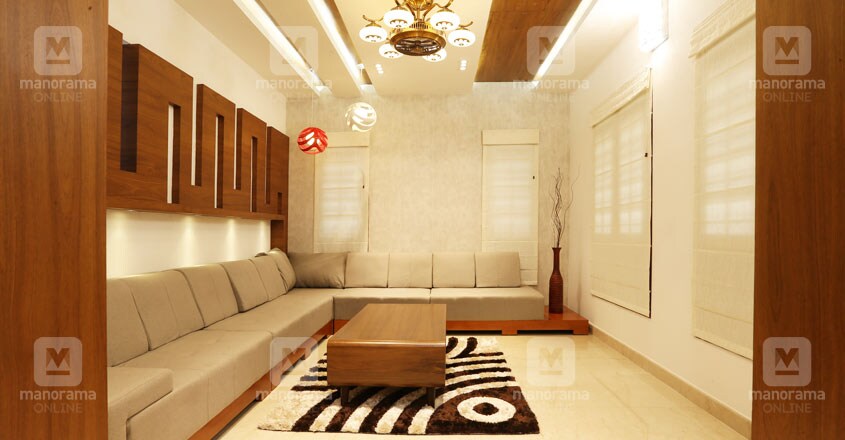 The structure is built by leaving enough space in the front so that a stunning view of the exteriors could be enjoyed in all its glory. Besides the main gate, a wicket gate too has been arranged. The front yard is aesthetically designed by paving lush green buffalo grass and natural stones in alternate layers.
This spectacular house, designed in 3053 sq ft area, has a car porch, sit out, formal and family living areas, dining space, kitchen with adjacent work area and four bedrooms. Italian marble is used for flooring in the ground floor while vitrified tiles are paved on the upper storey.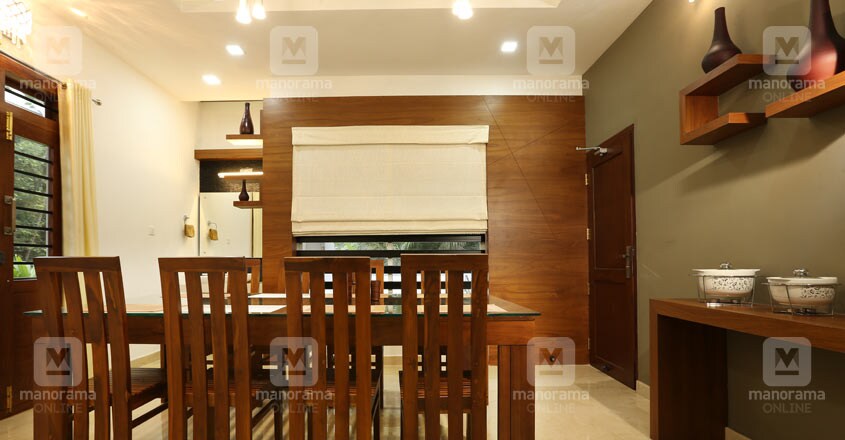 The interiors don the classic combination of grey and white shades. This grants an amazing rustic finish to the spaces. The furnishing and the paneling, done in veneer and wood finish, too add to the majestic look of the house.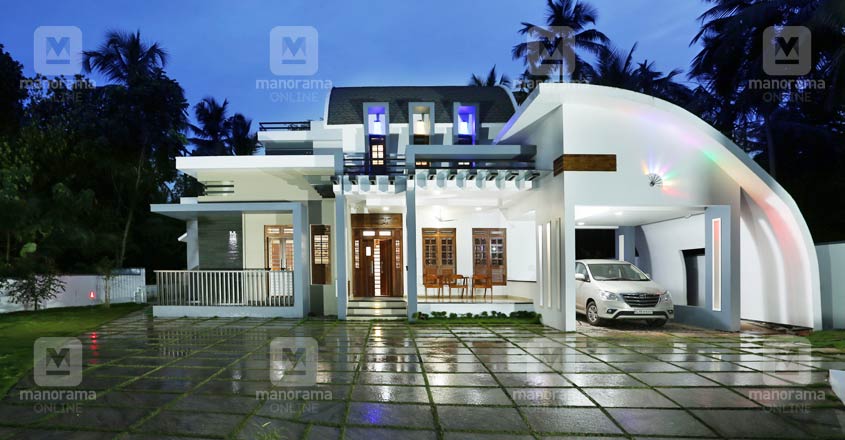 The formal living area is arranged in a way which ensures enough privacy for the guests. The 'L' shaped custom made couch is the highlight of this area. The balcony in front of the dining space is part of the elevation. Grilles are installed here for additional security. The wall beside the stair area is highlighted using wooden claddings. The hand railings of the stair way, meanwhile, feature the scintillating combination of glass and wood.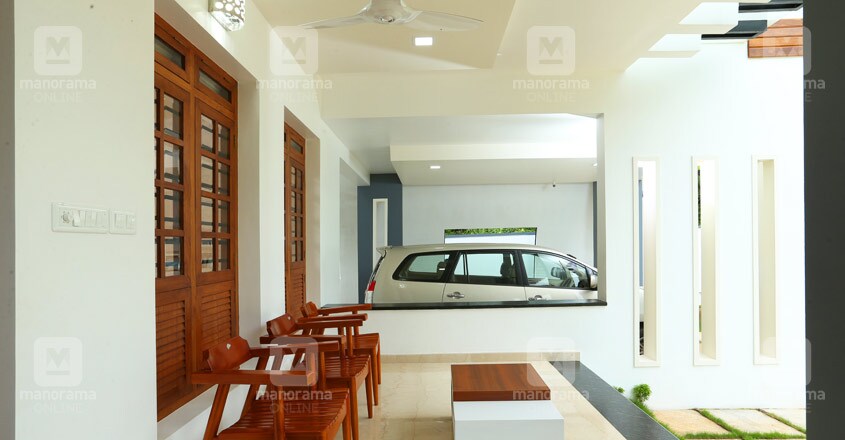 The kitchen and the dining area are designed as semi open spaces. The family living area is between the kitchen and the dining space. The wall here is highlighted using attractive wall paper. A TV unit completes this area.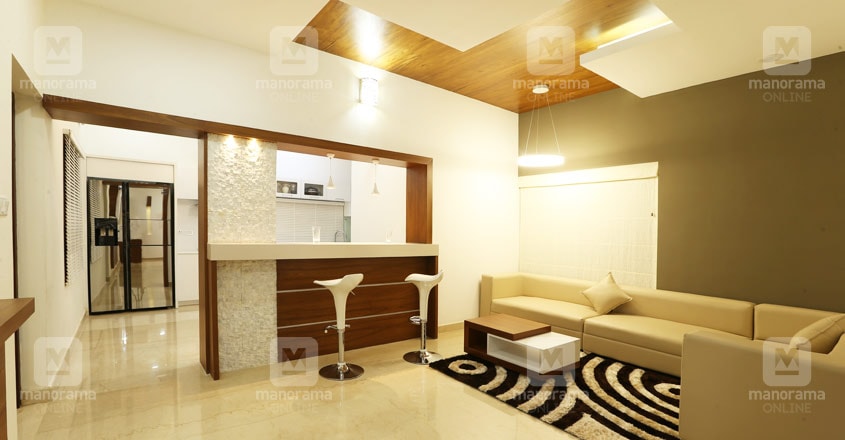 All the bedrooms are bath attached and have in – built wardrobes for storage. The master bedroom is in the upper storey. The wooden flooring adds a special panache to this room. The veneer paneling here spreads from the headboard to the ceiling. One could enter the adjacent balcony from the bedroom through a glass door cum window.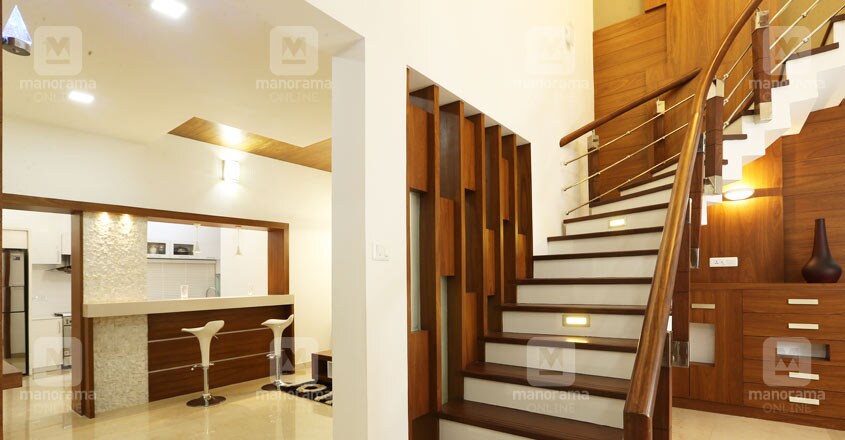 The kitchen is furnished in the grey and white theme. The cabinets here are made in veneer and white glossy mica finish. Meanwhile, the counter top has been paved with nano white. Similar facilities are continued in the adjacent work area as well.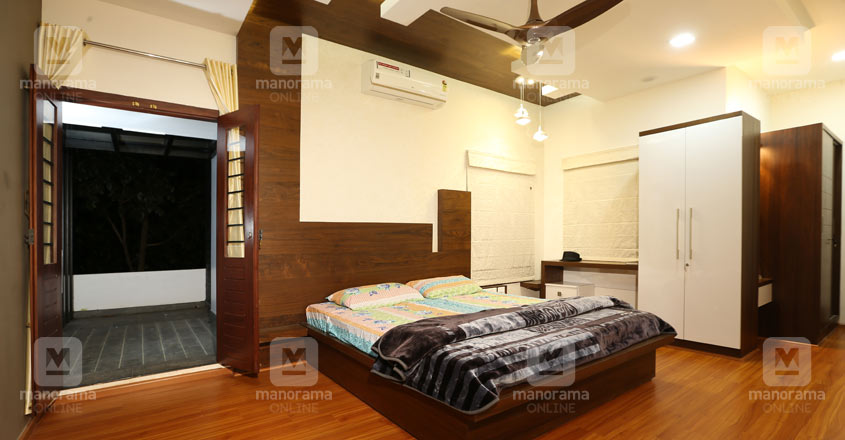 The interior spaces in this house are designed to be space efficient and extremely comfortable. The pleasant atmosphere and stunning features exude positive vibes as well. It is the amazing blend of comfort and beauty which makes this abode a design marvel.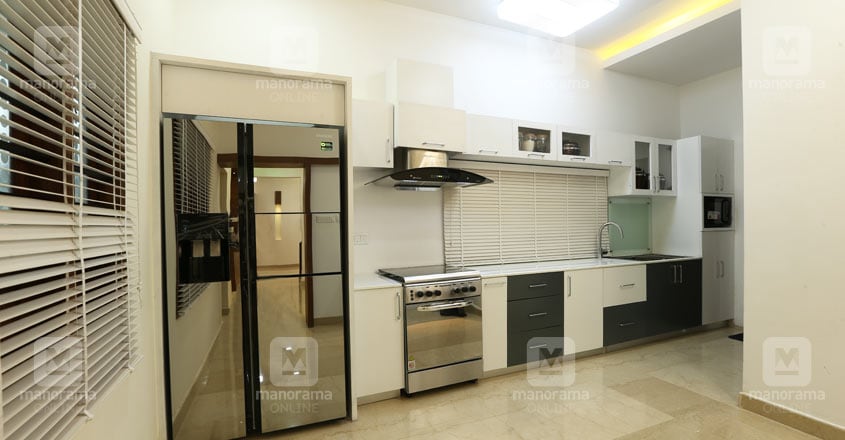 Project Facts
Location – Valancheri, Malappuram
Plot – 25 cents
Area – 3052.36 SFT
Owner – Muhammad Hakkeem
Designers – Shanavas Kuruppath
Mob – 9048492757
Year of completion - 2018