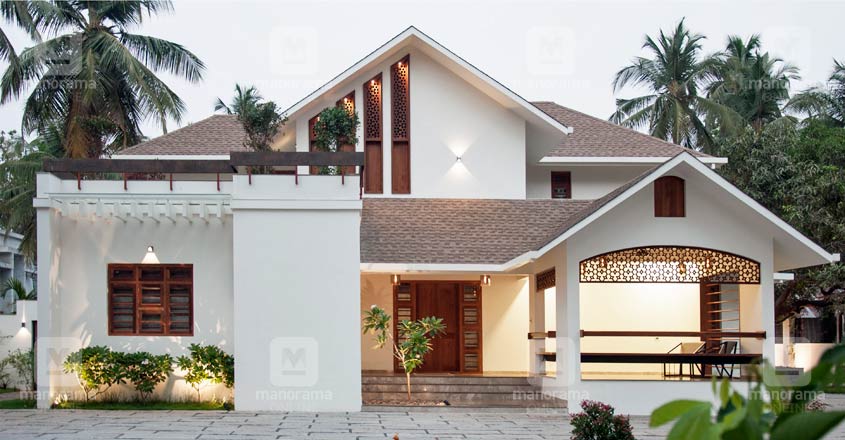 Mahmood and his family are thrilled about their brand new house that stands on a sprawling 50 cents land in Kodambuzha in Kozhikode, Kerala. It is the classic tropical designs that make this house stand out. The house exudes the natural elegance of minimalism, yet has all the modern facilities in the interiors. The shingles that are paved on the roof, the pocket windows and the jail works are all stunning features that grand a regal look to the exteriors.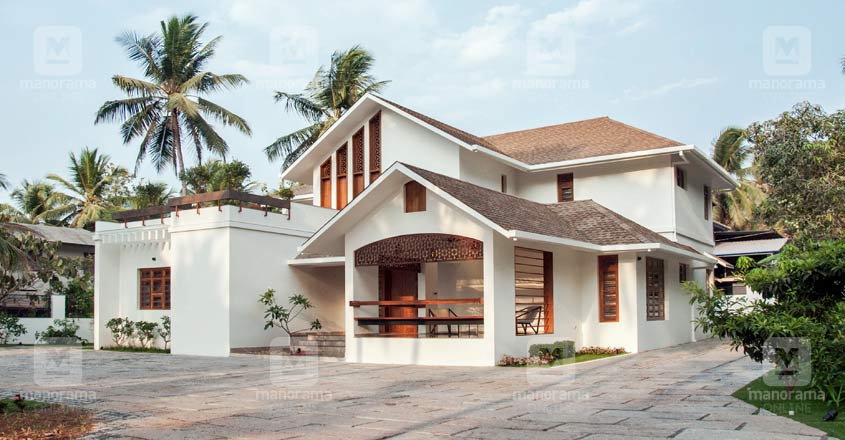 This spacious 4600 sq ft house has a sit out, formal and family living areas, courtyard, and kitchen with an adjacent work area, study space, balcony and 4 bedrooms.
Each space in this house has been designed to suit the likes and preferences of the family members. The spacious interiors don neutral shades of colours which make them look vaster. These features make sure that the interiors are filled with pleasant sun shine and have amazing air circulation as well.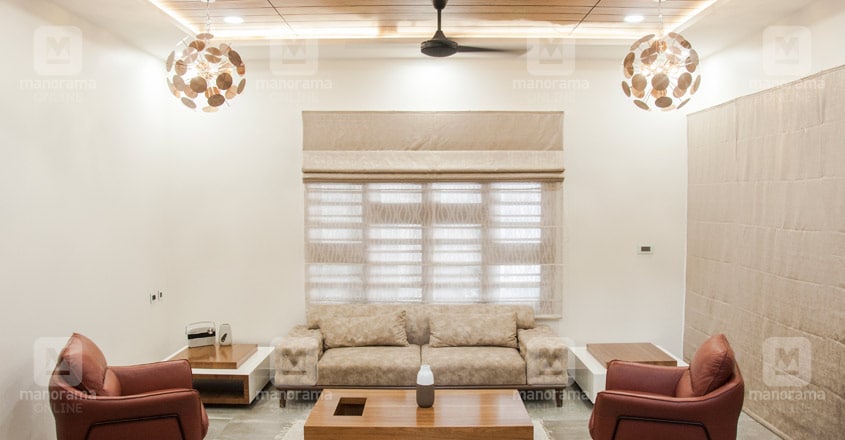 Lighter shades of hues are used for flooring which fills the spaces with a serene charm. Bianco Italian marbles are paved on the floor in the common areas. Meanwhile, la potra granites are used in the bedrooms. The beautiful light fittings and the pendant pattern lights sets a calming mood that helps the family members relax.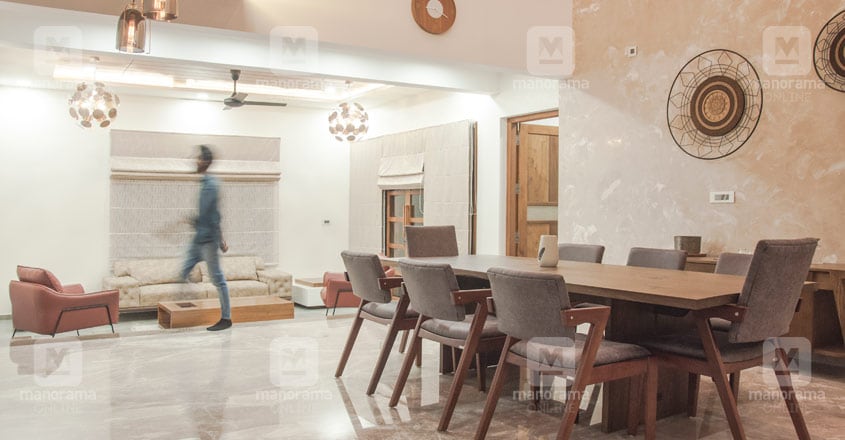 The courtyard is the highlight of the interiors. The deck flooring done in teak wood, the pebble area, the statement plant and the stunning skylight are all factors that make this area truly breathtaking.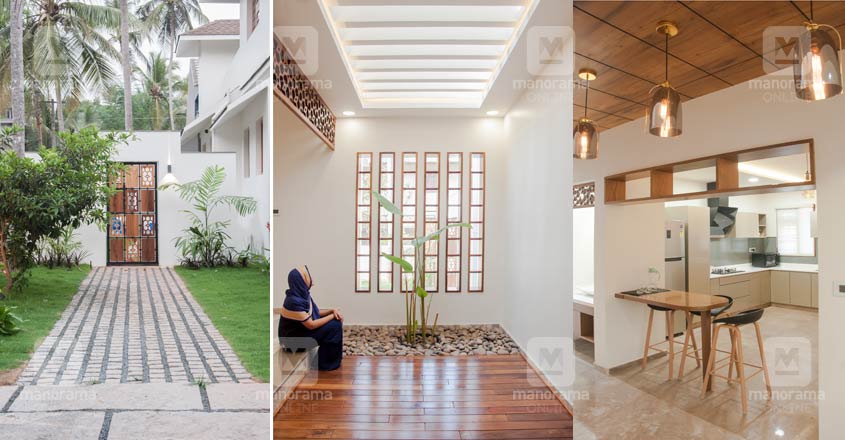 The stairway designed in the floating pattern is truly eye-catching. The sandwich steps made by fixing teak wood panels on steel frames are what make the stairway a stylish designer feature of the interiors. Meanwhile, industrial steel and toughened glass is used for the handrails. The study space is arranged on the ground floor.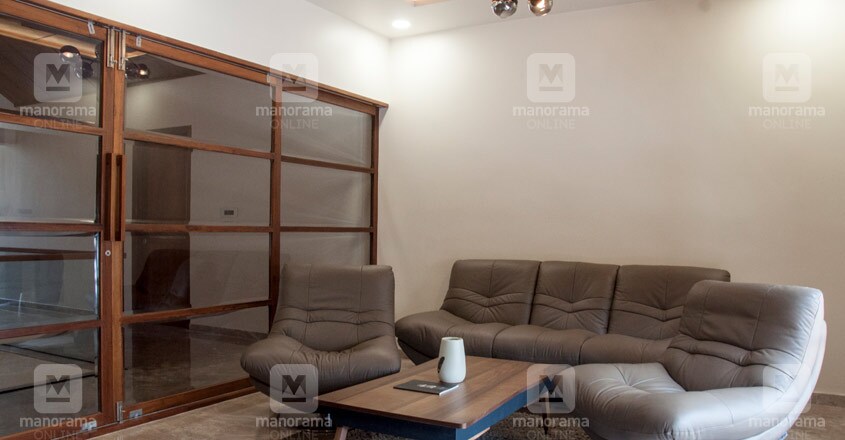 The bedrooms are simple with just the required facilities. A uniform design pattern has been followed in all the bedrooms. Simple elements adorn the headrests and the ceiling here.
The classy charm of wood works and hanging lights enhance the grace of the kitchen. A quaint breakfast counter too has been arranged here. The counter top is paved with nano white and the cupboards are done in plywood – paint finish.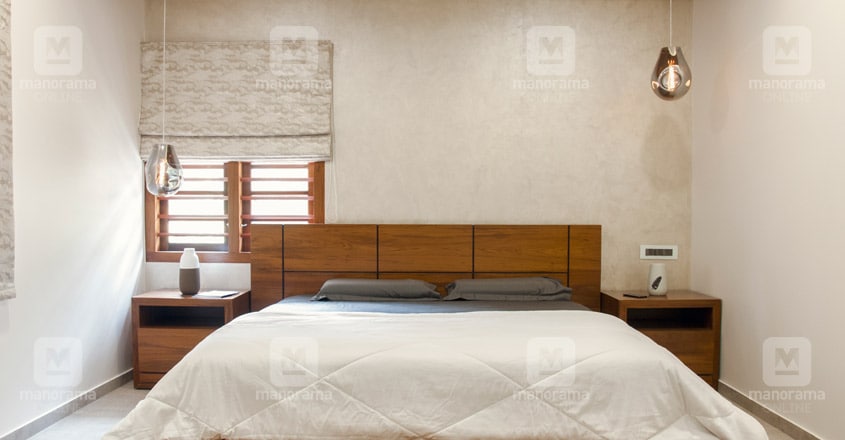 The aesthetically designed landscape projects the spectacular tropical look of the exteriors. The walkway and the driveway are paved with cobble stones and natural stones in alternate layers. The verdant meadows and the fragrant garden that has magnolias and heliconia perfectly compliment the elevation that don the serene white hue.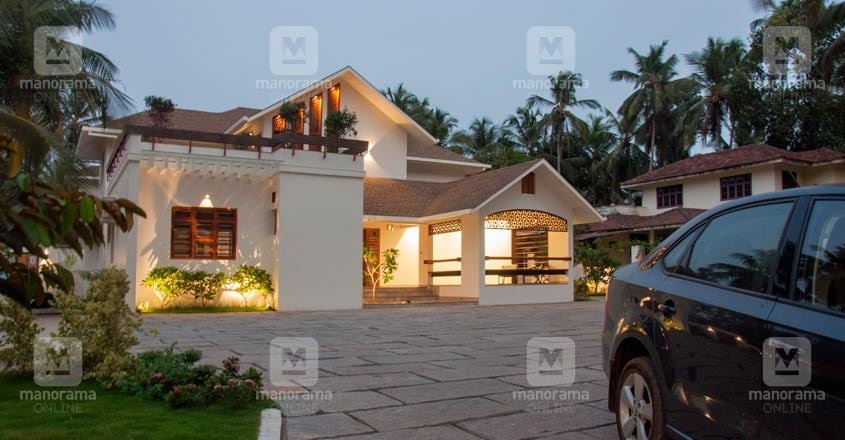 Beautiful spaces that are designed to suit the life style and interests of the family fill this house with lively energy and positive vibes. However, the most amazing thing is that those who pass this house cannot help but stop for a while and enjoy the mesmerizing tropical beauty of the exteriors.
Project Facts
Location – Feroke, Kozhikode
Plot – 50 cents
Area – 4600 SFT
Owner – Mahmood NC
Designers – Esra Irfan Architects
Kovoor, Kozhikode
Ph – 8714548671, 7559966581
Year of completion - 2019