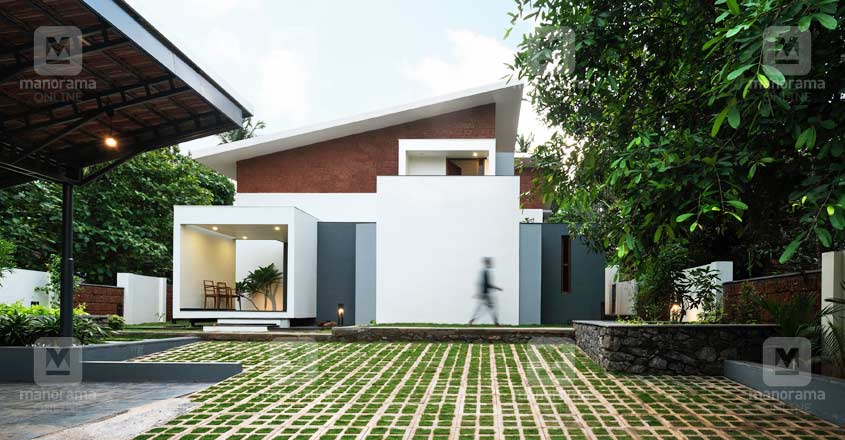 The unique features and stunning designs of Sajan and Reshma's brand new house at Perinthalmanna in Kerala challenges the usual norms and styles of constructing a house. The structure is built in the centre of the 20 cents plot that is filled with lush green plants and shading trees. The elevation dons the unique deconstructive style with box-shaped features. Red laterite stones, regular bricks and cement blocks are used in the construction of this house. Kadappa stones and grass are paved in alternate layers in the front yard which allows the rain water to seep into the earth. There is a small water body in front of the sit-out. Built-in sitting spaces are arranged here.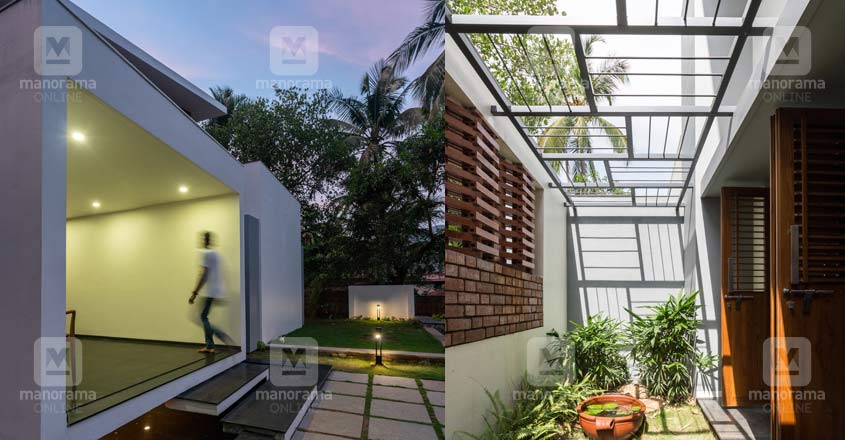 This scintillating house designed in a 3900 sq ft area has formal and family living areas, dining space, kitchen with an adjacent work area, four bedrooms, courtyard, patio, library, upper living area and an open terrace. The interiors are designed by separating the spaces into private and public areas. The formal living area is designed in double height. This makes spaces look incredibly vaster and spacious. One could enter the beautiful patio from the dining hall. Pillars using GI pipes are installed on the roof here to spread creepers which would bring a hint of greenery inside the house.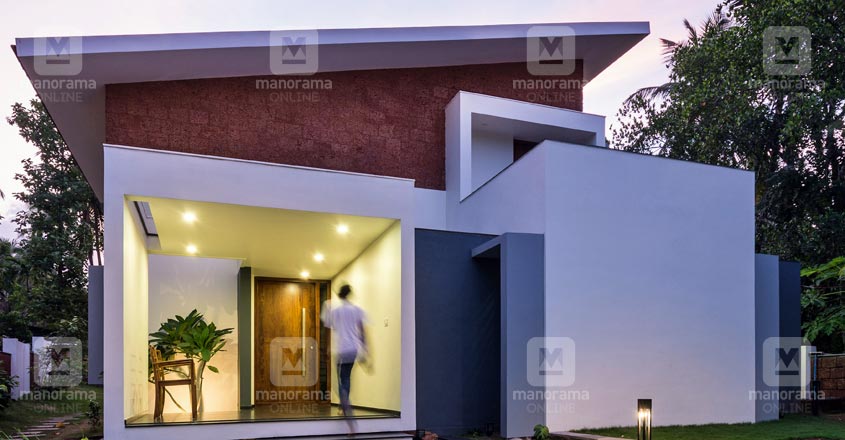 The dining and the kitchen are in the open style. The kitchen sports the serene charm of the white hue. The cabinets are done in plywood – laminate finish. Meanwhile, the counter top is paved with glossy nano white. An adjacent work area completes the kitchen area. The steps on the stairway are made using stainless steel panels that have holes on it. The hand rails, meanwhile, are done in stainless steel pipes and teak wood. The stairway leads to the library which has decorative features like brick cladding and wooden louvre roof.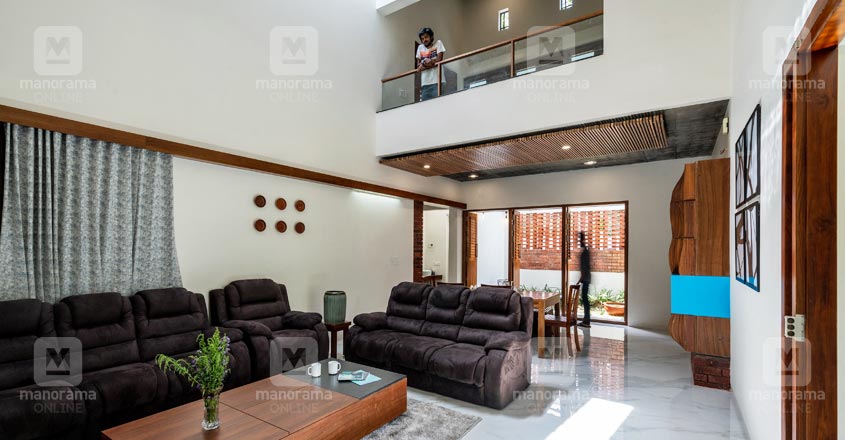 The bedrooms are designed following the theme of blue, yellow and green colour themes. Texture wall behind the headboards are the highlights of the bedrooms. The bath-attached bedrooms have built-in wardrobes for storage and separate dressing areas.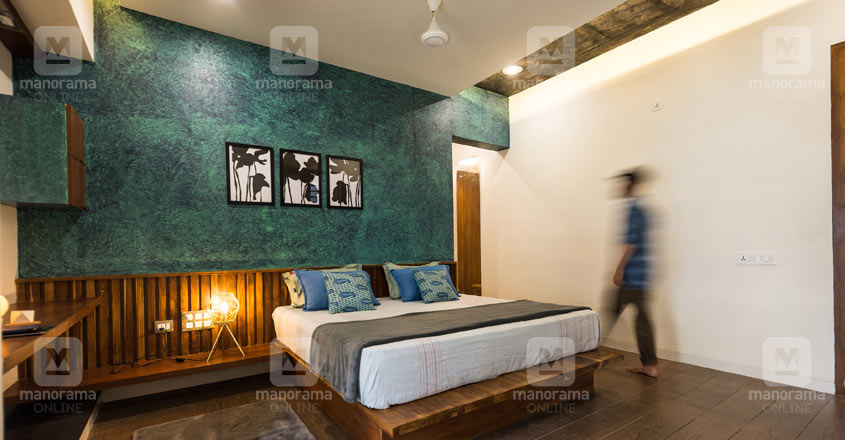 The interiors exude positive vibes that inspire the family and the guests as well. The doctor couple says that they feel relaxed and refreshed when they reach their dream abode after a busy day at work.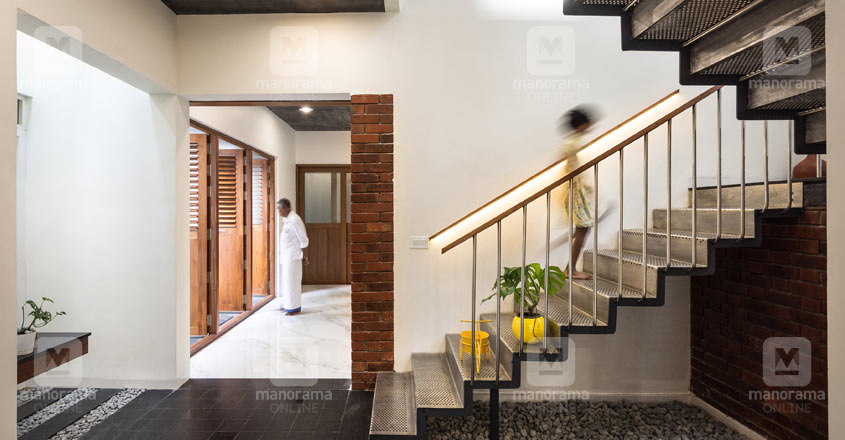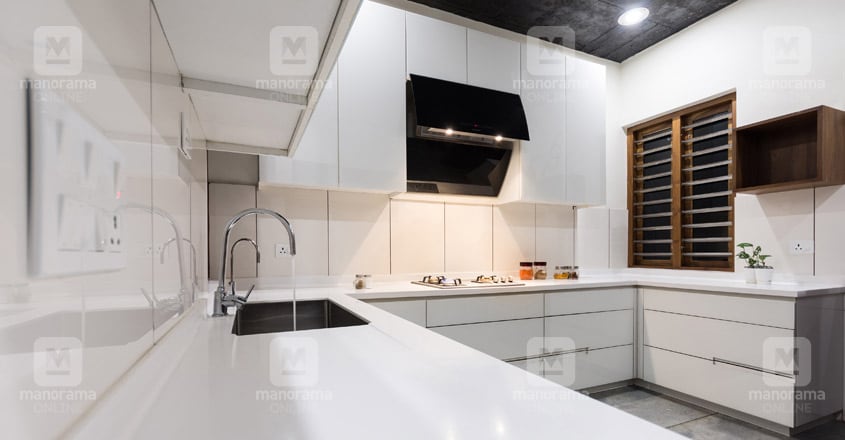 Project Facts
Location – Perinthalmanna
Plot – 20 cents
Area – 3900 SFT
Owner – Dr Saajan and Dr Reshma
Architects – Shammi A Shareef, Suhail Kizhissery and Shifas Adeepat
Fourth Wall Architecture, Perinthalmanna
Mob – 8943333119
Year of completion – 2018