The greatest satisfaction for an athlete is to win an Olympic or World Championships medal for the simple reason that the competition is intense. I consider myself really lucky to be the first Indian to win a medal at the Worlds. I must add that the bronze medal at the 2003 Paris World Championships was the result of years of hard work put in by me and my husband-cum-coach Bobby. As the Indian athletes get ready to compete in two major championships – Commonwealth Games and the Asian Games – in 2018 I will narrate the incidents which culminated in my medal at the Worlds.
I started training under Bobby in 1998 and I was the first Indian to qualify for the 2000 Sydney Olympics with an effort of 6.59m. We had got married in 2000, but I must add that we did not even celebrate our wedding as all our focus was on the Olympics. As luck would have I aggravated an ankle injury in a competition at Nagercoil. Naturally I was downcast, for I was really looking forward to the Olympics. At the camp in Bengaluru I could see the excitement in the eyes of other athletes who had booked their berth for the Sydney Games. One evening as I was watching others practice, our chief coach came up to me and asked me bluntly "Why are you hanging around instead of going home"? I must say I was shocked. Is this the way to treat an upcoming athlete? I was one of the elite athletes in the country who had made it to the Olympics and that rude question rankled me.
Later, Bobby told me: ''Anju you must prove your worth on the field. It's not a revenge, but you must prove the world how good you are." We went to Bobby's home at Peravoor and I underwent Ayurveda treatment for two months. I felt much better, but the pain simply refused to go. We were back in Bengaluru and slowly I resumed training. During every practice session that question by the coach echoed in my ears. I was determined to prove a point, but the pain was still hampering my practice. I took great care not to over exert my body and I cut down the number of jumps in practice session as I wan not sure how long my ankle will hold up.
First international medal

The 2002 Commonwealth Games at Manchester was my first international meet. Bobby was not there with me as the sports ministry had no confidence in him for the simple reason that I had not won anything big till then. Our chief coach was the same person who had asked me that rude question couple of years back! I won the bronze medal with a jump of 6.49m and as I walked back an ecstatic coach told me "You've done it!" I was telling myself that I have not forgotten your question!

I went on to win the gold medal at the 2002 Busan Asian Games. Naturally I felt confident and my focus was on the 2003 Worlds. I knew it was going to be my best chance and may be final opportunity to win something really big for the pain kept troubling me and I was not sure how long I will be able to withstand the rigors of international athletics. Bobby was crystal clear in his mind that for me to compete with the world's best we needed to train abroad. He got in touch with American world record holder Mike Powell and the legendary long jumper agreed to train me.
Now, the big hurdle was to get funds for our trip and training expenses. The sports ministry officials simply did not believe in us. Some even went on to ridicule us by saying: "So you believe you are going to win a World Championships medal just because you will be trained by a world record holder"! Here I recollect gratefully the intervention of former Indian hockey captain and ex-SAI executive director M P Ganesh. He knew both myself and Bobby and had seen me practice in Bengaluru. So finally the government granted me Rs 14 lakh and I must add it is the only fund I have ever availed of from the Indian government in my entire career.
We headed to the US with great expectations as it was a dream land for us. On reaching California, Bobby contacted Powell who told him to meet at the Fullerton University campus. I got a real shock on seeing the track there! It was an average track and simply was not up to the mark. I took solace in the fact that it could be the warm-up track, but my fears came true a few moments later when Powell walked in. He confirmed that it was indeed the only track on the campus!

Tough taskmaster

Powell's training schedule was arduous to say the least. It ran from 10 am to 4 pm and the summer in California was unbearable! Powell worked more on fine-tuning my technique while Bobby took care of my workouts. We had a one-and-a-half-month stint there and there were days in which we had to drive 150 miles as weight training sessions were at a place near Powell's home!

Bobby's aim was to see me break into the world's top jumpers' list, which was needed to compete in the Grand Prix events. Only the top-12 ranked jumpers made the cut for the GP events and I was ranked 61st at that time. Powell introduced me to top sports management firm Hudson-Smith International and was instrumental in me getting an entry for the first GP in Italy. I was told that I will be given only one chance and it was make-or-break time. I finished fourth in the first event in Rome and my impressive showing helped me get a berth for the next meet in Stockholm. I did even better there and clinched silver.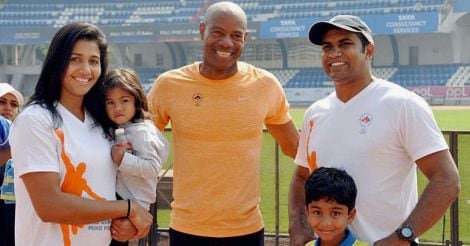 Anju Bobby George and her family with Mike Powell. File photo: PTI
Overall I competed in six competitions and did really well. By then we had shifted our base to Madrid in Spain. The Spanish capital was experiencing a heat wave with temperatures touching 48 degree Celsius. The non-stop competition and travel took a toll on my body and by the time the Paris Worlds drew closer I was physically in no shape to take part. I had heated arguments with Bobby and made it clear there was no way I could compete in Paris. I was struggling to even walk, let alone compete! By this time Powell had returned to California.
Bobby finally agreed with me and then he told me that we will go on a tour of Paris. So we reached Paris and stayed at an apartment of one of Bobby's friends. The first thing which I demanded on reaching his place was a bowl of porridge! All these months we were on the road and I really longed for some home food. Bobby's friend readily agreed to arrange it and in turn asked me to win a medal for the country. Bobby quickly told him that I was in no condition to compete in the Worlds and we were there only as tourists.
The weather in Paris was pleasant and one day on reaching a park, Bobby asked me "Why don't we jog"? I was wearing tracksuit and had my sneakers on and I started jogging. I felt relaxed for there was no competition pressure on me. A few days later, Bobby put forward a suggestion. "Anyway we are here, so why don't we make a trip to the Athletes' Village"? I too found it interesting and we decided to make a trip to the Village. On reaching there I saw other athletes gear up for the Worlds. Bobby asked me: "Do you want to train? Just to see how you are feeling"? Again I agreed to it for I was damn sure I was not going to compete! I started training and after a few jumps my body felt alright. Powell too had returned and after one of my jumps, he told Bobby "she's flying."

Realizing a dream

So I felt much better and without even me knowing Bobby had cajoled me back to competition. It was indeed all about psychological coaching. I qualified for the finals and on the day of the finals Bobby gave me a list of three jumpers who were going to win the medals. To my great surprise he had included my name in it! When queried, Bobby said he had a dream the previous night and that I won a medal.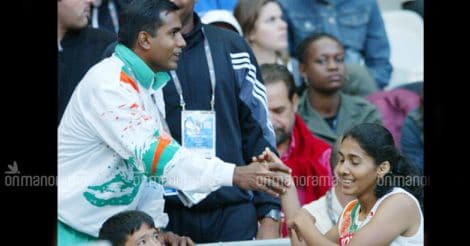 Anju celebrates with Bobby after winning the bronze medal at the 2003 Paris World Championships. AP
So 15 days after deciding to skip the World Championships, here I was in the biggest competition of my life. I made a big jump in my fourth effort, it was close to the 7m mark, but it was called foul. I had overstepped by 2 millimeter and I was really upset. But I quickly regained my composure and was quick to remind myself of all the sacrifices and hardships both of us went through. My take off was not great and on finishing my fifth jump I thought I had messed it up. But to my great relief the scoreboard flashed 6.70m and I was among the top three. That's how it ended too!
I became the first Indian to win a medal at the Worlds and it took me some time to realize it. Bobby's and my phone did not stop ringing for two days and there were congratulatory messages from everywhere! Before leaving Paris, Powell had one question for Bobby. "What magic did you whip up in two weeks?" To which Bobby replied: "It's a secret and I will share it only if you repay our fee!" Even now we have a good laugh over it.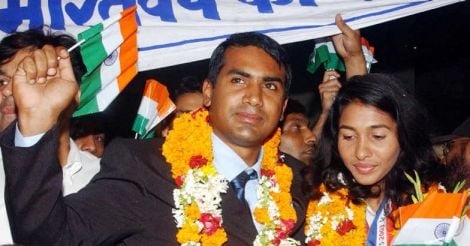 Anju and Bobby George were accorded a grand reception on their return. File photo: PTI
We were accorded a grand reception on reaching the New Delhi airport and it proved to be my biggest success on the world stage. I have only one advice for all the budding athletes - that is to work hard and fight it out, success will follow.
(The author is a former World Championships bronze medal winner in long jump)
Read more from Leaps and Bounds | Gatlin fires coach, faces new doping probe