(On Women's Day, Anju Bobby George shares memories of her brother-in-law Jimmy George whose 63rd birth anniversary falls on March 8.)
There are some people who live long even after their departure for heavenly abode. Their deeds both in their field of work and the way they carried themselves go a long way in people remembering them with utmost love and respect long after they are gone. The legendary Jimmy George was one such blessed soul.
I first heard of Jimmy George in 1987 when I was a little girl studying in fourth standard. One evening I heard the passers-by saying "how sad that Jimmy George has died. We could have had a glimpse of him had the body been taken through Kottayam instead of Alappuzha." From their reaction I could make out Jimmy George was an important person and on reaching home I queried my mother about him who told me that he was a famous volleyball player who met with a tragic end in a car crash in Italy. That incident somehow stayed with me and little did I know that one day I will get married into his own Kudakkachira family!

I first met Bobby during a training stint at SAI, Bengaluru. Other Keralites in the camp introduced Bobby to me as Jimmy George's youngest brother. The first thing which came to my mind was that evening when I heard of his sad demise.

George Joseph and Mary George
Soon Bobby and myself became good friends before we decided to spend the rest of our lives together. I came to know more of Jimmy chettan from my interactions with Bobby. But I realized the real stature of Jimmy chettan only after our wedding. During our marriage also I could feel that Bobby's parents and siblings were yet to overcome the loss of their beloved son and brother even after 13 long years.

From my interactions with the local people I could sense how special a person Jimmy chettan was. From then on invariably not a single day has gone by without someone mentioning Jimmy chettan. Some will recollect having seen him play while some others will say with pride that they hail from Peravoor, the birthplace of Jimmy George, whereas a few others will recount their pleasant experience of having met Jimmy chettan.
I came to know more about Jimmy chettan through Ammachi (my mother-in-law Mary George). She has never been the same person ever since his death. Jimmy chettan was the second son of Chachan (the late George Joseph) and Ammachi. "He was born at noon on a Pooram day and he was glowing like the rising sun," is what Ammachi has to say about Jimmy chettan's arrival.

Josettan (Jose George) and Jimmy chettan were the big brothers in the family and Bobby has told me that the younger ones feared them for the simple reason that they were so older to them! It was one big family of eight brothers and two sisters.

Ammachi has told me on numerous occasions how able Jimmy chettan was. He used to take care of the younger siblings and assist her in daily chores, even in the kitchen.

Volleyball family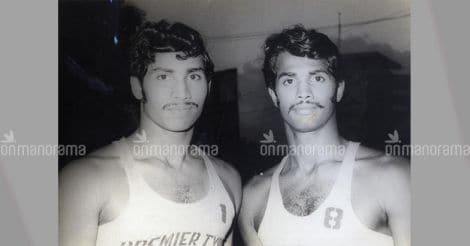 Both Jimmy George, left, and his elder bother Jose George played for the country.
Chachan, being a former Madras University volleyball player, used to let the children play and never overemphasized academic outcomes. Being a sports enthusiast, Chachan set up a sand court for his children to pursue their passion. It was basically for playing volleyball on returning from school, but the children made it a point to finish their study lessons before going to bed. Chachan's mother also used to encourage her grandchildren to play and one could say volleyball ran in the family. Jimmy chettan and his brothers – the eldest Jose, Mathew, Sebastian George, Francis Byju George, Stanley, Winston and the youngest Bobby – even played as a team once!

Josettan and Jimmy chettan donned national colors, while two others - Mathew and Sebastian - represented Kerala at the Senior Nationals.

Standing tall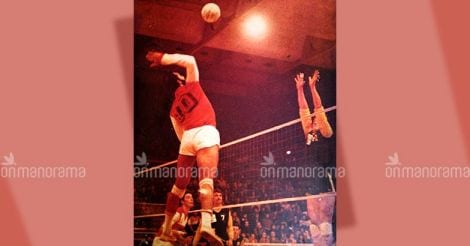 Jimmy George was famous for his jump smashes.
Jimmy chettan was famous for his jump smashes and he had that ability to stay in the air for that extra second as compared to the rest. Even now whenever a volleyball match takes place at Peravoor, the spectators will make a comparison with Jimmy chettan and say "this is nothing as in the past the court used to tremble with the power of Jimmy's smashes!"

Jimmy chettan was one of the finest and the most celebrated volleyball players India has ever produced. He became the first Indian to turn professional and play in a foreign country when he joined Coletto Club at Treviso in Italy.

Humble hero

At the age of 19, Jimmy chettan was part of the Indian team that played in the 1974 Tehran Asian Games and he was bestowed with Arjuna Award a couple of years later. He went on to play a stellar role in India winning bronze medal at the 1986 Seoul Asian Games. All these achievements made Jimmy chettan all the more humble. I have never heard anyone speak ill of him. His genial nature and humility touched all those who met him.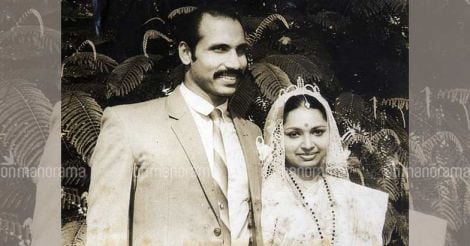 Jimmy George and Lovely on their wedding day.
Bobby has told me that whenever Jimmy chettan used to come home from his foreign trips it was his neighbors and local people who used to open his baggage! People just loved the man who was a great player and an even greater human being. Bobby always recollects his last meeting with Jimmy chettan when he gifted him a tracksuit. As he bid goodbye and walked away he kept looking back and Bobby had a gut feeling that something bad was going to happen. Jimmy chettan's wife Lovely chechi who was pregnant at that time recollects how he had suddenly devoted more time to reading Bible. Did he had a premonition of his death?

Ammachi has told me she heard Jimmy chettan's voice in her sleep and when she woke up it was the news of his departure that awaited her. He was only 32 and at the peak of his career when destiny snatched him away.

Sharp and versatile

Apart from his heroics on the volleyball court, Jimmy chettan was a very intelligent person. He had got admission for MBBS before his coach at the Thiruvananthapuram Medical College advised Chachan to let him pursue a career in sports for he was truly special. Chachan readily agreed and everyone knows the rest of the story.

Jimmy chettan could play blind chess and he was a really good swimmer too. He was Calicut University swimming champion in 1971 and 1972. He was blessed with a great physique and Ammachi recollects fondly how he used to swim carrying younger siblings on his shoulders.

I consider myself extremely lucky to have put a smile back on the faces of Ammachi and Chachan by winning a medal at the Paris World Championships in 2003. Also, it was my good fortune that both my parents and Bobby's parents encouraged me to the hilt as I chased my dreams on the track.

I strongly feel had Jimmy chettan competed in individual sport and not in a team game he would have definitely won the country an Olympic medal. He was a rare talent, one whose legacy will live on.

(The author is a former World Championships bronze medal winner in long jump)