I'm sad, but not shocked; not just because I know him personally, but I, like many others, expected things to get better under the new regime in Kerala. I'm not shocked because I had an intuition that something like this was on its way. Still, it's a bit appalling because I had thought that the days of troubles were over for my friend Nadeer K.P, the youngster from Kozhikode who was detained the other day for alleged Maoist links.
Like many in his big friends' circle, I have reasons to believe that Nadeer is innocent and is being framed by a highly prejudiced police force that is enjoying full support from a government, which at any cost doesn't want to let its morale go down.
I first met Nadeer on the campus of Pondicherry University where we joined for our master's in 2010, though in two different departments. He was just out of a government college in Kalpetta, where he was a vibrant leader of the SFI, the student wing of the CPM. Life in Pondicherry varsity, which wore a pale apolitical face that time, would have been so dull for a person like Nadeer had it not been for his ability to make friends and celebrate friendships. In the two years he spent there, he made friends with students across departments and states and remained an active member of the Malayali collective.
Read: Kerala police release activist arrested for Maoist links after VS, Kodiyeri slam force
Under pressure, CM Pinarayi asks cops to remove sedition charge against writer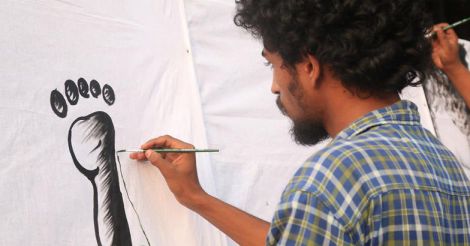 Nadeer takes part in a protest. Credit: Facebook/Nadee Gulmohar
Don't scare people to keep morale of police, VS tells govt; flays action against writer
A charming youngster, Nadeer was a good organizer, who was always willing to help those in need. He liked Malayalam movies and songs. We have had our share of fun, arguments and even fights. We left the campus in 2012 after which I continued my studies in Hyderabad for one more year before joining a newspaper as a trainee sub editor. Meanwhile, he tried his hands at teaching and even starting a publishing house, which went belly up in no time. Although we weren't in contact afterwards, I was regularly getting his updates via Facebook.
The activist in him evolved gradually. He was a part of all triggers of change in the state such as Kiss of Love, Nilppusmaram for tribals, sitting strike held for the rights of the textile workers, LGBTQ parade and so on. It was pretty much a natural metamorphosis for Nadeer, who was Nadi to his Facebook friends. Pertinent it was: he was flowing like a Nadi (a river) of friendship, love and convictions about others' rights. The changes were evident in his getup too; he had grown hair and beard: crime no 1.
But it is unbelievable that he would ever develop an allegiance towards the ultra-left forces, who still believe in armed revolution in the Indian contexts, for he was never a person of violence. Many of us in the Pondicherry gang had a feeling that Nadeer would be an easy target for the police who always look at the so-called human rights activists as extremists whose sole aim is to usurp the elected government. Nadeer was not part of any system that enjoy an undeclared immunity – he was not an academic, not even a student, not part of any political party, nor a mainstream media person. The old SFI leader had also started questioning the undemocratic ways in CPM: crime no 2.
Nadeer had shaped himself into an easy suspect for a police force with lesser sense of rights. I'm not aware when the police started interfering in his life, but from his Facebook posts, it was clear that he was being hounded by them.
It was the time of the Ponmudi episode, which questioned the common sense of a person. A group, including Nadeer, had gone to visit Ponmudi after a protest meet. The police and a section of media were quick to paint it as a meeting of the Maoists.
Following the incident, Nadeer wrote a cover story in Mathrubhumi weekly in August 2015 in which he detailed how people like him were being framed by police and branded as Maoists. A part of the article was titled "We can't be Maoists".
"The Maoists' ultimate aim is to create an egalitarian Utopia through armed revolution. Many may be killed during such a process. How can such day dream come true in a democratic country like India?" he wrote in the article. In the same article, he questioned the prejudiced mentality of the police, which subscribed to the belief that anyone with long hair and beard and stained clothes is a Maoist.
When I spoke to a policeman in Aaralam station, soon after hearing about Nadeer's arrest Monday (19-12-16), he told me he had heard of the article in which Nadeer said it's the police that made him a Maoist. Hiding my anger, I explained to the cop that he was wrong. But I am sure he would neither read the article nor change his mind.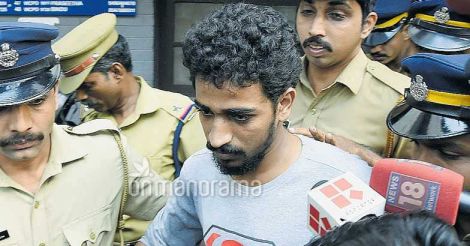 Nadeer was picked up by Kozhikode police when he had called on writer Kamal C. Chavara, who was detained the other day based on a complaint about insulting the national anthem. Police said Nadeer was suspected to be one of the six or eight Maoists who visited a tribal colony in Aaralam on March 3, six months after he wrote the Mathrubhumi article, which was in its core a plea towards the police and the government to leave them alone.
Are the police trying to prove that Nadeer had shifted his ideological base from that of a liberal-secular-democrat to a militant Marxist? The police can easily attribute their ideas of a Maoist to the likes of Nadeer who have been frequently questioning the authorities and following a lifestyle, which one could easily brand as anarchic. Well, that's what N.M. Shamseer, a prominent young CPM leader referred to him in a debate on Manorama News Monday night. It's natural that the CPM and its feeder organizations would look at the civil society movements outside their purview with anger and contempt as they think it's their sole right to fight inequality and injustice.
Of late, he has been living a cocooned life, probably succumbing to the police pressure after frequent harassment. He had even left for the Gulf for a brief period. There were not many Facebook posts from him, (at least I didn't see them on my wall). In one FB post from the Gulf, he narrated how the police went to his house and harassed his mother. When she told them that he was abroad, they said he may be lying and staying inside some forests. It seems the police had already established that he belonged to the radical group. He was not seen on several protest fields for long.
I saw him last outside Tagore theater in Thiruvananthapuram during the IFFK. He was calm and had a haircut. Throwing a shaft of sarcasm at him, I asked whether he was shouting slogans from his bathroom in the foreign country like a Communist caricature played by Sreenivasan in the film Arabikkatha. He laughed. I remembered seeing him during a previous edition of the film festival, dancing like a madman to the tune of the folk songs in front of Kairali theater amid his friends. He was drenched in sweat when he hugged me.
Nadeer could have easily stayed at home or wherever he was and not helped Kamal, who was hospitalized after being taken into custody by police. But instead, he chose to stand up for his friend and fell an easy prey to the police. Perhaps people like him are always overpowered by their love for others.
I can't say what's in store for him. The draconian UAPA slapped on him may hunt him and his family for a lifetime. It may affect his future prospects. But what if that's how the state and its armed apparatus want to muzzle the voices of dissent?
(Views expressed are personal)