They are among the most abused in India -- mentally, physically, culturally. Every right the Constitution offers them is regulated by some fossilized characters with worse-than-regressive world views whose rightful place is behind the bars. Their freedoms are limited at every step by patriarchal mindsets masquerading as tradition. Yet, it is now up to India's daughters – many of whom are not even allowed to be born -- to offer the great Indian nation a fig leaf at the world's greatest sports extravaganza.
Sakshi Malik and P.V. Sindhu saved India from collective shame on the global stage. Yes, the aspiring superpower, the emerging economic powerhouse, the country with a huge young population, the world's largest democracy...
Reams will be written about how they beat the odds, their will power, their sense of purpose. And money, and a lot more promises, will flow from politicians and corporates.
Read also: Sindhu promises to play her heart out in pursuit of gold
Sindhu seals final berth in style
Sakshi Malik opens India's account at Rio 2016
Sakshi relishes the fruits of 12-year labor
But I think we need to take this opportunity to take a deep look at our so-called lofty traditions that seek to limit women in every possible way, ask disturbing questions about our patriarchal mindsets and the so-called community and religious leaders who administer them, the legality of the force that their male-chauvinistic followers use to enforce those proscriptions, and the role of our political and administrative system in allowing such regressive characters to limit the freedoms of a good half of the population they are duty-bound to protect.
How much have the people who call for not allowing the entry of women into Sabarimala or into the Haji Ali durgah done to uphold national dignity? What have the ignoramuses in the khap panchayats that order the dishonoring of women done to uphold national honor? And what have our politicians, who use such characters to create vote banks and cling to power, done to hold up India's banner on the world stage?
The mindset that limits women is not the dominion of men alone. There are many women who are happy to heed such proscriptions, even enforce them, or simply ignore the rightful voices of protests. When Nirbhaya was brutally raped in a running bus in Delhi and public anger spilled into the streets, Delhi had a woman as chief minister who did not show up at the protest or even speak of the incident -- for days. A famous Keralite woman writer tried to explain away the gruesome incident by painting it in the broad brushstrokes of a class conflict!
When Trupti Desai was breaking down patriarchal power/money interests masquerading as tradition at the Shani Shingnapur temple and the Haji Ali durgah in Maharashtra, there were many women who opposed her.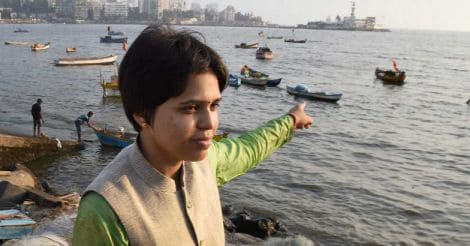 Trupti Desai
Even in so-called progressive Kerala, many women still support the patriarchal tradition banning the entry of women in Sabarimala, citing tradition the roots/reasons of which no one can give a convincing explanation of. And mind you, the sky did not come crashing down when Desai entered the Shani Shingnapur temple.
Several Kashmiri women had acid thrown on them by Islamist groups for not wearing a dress that they had never worn before, in the name of a enforcing a strict interpretation of the Islamic dress code. And among those leading the attacks was a radical women's group, headed by a pro-Pakistan woman: Asiya Andrabi.
Abused, tortured, raped, sold and bought, enslaved ... 70 years of freedom hasn't translated into freedom for most of India's daughters. The same daughters who saved India's honor at the Olympics.
Are things going to change? It's time to go beyond that question now.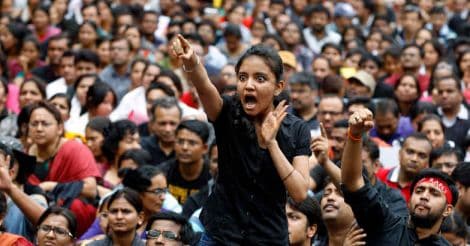 A young woman voices her anger during a protest against alleged police inaction following rape of a six-year-old girl in Bengaluru. File photo
Things should change. A progressive democracy that talks of equality cannot afford to have fossils dictating social and religious codes; it cannot have an administration that allows such ignoramuses to call the shots; it cannot afford to ignore the fact that half the population is bound in some sort of slavery.
India is at the cusp of change. To take advantage of the demographic dividend, of the reawakened hopes and aspirations of a people, we need to retire such mindsets, such characters.
And as citizens in a democracy, Sakshi and Sindhu's victories should awaken us to do our duty -- send these regressive characters packing, whatever ideology they espouse. And India's daughters should take inspiration from Sindhu and Sakshi, from Trupti Desai and Kiran Bedi, and break the shackles that bound them.
Even if that means breaking the nose of an ossified patriarchal mindset. Let's give the women the freedom to work out their own destinies.
(The views expressed are personal)