Watching a Hindi film yesterday with one of the least romantic of titles one can conjure, namely TOILET, I was transported back to the Emergency (1975-77) when the Directorate of Audio Visual Publicity (DAVP) films with umpteen social messages flooded the cine screens during every show.
(Even then, the National Anthem was not a must!) Films on nasbandi (vasectomy) and duties of citizens dominated. Now, here is a full length feature film that seeks to popularize our PM's Swachch Bharath Abhiyan through the issue of defecating in public vs defecating in toilets. To a Panditji who quotes Manu Smruti on why everyone should defecate in open lands, the hero asks him to turn the page and read on how everyone should keep their river and water sources clean. So, it's Manu vs Manu in the court of Modi.
To think that our suave defense and finance minister, who has a well-oiled tongue, rolled out accusations against Kerala, just a few days ago! MPs belonging to his Hindu nationalist party and television channels bred by it were bowling googlies against Kerala, ranging from Kerala being a killing field (not defecating field) to Kerala being Somalia (where defecation was impossible with no intake of food.) Unfortunately, for them, a recent study does not corroborate their views. In this study, Kerala is on top of the list in every index ranging from social spending, education, food security, health, skilled workforce, life expectancy and low infant mortality. We can further add that poor laborers from the North find Kerala a haven in terms of income and more or less equalitarian treatment. And, they don't defecate on open lands belonging to the landlords anymore.
Coming back to toilets, I myself used to defecate in the open when young, in Palakkad. We had a small plot of land with an irrigation canal running from it which was most suitable for the job. There was a huge pond nearby to wash up and bathe. Only thing, one had to watch out for snakes. And, it was out of bounds when sprayed with chemicals and fertilizers. But, life was a song of clean bowels and unclogged brain. I got more or less a double promotion when for a year I shifted to Kottayam for studies. I found myself elevated to a throne when I came across the first western toilet I ever saw. Negotiating it was a skill I had to learn from my dad. We shared the single room and the toilet. Defecation became a pleasant activity and an obsession till water ran out. When I shifted back to Kerala after a long stint in Delhi, the first thing I did was to build a Western toilet in addition to the Indian one.
I mean I was using a western toilet in a then small town in Kerala way back in 1966 and here is a film now released in Bollywood 50 years later which still talks about building rudimentary toilets in villages of UP. And, there is this central minister and his vociferous MPs in parliament crying hoarse about how unlivable a place Kerala is. The irony cannot be lost. This is the situation throughout what is known as the cow belt. A village house in UP can still look the same as it was a century ago.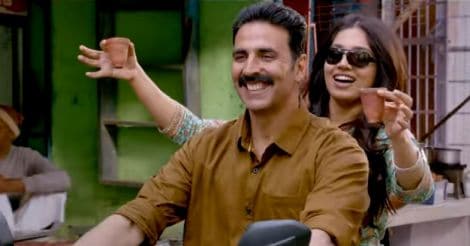 A scene from the film Toilet: Ek Prem Katha
Coming back to the film, blame was sought to be laid on the bureaucracy which apparently swindled crores of rupees set aside for the toilet yojana. The 'incorruptible CM' solved this by locking up all the toilets in the offices where the toilet yojana files were handled. Dramatically, files moved fast. The toilet band initiative is equated to the note band revolution of the PM. Finally, the Big Man himself appears as a shadow. The family court is hearing the petition of a woman for divorce on grounds of there being no toilet in her husband's home. (The women go in a group at 4 in the morning to defecate in the fields). The PM's note delivered by hand asks the judge not to grant divorce as the PM has ordered the building of a toilet in the respondent's home. The crowd erupts in joy.
Look at that! It requires the intervention of the PM himself to build a small toilet in the courtyard of a village in UP!
So, anyone who argues against Kerala, vis-a-vis the situation elsewhere, please remember that there are 10 toilets in Kerala against the one over there. Leave other indices aside.
(Ravi Shanker is a poet, translator and columnist. He is the author of "Architecture of Flesh", a collection of poetry. Views are personal.)