Rahul Gandhi began his Bharat Jodo Yatra from Kanyakumari on September 7, 2022. He was accompanied by Tamil Nadu Chief Minister M K Stalin at the start and was welcomed affectionately to Kashmir by former J&K Chief Minister Farooq Abdullah, signalling that he is reaching out to leaders of other parties in an attempt at opposition unity.
The Yatra began from the southernmost tip of mainland India. It has passed through 14 states from south to north; it will end in Srinagar, very significantly on January 30, the 75th anniversary of the murder of the Father of the Nation.
The Yatra becomes very relevant in India today as Indians are riven by divisions, encouraged and exploited by the ruling combine and its vicious cohorts who are emboldened by the electoral success of hate campaigns. Though the Sangh has unleashed a divisive campaign of hate, Rahul counters it fearlessly and walks through the country with the message of compassion, love and unity; he tells the people to be fearless "Darna Mat!", Bapu emphasised on the Ahimsa of the brave and strong.
Some people have compared Rahul's venture to a 'Tapascharya', which isn't wrong; it is a Tapscharya, a great physical endeavour.
Rahul and the Bharat Yatris have been walking roughly 24 kms every day. It takes tremendous physical and mental strength and sacrifice to sustain such an effort. People from the BJP and Sangh have criticised Rahul's attire, called the containers in which he and the yatris sleep as being luxurious and lavish; compared to the lavish Raths that their leaders have travelled in on many of their hate yatras, the container homes of the Bharat Jodo Yatris are sparse, frugal.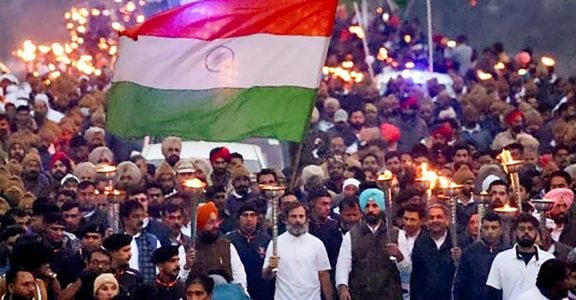 In 1930 when Bapu lead the Dandi Kooch (Dandi March) with 80 companions he handpicked from the Sabarmati Ashram to Dandi, they lived in accommodation provided by villagers. In 1946 and '47 when he walked through the riot-ravaged districts of Noakhali and Tipperrah, in the then East Bengal and later through Bihar to establish peace there, he walked alone and lived under temporary shelters in villages, but that was another era. Today such an enormous expedition like Bharat Jodo Yatra requires the infrastructure it is carrying along.
It is in sheer contrast to the opulent and ostentatious expeditions of the Prime Minister. Rahul walks amongst the poor, mingles with them, goes to their humble, meagre dwellings, calls them to him, hugs them, and listens to them. In comparison, roads travelled by Prime Minister Narendra Modi are ostentatiously beautified, if he is to pass by poor localities, they are hidden behind curtains and walls.
Rahul has regularly been mobbed by people; he is seen hugging them and carrying children on his shoulders. The day I walked with him in Maharashtra, he called a young girl out from the crowd, and then for more than a couple of kilometres he held her hand and walked with her, talking to her. When she pointed out her father, who was trying to keep up outside the security cordon, Rahul immediately beckoned him and instructed the security personnel to allow the man to join them. When the girl was tired, Rahul ensured that he personally handed her over to her father. I saw him mingling with old and young and the elite and commoners alike, with the latter he was much more welcoming and affectionate, and they reciprocated his affection.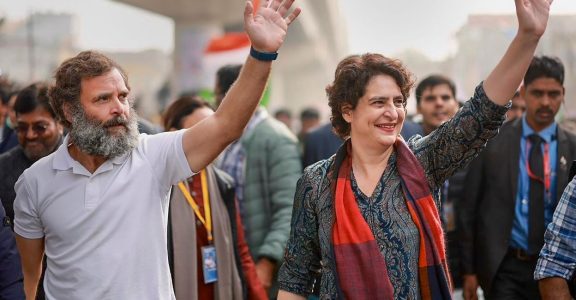 Before the Yatra, everyone had an impression of Rahul being aloof, insulated and distant. In the Yatra we see a very affectionate, accessible and caring Rahul. This is the real Rahul. Neither weather nor conditions seem to be bothering him. We saw him continuing to address the people unconcerned by a downpour in Karnataka; we saw him in his trademark T-shirt, braving the chilling cold in the north, strengthening the notion of this being his Tapasya.
In his interaction with various groups of Indians, he speaks to them about matters that concern them the most. In his interactions with the media, he questions the policies of the Government and cautions India about the dangers he sees in the direction that the government is leading it. He, very politely, reminds the media to honestly perform its responsibility towards our democracy. He does not shy away from controversial issues either, reinforcing his message to the people to be fearless. In Maharashtra, despite being warned, he criticised the role of Savarkar during the freedom movement, even braving the annoyance of the Shiv Sena.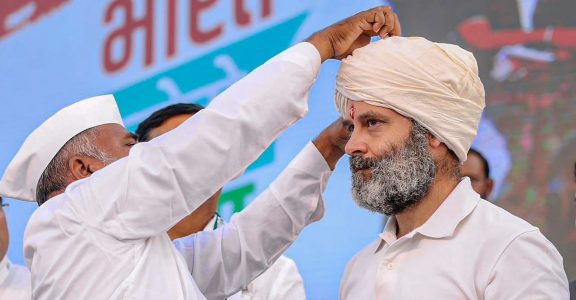 This new avatar of Rahul has grown on Indians, and they have appreciated it. Henceforth it will be difficult for the RSS BJP to continue the malicious ridiculing of Rahul as 'Pappu'.
Rahul has emerged as a very accessible, strong, fearless, loving and compassionate person and leader. The Yatra is a success for Rahul. But time and its own efforts post the Yatra will decide on how much Congress will be able to capitalise on. One thing is clear Rahul has definitely emerged as a much better leader and a preferred alternative to Prime Minister Modi.