Ahmedabad: The managing director of Oreva Group that was assigned the contract to maintain the British-era suspension bridge, which collapsed on October 30 last year killing 135 people, surrendered before a court in Morbi town on Tuesday.
"Oreva Group MD Jaysukh Patel has surrendered in the court of chief judicial magistrate M J Khan that had issued an arrest warrant against him last week," Patel's lawyer Dilip Agechaniya told reporters outside court in Morbi.
Ajanta Manufacturing Limited, a subsidiary of the Oreva Group, was responsible for the operation and maintenance of the suspension bridge on the Machchhu river in Morbi. Days after its repairs, the bridge collapsed on October 30 last year.
Patel has also moved the district court seeking anticipatory bail. His application is scheduled for a hearing on February 1.
In a chargesheet filed on January 27, the police had named Patel as the key accused in the case. In all, 10 people are accused in the case. They have been charged under Indian Penal Code sections 304 (culpable homicide not amounting to murder), section 308(attempt to commit culpable homicide), sections 336, 337 and 338 pertaining to negligence acts endangering people's lives and section 114.
In the 1,262-page chargesheet the investigators have appended statements of 367 witnesses that include family members of the deceased and those injured in the October 30 tragedy. Statements of those people involved in the rescue and those present at the site were also added.
Police have also included statements from doctors of civil and private hospitals where the injured were treated.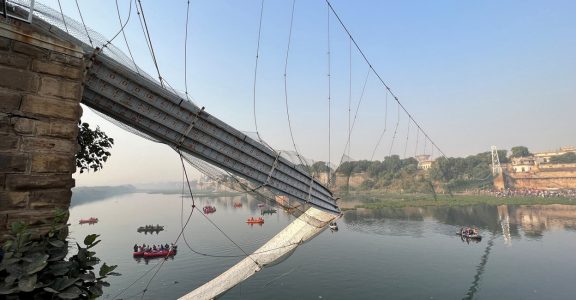 According to the chargesheet, the agreements documents between Oreva Group and Morbi municipality as well as the sub-contracts awarded by the Oreva Group to another company and communication between the collector and municipality were signed by Jaysukh Patel.
Currently, those arrested include Deepak Parekh and Dinesh Dave, managers of Oreva who were responsible for the day-to-day management of the bridge; ticket clerks -- Mansukh Topiya and Mahadev Solanki; security guards -- Alpesh Gohil, Dilip Gohil and MansukhChauhan. Police also arrested Prakash Parmar and his son Devang of DevPrakash Solutions, the firm that was awarded the subcontract for repairs of the Morbi bridge by the Oreva Group.