Kasaragod: Chaliya Kunhambu, the man who sculpted around 1,000 horizontal tunnels to tap drinking water from the laterite hills of Kasaragod, died on Wednesday. He was 72.
Police suspect he died by suicide.
Kunhambu, who loved to call himself 'Jalashilpi' (sculptor of water), came across as a person with a penchant for life and an eye to spot water.
If one were to add up the length of all the narrow tunnels, called Suranga in Kannada, it would be around 45km, estimated veteran rural reporter Shree Padre. "Imagine digging a cave in hard laterite soil, that too for 45km," he had written in an article for Civil Society magazine.
Surangas tap groundwater from unconfined aquifers which get easily recharged during the rainy season, he said. That makes surangas more eco-friendly than borewells which tap confined aquifers that cannot be directly recharged by vertical infiltration.
At his house, he has dug a horizontal tunnel (suranga) from the base of his well, a piece of art. The suranga feeds the well around the year.
Digging surangas is a two-person job and is labour-intensive. The digger uses a pickaxe to cut through the laterite hill. The width of a suranga would be usually a tad more than the width of the digger's shoulders. The helper would drag out the laterite soil.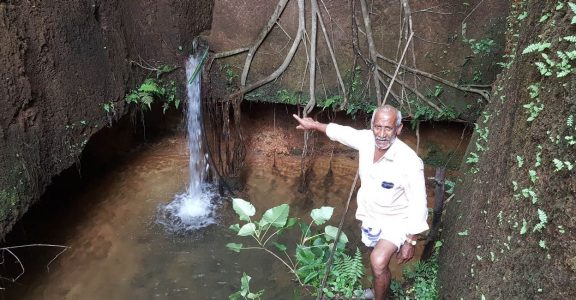 The diggers will have to tunnel the laterite hill and precisely hit the aquifers. "Kunhambu's strike rate was 98%," said Valliyil Govindankutty, geographer and assistant professor of Govinda Pai Memorial Government College at Manjeshwar. "Rarely has Kunhambu abandoned a suranga midway without getting water," he said.
Once, Kunhambu found water in two days, and another time after eight months. He had found water at 12 feet and also at 250ft.
The water from the aquifer reaches the mouth of the suranga by the force of gravity. "We have to maintain a steady slope as we go in, to bring the water out," the Jalashilpi had said.
In 2015, Govindankutty took Kunhambu to Bidar to help revive Naubad Karez or Qanat, a 15th-century underground irrigation system. "That was his first flight trip. He met A P J Abdul Kalam and also talked about surangas at an international seminar on 'the glory that was Bidar'," said Govindankutty.
During a later trip, Kunhambu stayed at Bidar for three months and trained the workers on how to clean the tunnel that went dry because of drought around 2012.
A few months after Kunhambu's intervention, water began flowing in the tunnel in September 2015.
Last year, Govindankutty recommended the government honour him with a Padma award.
On January 17, Wednesday, Bedadka panchayat's Youth Coordination Committee felicitated him at a football tournament. "We honoured around 15 senior citizens who contributed to society in various fields such as arts, social work, teaching, and sports. Kunhambu was one of them," said Kundamkuzhy ward member Vardaraj T.
He spoke briefly and stayed on the ground till 9.30 pm, the member said.
"In the morning, we came to know he is gone," said Vardaraj.
Bedadka police have registered a case of unnatural death and are investigating the case, said panchayat president Dhanya.
He is survived by his wife Sharada (63), and three children, Ratheesh (38), Dayamani (36), and Vasanthi (35).