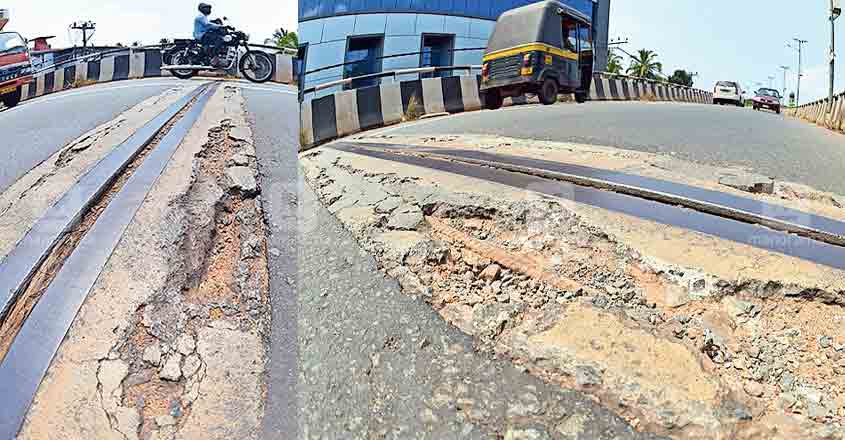 Pappinisseri: Faults have been spotted on the railway overbridge at Pappinisseri in Kerala's Kannur district within a year of its inauguration. Incidentally, the Pappinisseri bridge was constructed by the same firm, RDS Projects Ltd, that build the faulty Palarivattom bridge in Kochi which has been shut for transportation.
The expansion joints that link the slabs on the bridge have started to come off.
The bridge was built as part of the Pappinisseri-Pilathara road and opened for public on November 2018. Most of the wear and tear were noticed at the Kannur end of the bridge. At several spots, the road has been ruptured and the rods can be seen. 
After complaints were raised, certain maintenance works were carried out. However, more cracks have emerged now.
A loud noise can be heard as heavy vehicles pass through the bridge.
Small vehicles were allowed to pass through the bridge even before the inauguration as the traffic congestion in the area had worsened. After last July, cargo vehicles were allowed to enter the bridge.
Two pillars and one slab of the bridge was constructed by the railway. However, these do not have any problems, directly pointing at the difference in the quality of the work. Most of the solar panels on the railings of the bridge are not functioning. Nor does the bridge have a walkway.
Pedestrians are then forced to walk underneath the bridge, but polluted water and slush make that an unfeasible ordeal.
Pappinisseri Bridge

* Pappinisseri bridge was the major part of the construction of 20.9-km Pilathara-Pappinisseri road.
* RDS Projects Limited built the Pappinisseri bridge. The Kochi-based firm had constructed the faulty Palarivattom bridge as well.
* Construction works were started on April 22, 2013.
* The contract was to complete the task in two years. The deadline was set for April 22, 2015.
* After construction, the bridge was thrown open for public on November 24, 2018
* Construction cost for the 620-metre-long bridge was Rs 45 crore.