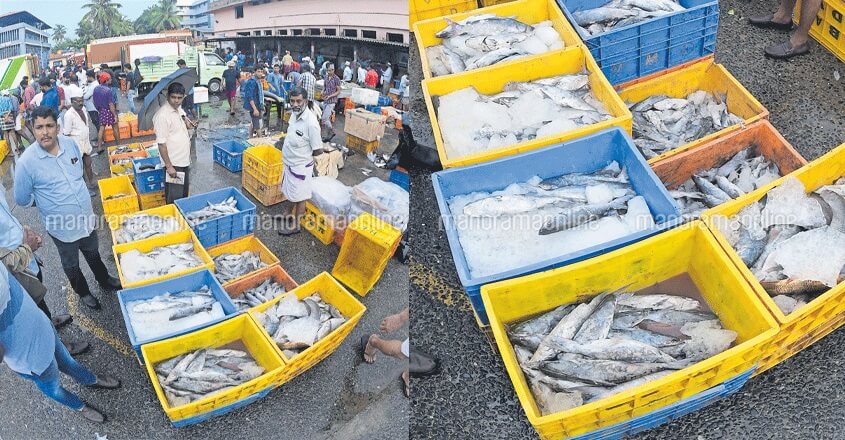 Kozhikode: Frozen fish are flooding the market here to cash in on the current shortage of marine food products following the 52-day trawling ban that came into effect on June 9. Tonnes of frozen fish are being brought to this district throwing the guidelines of the Kerala Food Safety Department to the winds. They are being traded after labelling them as fish that are scientifically frozen and sold through recognised distributors.
What's in store at Central Market
Notwithstanding the trawling ban, many varieties of fish, including mackerel, sardine, pomfret and shrimps, are aplenty and the market is abuzz right from early morning. Vehicles laden with fish come from Kochi, Goa and Gujarat to the market, but surprisingly fish packets, each weighing 10 kg, are being unloaded rather than fish boxes.
As per the guidelines, 13 details, including the manufacturer's name, the date of packing and shelf life of the product, should be mentioned on the packet. But most of the packs are devoid of these important information. The fish in plastic covers are packed in cardboard boxes and just the agency's name is handwritten on the box and, at times, the name of the fish. No one has a clue about when the fish were packed and their shelf life, or whether the distributors have the mandatory licence of the Food Safety Department. There are also frozen fish packs that were packed as per the guidelines prescribed by the Food Safety Department. But unfortunately, 70 percent of the frozen fish sold at the Central Market here doesn't have official standing, and around 30 tonnes of such fish were sold at the market the other day.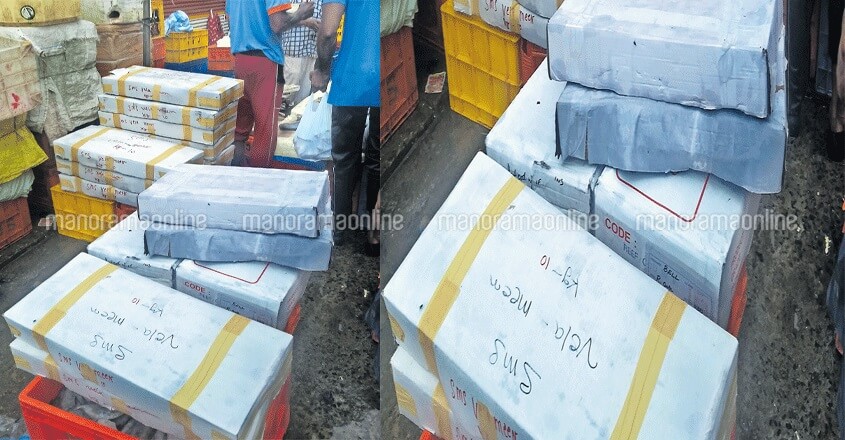 What the guidelines say
Scientifically frozen fish come under the category of food products. The fresh fish are cleaned and stored at minus 18 degree Celsius, and this cold chain should be maintained till the frozen fish reach the customers. The fish preserved in freezers have a shelf life of one year.
Fish traders against wrongdoers
The fish traders vouch for the fact that frozen fish packed without following the guidelines are brought from various places to the markets here. All-Kerala Fish Merchants Association state secretary C M Shafi said that the traders had decided to distribute only those frozen fish products that were preserved and packed in a scientific manner.
Checks will be conducted: Food Safety Department
Food Safety Department assistant commissioner P K Eliyamma said that inspections would be conducted at fish markets following information that frozen fish, which were packed without following the official norms, were reaching the markets. Tests were carried out at various places in the district to find out whether chemicals were used to preserve the fish. Frozen fish-related checks would be conducted shortly, she added.