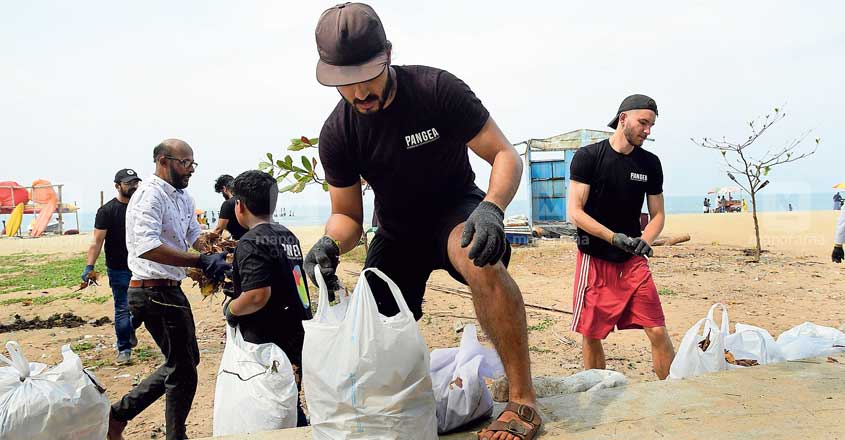 Kozhikode: Timely and regular solid waste clearance and disposal is a challenge for local self-governments in Kerala. Meanwhile, garbage accumulates in public spaces inconveniencing all. Public on their own are clueless how to dispose garbage without creating more eyesores around. Setting an example for the local people to follow, two foreign tourists cleaned the beach here and collected 150 kg of waste materials.
While Juan Duke, a chef from Colombia, had quit his job to see the world, Valentine Palotti from Germany too reached Kozhikode for the same reason.
Both of them are members of 'Pangea', an organisation working to spread the message that a garbage-free world is really beautiful. As a result, these tourists take care not to leave behind waste materials whichever place they visit.
In Kozhikode for a week now, Juan and Valentine were shocked to see the condition of the beach, which was covered with litter. Immediately, they started collecting the waste dumped on the beach. Over one week, the tourists collected a total of 150 kg of garbage.
On the seventh day, 'Streets of Calicut', a city-based collective, joined the Pangea movement to clean the beach near the lighthouse. Juan and Valentine also were in the forefront of the effort. "When volunteers and our group members engaged in the task earnestly, the cleaning turned out to be a great affair," said Maneef Muhammed from Elathur, who coordinated the activity.
Pangea is engaged in cleaning several beaches around the world, including in Australia, Africa and America. The movement is active on Instagram and has achieved significant progress in its activities. From Kozhikode, Juan and Valentine would be heading in se