Thampan Purushan, a native of Thuravoor panchayat in Alappuzha, should have been the happiest person in the world after watching the Fahad Fazil-starrer Mahesinte Prathikaaram. For, the central character of the movie, set in Kattappana, a pristine village in Idukki, was, in fact, inspired by a person who hailed from Thuravoor.
Rather, it was Purushan himself!
The only difference was that Purushan, a typical villager who had a big circle of admirers in his area, was not as tender-hearted as Mahesh. Also, while Mahesh's faithful friend is a dog, Purushan had many animals, including a python, mongoose, monitor lizard, palm civet and pigeons, as his mates.
Purushan's story on celluloid
Thampan Purushan was a neighbour of Shyam Pushkaran, the scriptwriter of Maheshinte Prathikaaram. When Shyam was a child, Purushan chettan used to narrate his action-packed life story to him. The movie Maheshinte Prathikaaram is based on those interesting personal stories recounted by Purushan long ago.
"We realised that the real-life story would make for an interesting script when I narrated it to director Dileesh Pothan. It was Dileesh's suggestion to develop the plot in the background of his native place Kottayam," Said Shyam.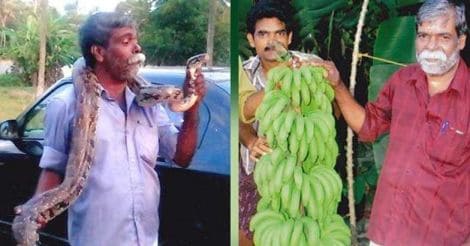 Purushan had many animals, including a python, mongoose, monitor lizard, palm civet and pigeons, as his mates
Purushan aka Thampan
Thampan Purushan waited for three long years to take revenge on the person who beat him up. He walked barefoot during the entire period and wore slippers again only after avenging the humiliation. There was no love track in Purushan's real-life like Mahesh. Purushan had a huge circle of friends and his life revolved around them. Weddings, funerals or brawls… he used to make his presence felt in every function and event in the village. He was lovingly referred to as Thampan by the villagers. His real name was Kuriyanchira Purushan.
As in the movie, he was beaten up when he attempted to pacify two fighting villagers. At that time, he took a vow that he would wear slippers only after avenging the humiliation he suffered. In the meantime, the person who roughed him up went to the Gulf. Purushan waited till he returned home after three years to get back at him and wear his slippers again! His wife Lathika was witness to all those dramatic events.
Purushan was very fond of pets and he claimed to understand animal language. Once a python strayed into the village, Purushan rushed to the spot. After catching the snake, he returned home wearing it around his neck! After a few days, the snake laid 21 eggs, says Lathika. He never locked his pet animals in cramped cages of chained them. He allowed them to roam free. Some of them would return after a couple of days, while some others would never come back.
He used to visit the Thuravur temple once in a while with a bagful of grains to feed the flock of pigeons in front of the temple. Birds feasting on rice and wheat sitting on his shoulder was a common sight for the local people.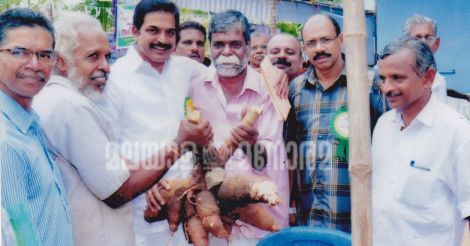 Thampan Purushan was a native of Thuravoor panchayat in Alappuzha
Once he went to the famous festival at the St. Sebastian's church in Arthunkal. There was an exhibition of animals arranged in connection with the fest. Seeing him looking at the animals curiously, the proprietor of the show took jibes at Purushan. Irked, he made some strange hand gestures at the animals and started to walk back. Suddenly, all animals started to follow him to the entrance. The legend is that Purushan took the animals back to the arena only after the proprietor fell at his feet and begged for pardon.
Death played a cruel joke on Thampan chettan on the night of December 15, 2015, when a container lorry crashed into his house killing him on the spot. The title card of the movie starts rolling by paying tributes to Thampan Purushan. He should be enjoying his heroic tales on screen from the heavens, his wife says.