Ever since he took to lyrics writing by chance one-and-a-half decades ago, Rafeeq Ahmed had no looking back. His was a steady and dominating progress on the domain of film song verses and still continues to awe millions through his wonderful lines that blend seamlessly with the tunes produced by a range of music composers.
His passion for literature and determination to involve in the creative realm made him to opt for a voluntary retirement from his government job two years ago. He has since published eight books and his first novel, 'Azhukkillam', has hit the stands. The most unassuming personality of the tinsel town shared some of his thoughts with Onmanorama. Excerpts:
What difference do you find in lyrics-writing now and in earlier days?
Earlier, the films themselves were different. They were most significantly literary. Now, the grammar of the films has changed. Rather than literary aspects they are mostly based on visual beauty. If we look at old songs we find only four to eight to ten lines. But now there are so many. This is because the verses are arranged to tunes composed in advance. It has become more of a craft than literary outpouring. This is resulted by the change in approach to cinema. In those days, most of the films were based on popular novels and plays. That is not so now.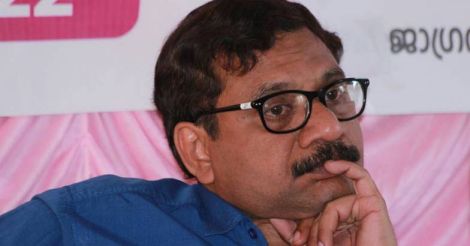 Rafeeq Ahmed has published eight books and his first novel, 'Azhukkillam', has hit the stands
Can we say there is a drop in literary aesthetics in modern day lyrics?
No, we cannot say that. The approach towards films has undergone a paradigm shift over the years. That change is reflected in lyrics as well, that's all. We are not talking about anything outside the cinema but within the ambit of cinema. So old films and old film songs cannot be used a yardstick to measure the quality of the songs in new age films. Today's songs are written as per the current milieu and sequences. The change is evident in all the aspects of cinema, whether it is acting style, cinematography, costumes and so on. So, the change in the style of lyrics is part of this overall transformation.
The role of lyricists then and now
There was a time when film songs were identified by the name of its singers, very much like the films were by the name of actors. People started getting curious about the director or other crew members only later. But then songs were known by name of writers too along with the music composers. This has changed now. The name of a song writer hardly gets any mention. Even TV channels or FM radios are stingy about announcing the name of the lyricist of a song. Only those who bear genuine interest toil to unearth the details of the writer if they feel curious about certain lines or find some verses appealing. Otherwise, lyricist are least projected in the modern age, That is what I feel.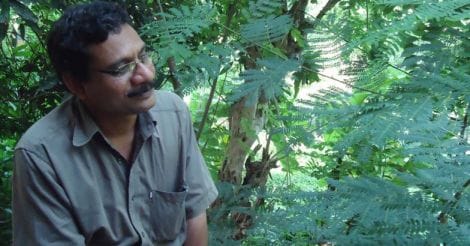 The approach towards films has undergone a paradigm shift over the years, feels the lyricist
Most favoured style of writing
Writing for tunes and writing a verse first, both have their own merits. Writing for tunes is the need of the new age cinema. We get to know how the song would finally be. This style of writing becomes familiar after gaining some experience and words will come flowing quite naturally. But the only limitation is that we won't have the freedom to write freely. However, both have their own merits in their respective grounds. In the film Pathemari I had written songs first and then tuned.
Other writings
I have published as many as eight books, all collection of poems. My first novel titled 'Azhukkillam' was released recently. It was first serialised in a leading magazine and is based on life in a village.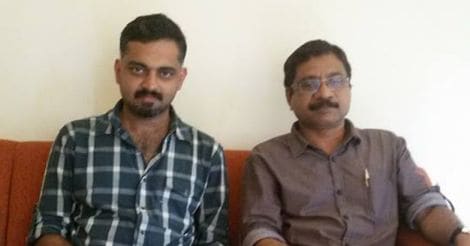 Rafeeq Ahmed with music composer Bijibal
Favorite song writers
I grew up listening to the era of greats like Vayalar, P. Bhaskaran, ONV Kurup among others. What is special about Vayalar is that they are evergreen. Vayalar seemed to extend the legacy of romantic poet Changampuzha. Meanwhile Bhaskaran master's verses were more like losely knitted poesy but carried the unique character of Kerala which is comparable to Kunhiraman Nair's poems. In fact it is not the writers who are to be identified but their songs.
When did you experience your first dream-come-true as a lyricist?
When you hear your verses in the voice of great singers like Yesudas and Jayachandran you feel blessed and excited. My first song was sung by Hariharan and that itself was a wonderful experience. Lyrics writing happened by chance and my first song was composed by music director Ramesh Narayanan for the film Garshom directed by P.T. Kunjumuhammed. There are also many good singers in the new generation as well.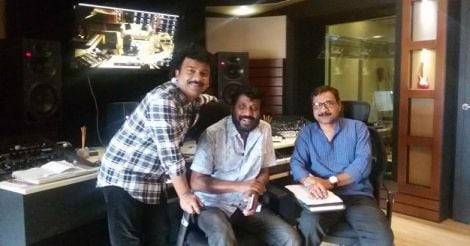 Rafeeq with director Siddique and music composer Deepak Dev
Upcoming projects
Film titled Charlie directed by Martin Prakkat and Pulimurugan by Vysakh are two immediate flick that are in the offing.